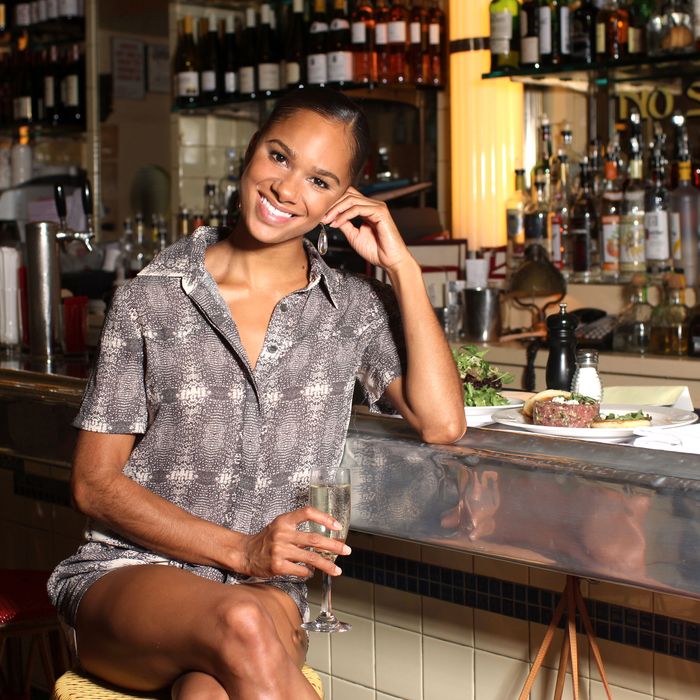 Copeland, at Cafe Luxembourg.
Photo: Melissa Hom
"You caught me at an interesting time," says American Ballet Theatre soloist Misty Copeland. "I'm not in rehearsal season or in performance season, so my diet is very different." She says her rehearsal diet calls for more snacking throughout the day to keep up with the intense demands of dancing. "I'm sort of between staying in shape and teaching here and there — not at all the physical activity I do on a daily basis when I'm in season." Her performance season does start on October 30, though, which means rehearsals begin in just over a week. Before that happens Copeland is filling her time with dinner at the General, a less-than-24-hour trip to Seattle, and, of course, getting her cheddar-biscuit fix at Red Lobster. Read it all in this week's Grub Street diet.
Friday, August 30
I have a sweet tooth, and I try not to completely neglect it. So I like to have something a little sweet for breakfast. That morning was a pumpkin muffin and a black coffee. There's a café on the corner, Cafe 71. I use Seamless. I grab my phone, press send, and my coffee and muffin appear at my door.
When I'm off from ABT, I take class right around the corner from my apartment on the Upper West Side at Steps. As soon as class is finished I'm really starving, so I stop by Juice Generation. These smoothies they have are massive, so it's like a meal for me. I had the peanut-butter smoothie with bananas, almond milk, coconut milk, and raw agave.
I used to be a really big cooker — that was all I did. But my schedule now is so insane, and Seamless is so easy. And you can still eat healthy. So dinner was from Seamless, sushi from a place called Amber. I had a spicy tuna roll, shrimp tempura roll, and a small salad. With that I had a glass of rosé.
Saturday, August 31
Coffee every morning. And some strawberry yogurt and banana. I ordered it that day, too, then ran off to class. I was pretty busy that day, so I just packed some cashews, dried fruit, and grapes and ate them when I could.
I ended up meeting friends for dinner at the General. Had the bourbon-miso bass with maple and cabbage; Hung's fried rice with shrimp, egg, and vegetables; a sushi roll — the "Pow" — with king crab, mango sauce, and wasabi; and another roll — the "Rebel" — with lobster, avocado, and mango. And we had sake.
With sushi I go through these phases where the more I have it, the more I crave it, and then all of a sudden I'll be like, I can't have this anymore. I guess I was in a sushi phase that week.
Sunday, September 1
This was a fasting day, which is something I do if I feel like I need to cleanse. During a performance week you need to conserve a lot of energy, so this was kind of the perfect time for me since I was vegging out, gearing up to be in the best shape. So I'll stick these days in where I know I'll just drink a ton of water all day.
You go 24 hours without eating, and I stopped after dinner the night before, so I had dinner at eight o'clock that night. And about once every two years, I need my Red Lobster fix — I get teased a lot for it. One of my really good friends, whom I've known since I was 16, and her husband have said for a couple of years that they've never been to Red Lobster, and they know I love it, so I called them and we all went to the one in Times Square — it's always insane in there, and it was really crazy that night because it was a holiday. I feel like I should have prepared my friend and her husband because they were a little scared. Anyway, we only waited 45 minutes and those cheddar biscuits are amazing. Also had a Caesar salad, steamed snow-crab legs, and a glass of rosé.
Monday, September 2
I bought an espresso machine — so I had my yogurt at home and then made an espresso. I have zero experience and it was brand-new, but it was wonderful. I'm obsessed. It's even easier than Seamless.
I went grocery shopping at Fairway that day, so it was a cooking day. I made lunch — just really simple. Whole-wheat pita bread with garlic-and-herb spread, provolone, and avocado.
When I first met my boyfriend, I think I made him every meal. But my career is so insane now that when I do cook, he's super excited. So for dinner, I made a salmon salad, which was super simple. I marinated the salmon in paprika, honey, olive oil, and garlic, then baked it in the oven and put it over a salad with spinach, shredded carrots, red onions, and some candied pecans. And some prosecco.
Tuesday, September 3
This was a travel day to Seattle. I had espresso, yogurt, and almonds at home. And traveling I just had crackers, nuts, dried fruit, things like that.
I usually don't overdo it when I'm flying, since most of the time when I'm traveling, it's to perform. I stay away from alcohol or things that are overly salty because if I'm flying for fourteen hours, or whatever it is, to China, I have to get off the plane and perform. But when I got to the hotel, I had a veggie burger.
Wednesday, September 4
I was traveling because the Gates Foundation has started a new program where they bring in people from all walks of life who are inspirational, to talk to their employees. I was there speaking, sharing my story and talking about my involvement with the Boys and Girls Club. It was super fun and satisfying.
When I got done I had a black coffee and a yogurt parfait and got back on a plane — I was literally not even in Seattle for 24 hours. On the plane back, I just slept and drank water, and when I got home I had sushi waiting for me. My boyfriend ordered it from Seamless.