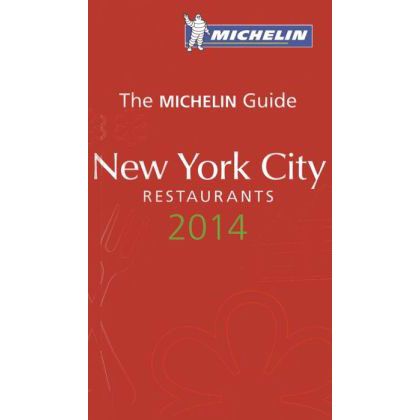 The guide goes on sale October 3.
Photo: Courtesy of Michelin
Bibendum rolls into town next Tuesday to dole out 2014's Michelin stars to the city's restaurants, but first, here are the guide's Bib Gourmand picks for 2014. The 138 restaurants here are unstarred establishments across five boroughs representing "good value," meaning each is up to the discerning standards of the guide's undercover inspectors, but also, each offers "two courses and a glass of wine or dessert for $40 or less." It's a little jarring to see Perry Street, Cedric Vongerichten's fine-dining restaurant on the West Side, juxtaposed with the more affordable Alobar, but the Michelin men famously move in mysterious ways. Just like last year, there's plenty of pizza to be found all over the city — some ramen and pastrami, thankfully, too. The full list, straight ahead.
ABC Cocina
al Bustan
Alobar
Andy's Seafood & Grill
Apizz
Aroma Kitchen & Wine Bar
August
Ayada
Baci & Abbracci
Basil Brick Oven Pizza
Battersby
Beyoglu
Bianca
Bistro 33
Bohemian
Boqueria
Bread & Tulips
Bunker
Buttermilk Channel
Casa Enrique
Cata
Char No. 4
Chavela's
Cho Dang Gol
Ciccio
Clinton St. Baking Company
Co Ba
Congee Village
Crispo
DBGB Kitchen & Bar
Dear Bushwick
Dim Sum Go Go
Diner
Dirt Candy
Don Antonio by Starita
Do or Dine
Ed's Lobster Bar
Egg
El Parador
El Paso Taqueria
Enoteca Maria
Family Recipe
Fatty 'Cue
Fatty Crab
Frankies 457 Spuntino
Franny's
Garden Court Cafe
The General Greene
Gennaro
The Good Fork
Gran Electrica
HanGawi
Havana Cafe
Hecho en Dumbo
Hill Country Chicken
Hino Maru Ramen
Hunan House
Hunan Kitchen of Grand Sichuan
Il Buco Alimentari & Vineria
Il Poeta
Jean Claude
J.G. Melon
Jin Ramen
John Brown Smokehouse
J. Restaurant Chez Asta
Katz's
Keste Pizza & Vino
Land of Plenty
Laut
L'Ecole
Lil' Frankie's
Little Pepper
Lupa
Lu Xiang Yuan
Mamak House
Mapo Tofu
Marlow & Sons
Mayfield
The Meatball Shop
Mercato
Mesa Coyoacan
Mexicana Mama
Mexicosina
Mile End
Miss Mamie's Spoonbread Too
Momofuku Noodle Bar
Momofuku Ssam Bar
Momokawa
Murray's Cheese Bar
New Malaysia
Northeast Kingdom
Northern Spy Food Co.
No. 7
Nyonya
Ornella
Paulie Gee's
Perry Street
Phoenix Garden
Pok Pok NY
Porsena
Prime Meats
Prospect
Prune
Purple Yam
Robataya
Roberta's
Rubirosa
Runner & Stone
Rye
Salt & Fat
Saravanaas
Seersucker
Seo
Sip Sak
Snack
Soba-Ya
Speedy Romeo
Supper
Sura
Szechuan Gourmet
Tang
Tanoreen
Tertulia
Tra Di Noi
Traif
Turkish Kitchen
Uncle Zhou
Untitled
Uva
Vida
Vinegar Hill House
Wild Edibles
Xixa
Yunnan Kitchen
Zabb Elee (Manhattan)
Zabb Elee (Queens)
zero otto nove
Zoma
New York City 2014 Michelin Bib Gourmands [Official Site]
Earlier: Michelin's Bib Gourmand 2013: Who Made the List, Who Fell Off