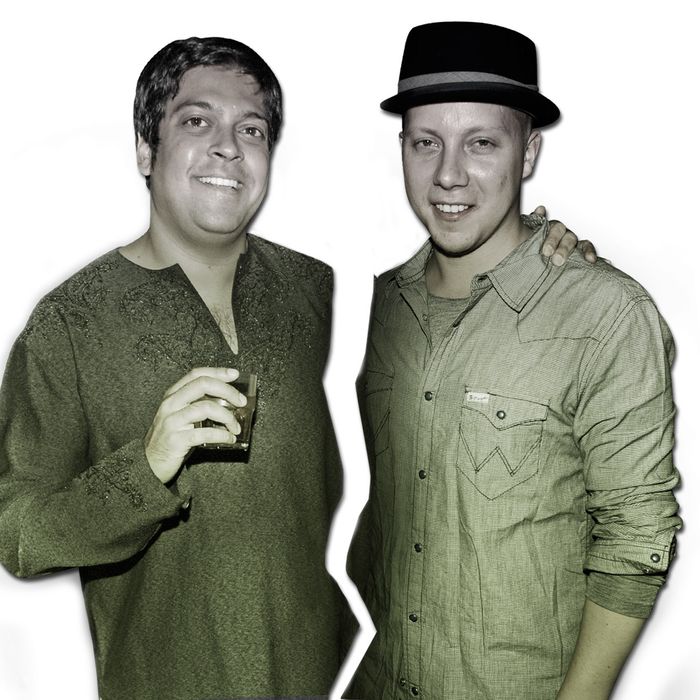 Michael Shah (left) and Matt Levine, former partners who are now locked in a legal battle.
Photo: Patrick McMullan
Earlier this summer, it was revealed that nightlife impresario Matt Levine was suing his former partner Michael Shah — their projects included Sons of Essex and the now-closed Cocktail Bodega — for a whopping $20 million over the termination of Levine's management contract. Lawsuits stemming from soured restaurant relationships aren't uncommon — just last week, Leah Cohen sued her Fatty Crew partners, and Scott Conant sued partners that helped build the Scarpetta empire. But even compared to other restaurant-related legal battles, the Levine-Shah fallout seems particularly swift and nasty. Tomorrow, a New York State Supreme Court judge will hear another round of arguments from lawyers for the aggrieved parties, but before that happens, Grub dug around to find out how things went so wrong, with both sides accusing each other of theft, fraud, and other bad acts during their two-year collaboration. 
Shah, 35, is the founder and principal of DelShah Capital. He graduated from Harvard Law in 2003 and practiced as an attorney in mergers and acquisitions until 2006, when he turned to real estate. For a time, Shah specialized in buying distressed properties in the outer boroughs. Currently, Shah's properties include a portfolio of upscale clubs and restaurants, among them Petaluma on the Upper East Side. He recently purchased 69 Gansevoort Street for $8.6 million.
Meanwhile, Levine, 31, is a Lower East Side entrepreneur who owns a full-service food and beverage company, Brandsway Hospitality, as well as a public relations and marketing boutique called Brandsway Creative. He owned, operated, and eventually sold the Eldridge, a LES cocktail bar.
In 2011, Shah bought the assets and liquor license from the troubled Mason Dixon for $300,000 in a forfeiture sale, according to court papers. (Shah owns the condo building that housed Mason Dixon.) His plan was to start a restaurant and bar of his own, but he needed an experienced operator to run it. Shah and an operations consultant named Victor Jung, 41, interviewed a number of subjects before settling on Levine because of his experience opening the Eldridge and his extensive contacts as an LES promoter.
Jung, whose job was to manage costs, and Levine, the "public face" of the venture who would handle day-to-day operations, opened Sons of Essex in fall of 2011 with financial backing from Shah. The restaurant was an immediate success, though Jung and Levine clashed repeatedly over a variety of issues, including staff hires and expenses.
Nevertheless, following up on the success of Sons, Shah, Levine, and Jung opened Cocktail Bodega a year later in the fall of 2012. But the conflicts continued, and in April, seven months after it opened, Cocktail Bodega suddenly closed. That same month, Levine's contract with Shah was terminated for alleged failure to meet financial benchmarks and for purported acts of "theft, fraud and dishonesty." He was escorted out of Sons of Essex by two security guards.
Three months later, on July 23, Levine filed his lawsuit against Shah. The document contains 22 causes of action (the legal term for a list of facts that justify a lawsuit). Among the grievances that Levine alleges: breach of contract, wrongful termination, and fraud. Co-defendants listed in the suit include DelShah Capital LLC, JPMorgan Chase, and Paychex, a company that provides administrative services such as payroll fulfillment and employee benefits. (Levine claims Paychex was retained to handle payroll by Jung without his knowledge.)
The amount Levine is seeking: $20 million.
One of the complaint's most serious allegations: Shah allowed Jung, the operations consultant, to move funds around to other projects that the group managed in order to personally benefit both Jung and Shah, and to defraud the IRS and the New York State Department of Taxation and Finance.
Jung, a co-defendant in the case, was once a top executive at General Electric who was convicted in 2008 for embezzling $1.3 million from its NBC Universal unit. He tells Grub Street he doesn't handle money for Shah and calls Levine, 31, "a child living a Nancy Drew mystery story." Jung says he's "an easy person to target" because of his past conviction but that he paid his debt to society and has moved past that.
One of Shah's lawyers, Jonathan B. Schwartzman, calls the lawsuit defamatory and scandalous. "I've never seen anything like it," he tells Grub Street. Schwartzman's belief is that Levine filed his complaint to "besmirch" Shah and to collect big money.
Shah says Levine's main motivation is "clearly" money: "He's not suing to be restored as an owner to any of the restaurant entities," Shah wrote in an e-mail. "He is seeking only money" and also a judge's declaration that Levine will not be held responsible for debts incurred at the restaurants that the two men operated together.
Shah claims that before Levine ever filed the suit he attempted to "extort" a $5.5 million settlement. In early May, months before Levine took legal action, Shah commenced his own separate litigation against Levine's Brandsway Hospitality, obtaining a temporary restraining order against Levine after he allegedly attempted to fire two staff members and "tried to steal" the liquor license from Sons of Essex the day after his contract with Shah was terminated. (According to court records, police were called to the scene, and Levine said he showed the license to police in order to identify himself as a co-owner.)
Currently, Shah is seeking a permanent injunction against Levine that will bar him from ever entering Sons of Essex. Plus, Shah says, "I want him to return the $30,000 he stole from me," which Shah claims happened when Levine wrote checks to himself "in excess of his salary without any justification."
So, what does Levine have to say? Grub got in touch, and Levine denied Shah's charges but issued only a prepared statement reemphasizing the complaints in his lawsuit.
Thomas B. Decea, an attorney for Levine, describes Shah as "a guy who has money and can step on people."
While Shah and his lawyers say Levine invested no money up front in the projects, Decea insists that Levine invested "sweat equity" and that Sons of Essex would not have been successful without him. "He branded it and promoted it," Decea says. "He got the liquor license transferred, he built community outreach, he dealt with the SLA. He was wrongfully terminated, and we're entitled to damages."
Shah, however, says Levine's ownership stake was subject to being stripped if Levine was terminated, which he was.
Levine's team notes that Levine himself is still listed as an owner on the liquor licenses for Sons of Essex, Cocktail Bodega, and an entity called 61 Gans. Shah says he has filed for a corporate change with the State Liquor Authority to remove Levine's name from the licenses.
At tomorrow's hearing, both legal teams are expected to address a motion by Shah's attorneys that requests the court order Levine's lawyers to replead their 248-page complaint (meaning Shah's lawyers are arguing that Levine's suit doesn't contain sufficient evidence for a lawsuit and that he must resubmit it to the court). If that happens, Levine's lawsuit will more or less start fresh. Meanwhile, oral arguments in Shah's litigation to restrain Levine will begin on October 21.
Earlier: Matt Levine Reportedly Suing Ex-Partner for $20 Million