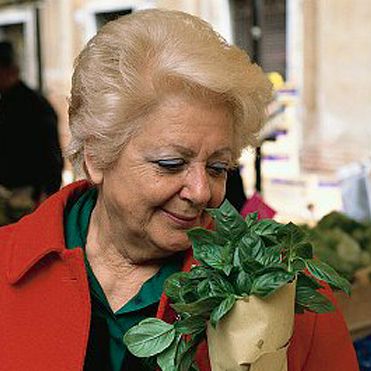 Hazan, in 1996.
Photo: Bo Zaunders/Corbis
There is perhaps no person more commonly associated with influencing the way Americans cook Italian food than Marcella Hazan, so it is understandable that news of her death yesterday — at age 89, near her home in Florida — was met with an outpouring of appreciation from chefs and food writers.
Her books — including The Classic Italian Cookbook and Marcella Cucina — are often credited with forcing Americans to rethink what "Italian" food really was. Hazan emphasized simplicity and correct technique (and a proper amount of salt). Her tomato sauce, famously just tomatoes, onion, butter, and salt, is probably her most renowned recipe, and it accompanies her Times obit.
The great Marcella Hazan is gone. RIP. Making her tomato sauce now. When I said how much I loved it she replied "The one with the honion?"— ruthreichl (@ruthreichl) September 29, 2013

In Italy w John for our anniversary & just heard the sad news Marcella Hazan has passed. We will remember her in our hearts & our food.— rachael ray (@rachael_ray) September 29, 2013

Very very sad to hear the passing of Marcella Hazan .My thoughts are with the her family . You touched my soul .RIP darling Marcella— April Bloomfield (@AprilBloomfield) September 29, 2013

As famous as her food was her demeanor, which various rememberances have described as "blunt," " brusque," and "both warmhearted and prickly."
A sad day in American – and Italian –cooking. Marcella Hazan has died in Longboat Key, FL, @bittman reports.— Sam Sifton (@SamSifton) September 29, 2013

But her influence can't be overstated. As Corby Kummer writes in Bloomberg:
Because the Hazans championed fresh vegetables many people had never heard of (artichokes, fennel), olive oil and – above all – simplicity and clarity in cooking, they can be argued to have had even more influence on how Americans cook than Julia Child, a similarly gifted teacher and writer whose rise immediately preceded theirs and probably made it possible.
It's fitting, then, that Hazan won multiple awards, most notably a lifetime achievement in 2000 from the James Beard Foundation and another in 2004 from the International Association of Culinary Professionals. She died early Sunday at her home in western Florida. According to the Times, her meal on Saturday consisted of trofie with pesto made of basil from her garden.
Changed the Way Americans Cook Italian Food [NYT]
How Marcella Hazan Made Italian Food All-American [Bloomberg]