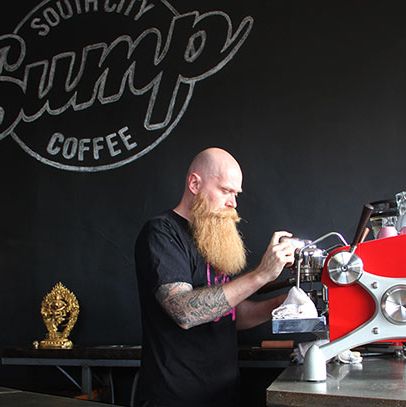 The best beard in the business.
Photo: Courtesy of Sump Coffee
In case you missed it: Grub put together a giant roundup of 58 extraordinary coffee shops around America yesterday. After it went up, a few people asked for a single giant list of all of the spots in the rundown. Well, ask and you shall receive — we've even included a map of all of the shops on the list (multiple locations where noted), so you can quickly find the spot that's closest to you. You'll still want to consult the slideshow to learn what, exactly, makes each shop noteworthy, but if you're just seeking a quick shot of excellent espresso, look no further than this post.
Bakeri
New York City

Blue Bottle
Bay Area; New York City

Café Grumpy
New York City

Café Pedlar
New York City

Fair Folks & a Goat
New York City

Fika
New York City

Jack's Stir Brew
New York City; Amangansett

Joe Pro Shop & Headquarters
New York City

La Colombe
New York City; Philadelphia; Chicago

Little Collins
New York City

Maialino
New York City

Ports
New York City

Stumptown
Portland; Seattle; New York City; Los Angeles

Sweetleaf
New York City

Third Rail
New York City

Toby's Estate
New York City

Whynot
New York City

Four Barrel
San Fransisco

Front
San Francisco
Linea Caffe
San Francisco

Ritual Coffee
San Francisco

Sightglass
San Francisco

Cognoscenti Coffee
Los Angeles; Culver City, C.A.

Go Get Em Tiger/G&B;
Los Angeles

Handsome
Los Angeles

Intelligentsia
Los Angeles; New York City; Chicago

LAMILL
Los Angeles

Verve
Santa Cruz

Little Bread
Chicago

The Wormhole Coffee
Chicago

Barista
Portland, O.R.

Coava Brew Bar
Portland, O.R.

Courier Coffee
Portland, O.R.

Heart
Portland, O.R.

Ristretto Roasters
Portland, O.R.

Barismo
Arlington, M.A.

Espresso Vivace
Seattle
Milstead & Co.
Seattle

Slate Coffee Roasters
Seattle

Dolcezza Gelato
Washington, D.C.; Fairfax, V.A.; Bethesda, M.D.

The Coffee Bar
Washington, D.C.

Ultimo Coffee
Philadelphia

Madcap Coffee
Grand Rapids, M.I.

Barista Parlor
Nashville

Old City Java
Knoxville, T.N.

Octane Coffee
Atlanta; Homewood, A.L.

Safehouse Coffee
Griffin, G.A.

Artifact Coffee
Baltimore

Spitfire Coffee
New Orleans

Frank
Austin

Houndstooth Coffee
Austin

Blacksmith Coffee
Houston

Davis Street Espresso
Dallas

Sump Coffee
St. Louis

Boxcar Coffee Roasters
Denver; Boulder

Quay Coffee
Kansas City, M.O.

Black Tap Coffee
Charleston, S.C.

Counter Culture Coffee's Durham Training Center
Durham, N.C.
Earlier: Caffeine Fix: 58 Extraordinary Coffee Shops Around America