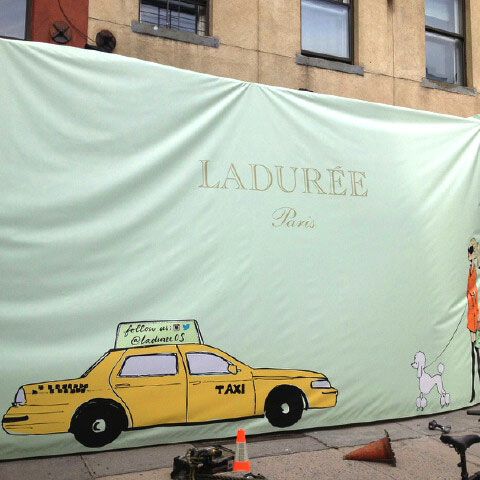 This façade went up on West Broadway this morning.
Photo: Courtesy of Ladurée
Ladurée announced its takeover of the Barolo space way back in June 2012, and it's finally scheduled to open on West Broadway in mid-November. The "biggest Ladurée in the world" will include three salons, a restaurant, a macaron shop, a full bakery, and a terrace. Chairman David Holder is bringing in chefs from the Paris Ladurée to re-create the menu offered at the flagship, which means you can expect black-truffle omelettes and pan-fried foie gras. The macarons will still be flown in fresh from France every day — how else would the 151-year-old company protect its precious recipe?
This big Stateside opening is one of many to come: Ladurée's reps exclusively tell Grub that the first-ever Miami store will open in October on 1108 Lincoln Road. It will be similar in size to the small Ladurée shop on the Upper East Side — but with a special Champagne bar. Plus: A collection of macarons in Art Deco colors will launch in time for Art Basel.
Prepare for the Parisian pastry institution to infiltrate the rest of the country, as the company is currently real-estate shopping in Los Angeles and Chicago. If the global domination of the macaron doesn't end the reign of the cupcake, it's a lost cause.
Earlier: New Ladurée Taking Over Barolo Space, Barolo in Denial