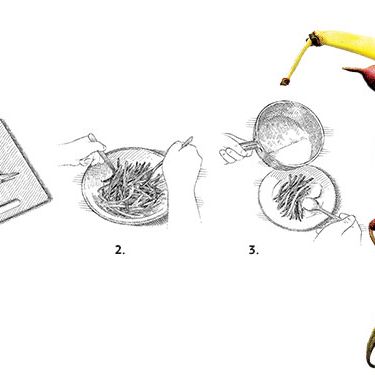 Photo: Bobby Doherty/New York Magazine. Illustrations by John Burgoyne
Green, yellow, and purple beans (a.k.a. string beans, though the strings have been bred out of most modern varieties) are at the height of their season now. Look for ones that snap crisply when broken in two, and cook them quickly in salted water, then toss with butter or olive oil. For something even more delicious, try this recipe from Estela chef Ignacio Mattos, who boldly (and successfully) brings together on one plate two flavors no one in the history of cooking, perhaps, has ever thought to: Taleggio cheese and fish sauce. A note on color: When blanched, purple string beans turn green, which seems unfair considering that green varieties treated likewise do not turn purple.
Ignacio Mattos's String Beans With Taleggio Cream and Bread Crumbs
3 thick slices of bread (such as miche or filone), torn into pieces
Kosher salt
3/4 cup extra-virgin olive oil
1 garlic clove
1 tbs. red-wine vinegar
1 tbs. lemon juice
1 tbs. fish sauce
Freshly ground black pepper
4 ounces Taleggio, rind removed, cut into small pieces
1/2 cup heavy cream
1 pound young, tender beans (any combination of green, purple, or yellow beans)
1 young onion bulb, diced
For the bread crumbs: Preheat oven to 400. Season the pieces of bread with salt and 1/4 cup olive oil. Place them on a baking sheet, and toast in oven until golden brown. Let cool, then crush into small, slightly chunky crumbs. For the ­vinaigrette: Grate the garlic clove, and combine in a bowl with the vinegar, lemon juice, and fish sauce. Whisk in the remaining olive oil, and season with salt and pepper. For the Taleggio cream: Add the cheese and the cream to a small saucepan, and warm over low heat until the cheese melts. Blend with an immersion blender until smooth. for the beans: (1) Line up several at a time, and cut away any tough ends. Blanch in a large pot of heavily salted water until tender but with a bit of a bite. (2) Drain and toss in a mixing bowl with the onion and a pinch of salt, and dress with the vinaigrette. To serve: Divide the beans-and-onion mixture onto 4 plates. (3) Spoon some of the Taleggio cream next to each portion of beans. (Or mix the cream directly into the bowl with the beans.) Top with bread crumbs. Serves 4.
*This article originally appeared in the September 16, 2013 issue of New York Magazine.