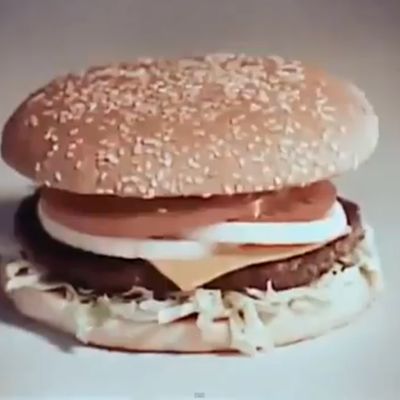 The parent company of hamburger chain Hardee's today announced some downright ambitious plans to open 200 new stores in the next five years, including a bunch in New York, New Jersey, and Connecticut. In a press release, CKE Restaurants Holdings Inc. goes on to say it's more or less angling for total burger domination and is looking to add 1,000 locations in the Northeast altogether. If Wikipedia serves, the last of New York's Hardee's locations closed in the nineties, shortly after the chain went through a brief, experimental period with the fried-chicken recipe from Roy Rogers and some drumsticks. But did anyone actually get sad the day the franchise packed up its malted milk and left?
It's unclear, but the "premium-quality" burgerscape of New York in 2013 not only includes Shake Shack and the upstart BurgerFi, but also the dreamy, well-dressed Umami Burger and, well, approximately 9,000 other contenders.
You probably know Hardee's as the fraternal twin of the equally beefy Carl's Jr. chain, and also the force behind a series of mock-raunchy TV spots (starring Kate Upton, Padma Lakshmi, and once, famously, Paris Hilton) that resemble Maxim airbrush fantasies more than adverts for burgers. They're ostentatious and silly. Relatedly, the chain has also apparently long put annoying music to good work in its commercials.
"We've heard from residents all across the region for years, begging us to bring our food back to them," says the chain's senior vice-president of domestic franchise development. Who's been telling this guy they really want a local Hardee's? Really? Does New York — or the Northeast — need the fast-food franchise more than ever? In any event, the first of the new stores are expected to open in the next "12 to 18 months."
Hardee's® Returns to Northeast [BusinessWire]
Related: What Shake Shack Hath Wrought: The Return of the Burger-Joint Cheeseburger
Related: The Underground Gourmet: Three Stars Each for Umami Burger and Sweetgreen