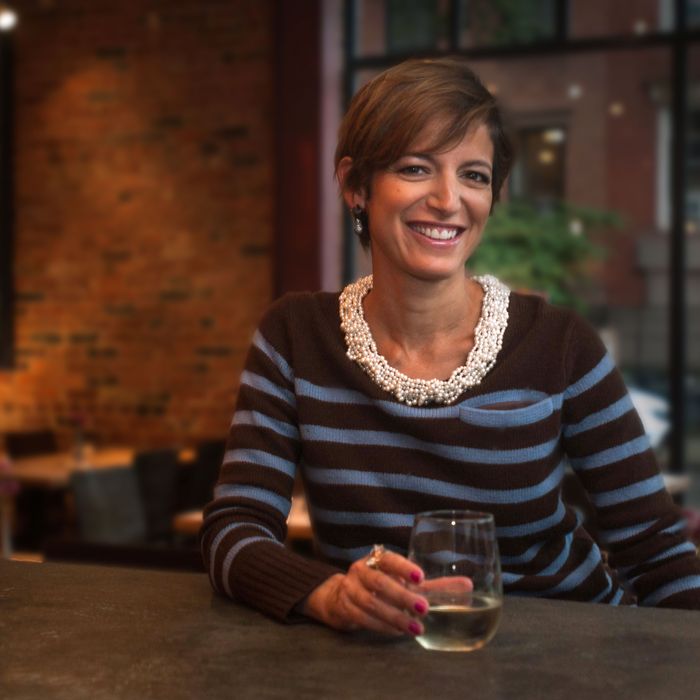 Leive at Bocca Lupo.
Photo: Jed Egan
The bedlam of Fashion Week, which drew to a close last night, disrupts plenty of schedules. Glamour editor-in-chief Cindi Leive is not immune: "I know I'm not going to be sleeping that much all week," she says, "so I sort of pre-apologize to everyone around me for being crabby." Even though she spent the week running around town to a mind-boggling number of designers' shows, she still found time to track her intake for this week's Grub Street Diet — which included regular doses of early-morning caffeine ("coffee is like my friend marching beside me in life"), a family-style dinner at Carbone, midday green juice, and plenty of leftovers with her 10-year-old daughter and 8-year-old son.
Friday, September 6
Fashion Week had started the day before, but that was Rosh Hashanah, so I didn't really go to any shows on Thursday — Friday was really my first day in the rat race. I got up really early and had a cup of coffee at home. I usually make Stumptown, but my husband gave me a gift where every month a club sends you different little beans from some interesting place. It's called Citizen Bean, so that morning I had Citizen Bean at, like, six. Then I went for a run.
I had breakfast with a colleague at Markt on 21st and Sixth on my way to shows. I had scrambled eggs and an iced coffee — you'll notice coffee is a theme, and it's a little embarrassing.
I went to a show, then ran back to the office. My assistants had ordered some green juice from Green Symphony, so I slurped down one of those and went back out to a couple of shows. Was back in the office at two and had some lunch al desk-o — sushi rolls from the Condé Nast cafeteria, which are actually very tasty.
Ended up back at home around eight o'clock and had a dinner of leftovers from the Rosh Hashanah meal I had made the night before. We had twenty-odd relatives over. I had part of a Cornish game hen, Brussels sprouts with pearl onions, and mashed yams.
Saturday, September 7
I had a cup of Citizen Bean at 6:30. My kids got up, and I had breakfast with them. We have a house upstate, and there's a great farm — Greig Farm — close by where you can pick blueberries. I used to take the kids blueberry picking when they were little. Now nobody wants to go but me, and I literally pick fifteen pounds of blueberries because they're so good. Then I freeze them and make them last until January. So I had some Greig Farm blueberries and yogurt.
I went out to a couple of shows and stopped by a hackathon Glamour was doing in partnership with the CFDA to encourage people to develop fashion and beauty apps. While I was there I had an iced coffee.
Then another show, and at eleven I met the team from Dolce & Gabbana — who were in town from Italy — at the Library at the Nomad. I realized I couldn't have another cup of coffee and be a normal human being, so I had an herbal tea. We ordered what we thought would be little, diminutive pastries. They turned out to be these enormous, Godzilla-size muffins, and they were absolutely delicious.
Stopped briefly at home around three to change clothes, and while I was there I had a little meal from the fridge: a slice of Hudson Valley Camembert, some sugar snap peas, a couple of pieces of rolled-up prosciutto. I told myself that it was a really cute little European lunch, but really it was just leftovers.
That night I threw a dinner for Kerry Washington, who's on our October cover, at Carbone. They served everything family-style, and there were just tons of things, but the best were an amazing caprese salad with fresh heirloom tomatoes; a mushroom fettuccine that's just like the best, most addictive thing you've ever tasted; and the main dishes of pork chop and peppers, and a chicken scarpariello. We basically just ate everything and drank red wine, and it was so delicious — I hadn't really had more than just a bit of finger food here and there all day.
Sunday, September 8
I got up really early to do a marathon training run with a friend, which sounded like a really good idea when I scheduled it the week before but turned out to be a really bad idea after the Carbone dinner.
So I had a cup of Stumptown coffee and a banana, ran, came home, then went pretty much right into shows every hour on the hour. Between the noon Derek Lam show and the 1 p.m. DKNY show, I ran to Chelsea Market and got a quick lunch from One Lucky Duck, which is a raw vegan place. It sounds terribly Fashion Week pretentious, but it turned out to be really delicious. I had their Mean Greens juice and the portobello and hemp seed burger, which has nothing to do with an actual burger. But it was actually very filling.
Then it was back to the shows every hour on the hour until eight o'clock, when I finally got home. My kids had had dinner from Layla Jones, which is our local pizza place. So I had some leftover pizza and chopped salad with feta, red onions and some other stuff.
Monday, September 9
It was Stumptown coffee that morning.
I missed the first show that day because my husband and I took our kids to their first day of school. Before that, I had breakfast with them, and my breakfast was whatever was leftover on their plates — one of those things you say you're never going to do when you become a parent, and then you end up doing anyway. I had my daughter's fried egg and three quarters of my son's whole-wheat waffle with peanut butter, and a few more of the upstate blueberries, which actually made for a satisfying breakfast, so I have no regrets.
A bunch of shows and went back to the office briefly midday and had kale salad and another green juice from Green Symphony.
For dinner my husband and I put the kids to bed and went to Bocca Lupo, a small Italian place that's literally right across the street from us. It's dangerous because sometimes my husband will be taking the trash out and then he'll come back a few hours later because he sat at the bar and had some drinks with the owner. They have amazing sizzling garlic shrimp that I love, and zucchini tagliatelle, which has nothing to do with actual pasta. It's just shredded zucchini with chopped almonds and hot peppers, and it is delicious. That night we had the shrimp, the zucchini, and butternut squash risotto. And I had a glass of rosé.
Tuesday, September 10
Stumptown, more yogurt and upstate blueberries, and walked my daughter to school. Then went to a bunch of shows.
I got to the office around 1:30. It was one of the last days of the close for the November issue, so our managing editor had ordered out from Mangia for the whole team. It was complete chaos in the conference room as I walked by. I managed to get a half of a veggie sandwich but almost lost a hand in the process.
I had an hour between shows later, so we snuck into Aureole, which is downstairs from our office, and had a glass of rosé each. Our intention was to order some appetizers, but in the end we didn't really have time, so I had two pieces of really good French bread with a lot of butter on them.
When I got home at about nine o'clock, I wasn't really sure if I wanted to have a real meal, so I did the floating dinner where you just sort of eat things either with the refrigerator open or standing at the counter. I had some leftover Parmesan pasta that my kids had had for dinner and made a semi–Caesar salad with romaine, Parmesan, and little tomatoes.
Wednesday, September 11
Again, I had coffee and went out for a run. When I got back I fried a few eggs for my daughter, and we split them. She doesn't like the yolks, so I basically had a meal of four egg yolks. I'm sure it's totally unhealthy, but I put a little sriracha on them and it was absolutely delicious with a sliced avocado on the side.
After that we had a few more of the blueberries, and we had to have a conversation about how we're eating them at such a rapid clip. We have to slow our blueberry consumption.
After shows I got back to the office at about two o'clock and had, again, two sushi rolls from the Condé Nast cafeteria: a spicy tuna roll and a yellowtail roll with extra ginger. After a few more shows I had a Blueprint cashew-and-date bar, which I highly recommend. They're ridiculously overpriced, but they're worth it. I've gotten my assistant hooked on them.
There's talk of family dinner. We have flank steaks, so if I can get home in time and it's nice out I'll grill those, and I'll make a kale salad and maybe use up the last of the pasta that's in the fridge. That's the plan, anyway. Who knows? It could all end in takeout.