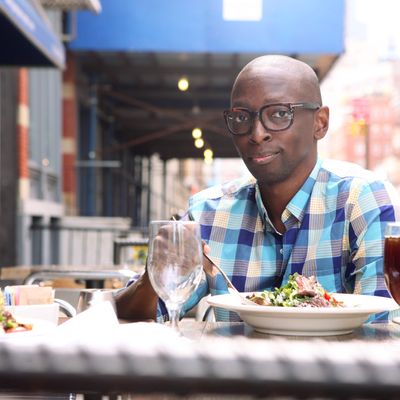 Mwangaguhunga, at Landmarc.
Photo: Melissa Hom
Fred Mwangaguhunga is a busy guy: He runs mediatakeout.com, the heavily trafficked gossip site (sample headline: DAYUMMMMMMMMMM!!! NFL Star's Babys Mother BREAKS INTO HIS PHONE … And Finds The WORST GROUPIE LETTER Ever!! [Warning - EXTREME GRAPHIC GROUPIE THIRST]) that he's now in the process of turning into a TV show. "We had a couple of hoops we had to jump through," he says. "It looks like we're through 'em." And he's also got 3-year-old triplets at home. No wonder, then, that the guy wakes up at about 2 a.m. each day. But while most people would probably crash by noon, Mwangaguhunga (pronounced mwon-ga-goo-hoon-ga) finds time to grab business lunches at Miss Lily's and Landmarc, take a trip to Canarsie for Jamaican food, and have two all-cake meals for his kids' birthday. Read it all in this week's Grub Street Diet.
Friday, September 20
Started off with a bagel and coffee from a coffee cart near me. Generally I get up in the morning and then I work from home from 2 a.m. until 5 a.m., when I come into the office, which is a couple of blocks down. Between walking there the food truck actually comes up — it opens up at just about five o'clock. So I usually time it right. I'm the first cup of coffee that comes out of the brew. But it kinda sucks if the guy's, like, five minutes late, because then I don't have a cup of coffee.
For lunch I went to Miss Lily's, had two veggie patties and carrot-ginger fresh-pressed juice, organic. I do a lot of business lunches. Usually three or four a week
We have triplets, and they're now 3. When you have three kids and they're all toddlers, it's tough just actually getting the food in their mouths. So we usually cook dinner for them, then we feed them, then we have dinner afterward. It just doesn't work any other way. So when we sat down to dinner, my wife made wild salmon and asparagus.
Saturday, September 21
On Saturdays, I head to the office a little later. I get up at two o'clock during the week, but on the weekends I usually get up around 4 a.m. I head to the office about 7 a.m., but there's no food truck on the weekends, so I went to Starbucks and had a venti Americano with a turkey-bacon white-cheddar breakfast sandwich.
After working, we took the kids to their grandmother's in Canarsie. It's a really cool area in Brooklyn, with tons of West Indians. My grandmother is Jamaican, and my wife's mother is Jamaican, so we had Jamaican food. We went to Nicky's Jamaican Cuisine on East 80th. I had jerk chicken with rice, peas, and plantains.
Sunday, September 22
Same schedule as Saturday — woke up at four. But I went in to the office early, before Starbucks was open, so breakfast was coffee and a couple of doughnuts from 7-Eleven.
I skipped lunch and ate dinner at home with the family. We had grilled Brussels sprouts and Chilean sea bass.
I haven't gotten into Breaking Bad, but I'm really into Boardwalk Empire, so we put the kids to bed and then it's Boardwalk Empire night.
Monday, September 23
Monday was a bagel and coffee from the food cart.
Lunch was takeout from Nish Nush. I had a red-hot chili sandwich. It's falafel and hummus inside a pita.
For dinner, my wife and I got takeout from Sushi of Gari. I live in Tribeca, and the thing about the neighborhood is that there are a ton of great Japanese and sushi spots here. There's Megu, Takahachi, Brushstroke, and now there's Sushi of Gari. I had an eel-and-cucumber roll, a salmon-skin roll, and a couple of pieces of fatty tuna.
Tuesday, September 24
Same bagel and coffee from the nondescript coffee cart. The guy knows me: He's pulling the cart off his SUV when I show up.
I went to Korilla, the Korean food cart in … I guess it's in Soho. It's on Varick Street. Had their rib eye with plenty of Korilla sauce, sticky rice, and extra kimchee.
It was the kids' birthday, so we had tons of cake. At the preschool we had white cupcakes with buttercream frosting — that was basically like a post-lunch. And then for dinner we had red velvet cake. The kids were happy about that.
It was their third birthday, and this is when they start realizing everything: They know a birthday is a birthday, they're starting to figure out Christmas is Christmas — all that good stuff.
Wednesday, September 25
The same bagel and coffee from the nondescript food cart.
Lunch was an iced coffee and steak salad over at Landmarc.
And for dinner I'm going to City Hall restaurant with my wife. They have really good steak. The hardest part is finding a babysitter. Now that the kids are 3 it's a little easier, but last year there was no way you could only have one person do it. You have to have two people commit, and it's still a difficult job for both of those people — other than grandmother and family, nobody's really up to the task.