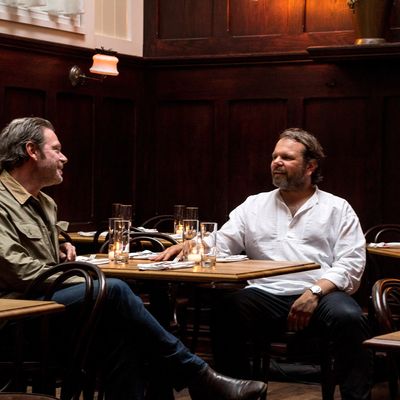 Falcinelli, left, and Castronovo.
Photo: Philip Lewis/Bloomberg
This year's Le Fooding New York events are some intriguing-sounding culinary time-travel-tinged dinners, to be held at the new Res space in Red Hook on September 27 and 28. Participants include French chef Yves Camdeborde, Peter Gordon of the Sugar Club in Auckland, and, of course, Res (and Frankie's 457 and Prime Meats) owners Frank Falcinelli and Frank Castronovo. Grub Street spoke with Falcinelli and Castronovo about Le Fooding, the progress of Res, and traveling the world, scouting food festivals and city streets looking for chefs who might want to come cook in Red Hook for a bit.
How are you guys doing? What've you been up to?
Frank Castronovo: We're good, good. We've been busy.
Frank Falcinelli: All the usual stuff: traveling around, trying to be successful restaurateurs and chefs, to grow old gracefully.
You both got back in the States last week after a long trip. Were you just hanging out in Copenhagen for an extended stay after MAD ended?
FC: No, we actually went from Copenagen to Colombia, and then to Peru. We were at Mistura as well.
This year's Le Fooding, with just a few intimate dinners, is a huge shift from the previous years' events that saw the program spread across multiple venues with thousands of guests. How'd that happen?
FF: I think they learned a lot from their mistakes last year. You're familiar with Anna Polonsky [who organizes Le Fooding's New York events]?
Yes, of course.
FF: Well, Anna Polonsky and her team are so fucking smart. That's what happened, in a nutshell. They saw what happened last year, they know the market, and they know every chef from here to Timbuktu. They're just smart, hip kids. They reacted, and they just came up with a really creative and fun event for New York. It's like the iPhone 9 of food events.
You had small events at Res over the summer, but is this the first thing of its kind had at the space?
FC: We had barbecues, and we had a party with Swallow magazine, but this is different.
Are you making any announcements about chefs coming to Res to do the kinds of intensive residencies you talked about in the initial presentation you made at Mésamerica in Mexico City?
FF: Right now we're doing it the same way we did at all our other places, which is essentially the crawl-walk-run thing. So right now we're meeting with a lot of chefs, whether they're in Copenhagen or we're at Mistura and catch someone speak. We're making the contacts, doing the groundwork to get the René Redzepis, the Alex Atalas to come to New York.
At home in New York we can develop the space with events like Le Fooding. We have a little advisory board at Res now — it's the Sue Chans [from Momofuku], René Redzepis, Gabe Ullas — these are the people that will help find the talent. We're not going to be putting up the framework all at once. It will happen when the time is right, when the moment is right.
So Redzepi is stopping by at some point?
FF: René is supposed to come in November [to promote his new magnum opus, René Redzepi: A Work in Progress], and we're going to have a party for him.
I'm not sure if he'll actually do a presentation, but he may just do a small little talk about his inspirations for the book. That's how we plan to grow things.
FC: And it's just the beginning of great things at Res.
Earlier: This Year's Le Grand Fooding Theme Is 'Time Mach'Inn'