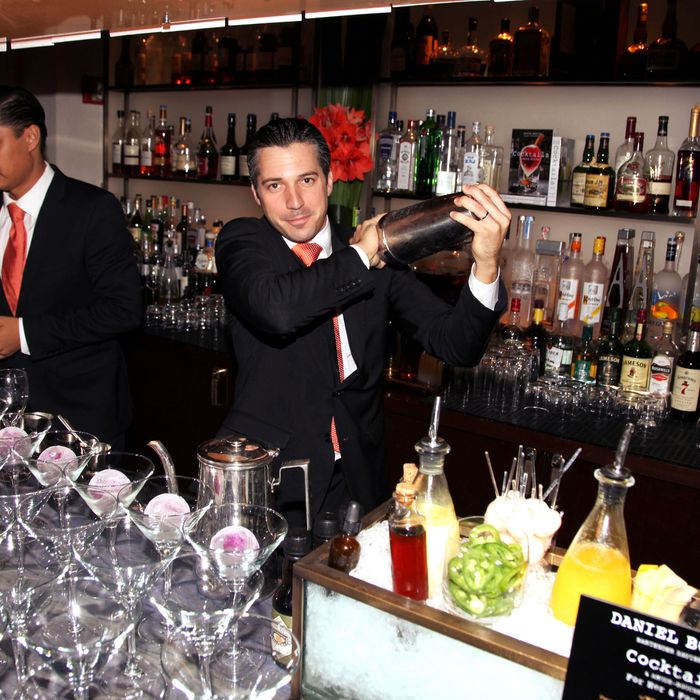 Xavier Herit, in action.
Photo: Amber De Vos/Patrick McMullan
Xavier Herit — who began his bartending career at the Plaza Athénée in Paris, worked for Alain Ducasse for two years, and then spent seven years as head bartender at Daniel (where he made drinks that look like this and this) — will open his own, more casual spot at 235 West 12th Street in the West Village later this month.
Herit tells Grub Street that the bar will be called Wallflower and will seat 45 customers. In addition to a seasonal cocktail list with drinks such as the Betty Draper (Citadelle gin, calvados, Manzanilla sherry, celery and lime juices, apple syrup, and apple bitters) and the She Sho (shochu, Oloroso sherry, lime juice, carrot-ginger syrup, and Virgil's root beer), expect a food menu from chef Jared Stafford-Hill, who also worked with Alain Ducasse.
The largely French offerings will include raw-bar selections, charcuterie, and larger plates such as scallops with seaweed and vin blanc.
Herit says he expects Wallflower to open by the end of the month and emphasizes that he simply wants it to be a place where people can drop in for a drink and a bite to eat. "We want to be a neighborhood bar," he says. "We don't want to come with a pretentious concept."