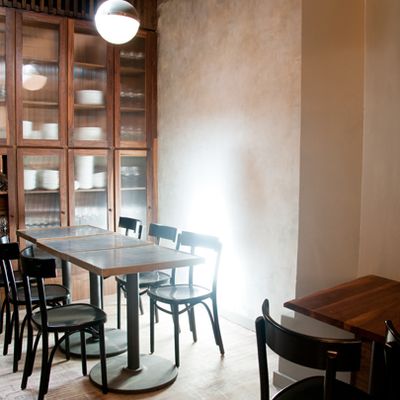 Estela's Power Rankings reign continues.
Photo: Sarah Silberg/New York Magazine
In this week's issue of New York, Adam Platt filed a review on Paul Liebrandt's Williamsburg fine-dining establishment the Elm, awarding its "deceptively simple" à la carte menu three stars. Meanwhile, Pete Wells shared his thoughts on Estela, Alan Richman panned Corvo Bianco, and more, straight ahead.
Pete Wells embraced the cooking that is "almost familiar, but not quite" at Estela. "It's the little differences that get under your skin" he writes, like rye-matzo flatbread "served with an excellent potato-thickened mash of salt cod." Though the squid dish "look[s] like a leathery, podlike alien creature alongside a blackened stem that snakes down the plate," Wells likes the "mild strangeness." Other hits: the "energetic crackle" of fried sunchokes folded into beef tartare; the "low growl of spice" given to fried eggs by pairing them with harissa-spiced bread cubes; and the "invisible pop" of yuzu and grapefruit found in a dish of uncooked summer squash and raw scallops. Although the "dishes are small" and "that noise level will climb steeply," he still awarded the restaurant two stars.
GQ's Adam Richman headed uptown to the oft-panned Corvo Bianco, and he gave it zero stars. He complains about the waitress ("she was a living slideshow who perfectly illustrated everything that's wrong with Corvo Bianco"), the branzino ("it was all fused together by flames, like the debris left after a house fire"), and the wine list ("it's difficult to figure out, even harder to comprehend after 8 p.m."). Though, to be fair, he does come to chef Elizabeth Falkner's defense: "Ordinarily I'd blame almost everything that's wrong with Corvo Bianco on her, but she has an out. I have a feeling she got dragged into this." The lackluster dessert menu is surprising considering Faulkner's pastry prowess. Overall, Corvo Bianco is a general "fail at reinventing and fancifying Italian food."
Daniel S. Meyer filed a two-star review on the restaurant hidden in the back of Greenpoint bar Tørst, Luksus. He found it to be surprisingly unpretentious for a restaurant run by two people so avant-garde that "only esoteric beer would be on offer; not even one bottle of wine for those disinclined toward suds." The tasting menu, which changes every few weeks, makes overt nods to "haute junk-food ingenuity" with the first snack of fried cippolini onions serving as a "mood-lightening wink to onion rings and ranch" — and the beef tartare is topped with "a huge sour-cream-and-onion chip made by pureeing and dehydrating chicken stock, caramelized onions and tapioca." What he enjoyed most was sitting at the kitchen-side counter and bonding with chef Daniel Burns: "What Burns shows and tells you runs an extra jolt through what he feeds you. More than the food, what you crave is the interaction."
Amelia Lester also reviewed the beer-tasting menu at Luksus, agreeing that the "unexpected and elegant food" is a delight. "There is no sense of slog in the tasting menu, no wave of terror with the petits fours that the night will never end and that you'll still be hungry when it finally does," she explains. The umami-laced beef tartare (paired with a dark ale) and blueberry-and-wintergreen sorbet were highlights of her meal.
Michael Kaminer enjoyed the Jamaican classics at Milk River in Prospect Heights, boldly stating that the chef's "skill and generosity are creating something new in this changing part of Brooklyn." He suggests ordering the jerk lamb-chop, but beware of the very loud live band. Three stars.
Ryan Sutton did not file a formal review, but he wrote a helpful guide on where to eat on Frederick Douglass Boulevard in Harlem.