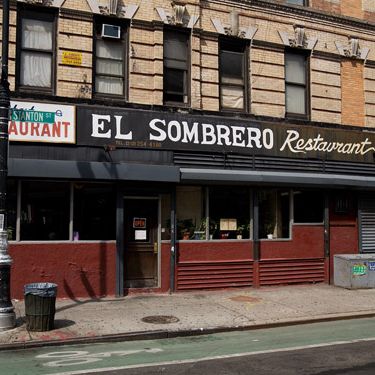 Stanton Street has a very different nighttime scene when the restaurant offered margaritas to go.
Photo: Konstantin Sergeyev
The deal is reportedly not yet finalized, but Stanton Street institution El Sombrero is said to be closing permanently, perhaps as soon as November. EV Grieve and Bowery Boogie picked up on the change of ownership by scouring CB3 Manhattan's October agenda, which lists Artichoke Basille's Pizza as the incoming tenant vying for a full liquor license.
The family-owned restaurant, also known as The Hat, has been serving enormous burritos and huge portions of fried fish and carne asada since 1984, not to mention incredibly potent (and, for a time, portable) margaritas. Earlier this year, longtime Sombrero server Regina Bartkoff indicated the rent had increased at the restaurant, but also that several of its regular customers had been priced out of the neighborhood and were no longer coming in for meals.
Bankoff told EV Grieve last night she'd heard the restaurant may close in November, or perhaps sooner. "I think it's just the last days and I'm going down with the ship," she said.
Breaking: El Sombrero Closing to Become Artichoke Pizza Outpost [Bowery Boogie]
CB3/SLA October highlights: Artichoke taking over the Hat; taker for the Max Fish space [EV Grieve]