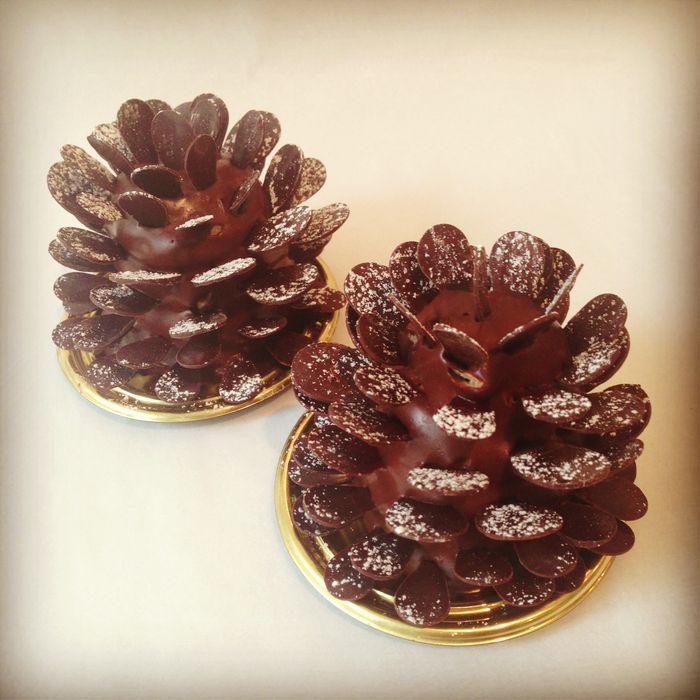 The tastiest conifer you'll eat all year.
Photo: Courtesy Dominique Ansel Bakery
Cronut inventor Dominique Ansel went foraging, in a way, among the inventory in his kitchen pantry on Spring Street and emerged with the gingerbread pinecone, pictured above. It's actually a ginger-caramel cream-filled nutmeg cake, with feuillantine-speckled speculoos mousse, and the baker's first nod to fall desserts. The full menu includes an updated classic French Mont Blanc, because that's how Ansel rolls. But that's not all — exactly zero pumpkin-spice-flavored items, straight ahead.
The full roster of new, sweet items (the bakery will debut a new savory menu as well) is as follows:

Gingerbread Pinecone
A solitary chocolate pinecone made with moist nutmeg cake, a feulletine crunch spiced mousse and caramel ginger cream ($6.25)

Apple Tart Tatin
One whole caramelized Gala apple with a salted butter cookie base ($5.75)

Purple Plumberry Tart
A celebration of Fall's purple fruits with a Cassis-poached plum on top of elderflower blackberry cream and concord grape gelée; dotted with red currants ($6.00)

Sweet Potato Mont Blanc
Roasted sweet potato (with a splash of rum) mousse, confit orange, whipped cream, and Tahitian vanilla meringue ($6.50)

Lychee Coconut Pavlova (Gluten Free)
An all-white pavlova made with lychee meringue, coconut lime cream, lychee gelée and fresh young coconut slices ($6.00)

Butterscotch Mascarpone Religieuse
Butterscoth mascarpone cream-filled two-tiered cream puffs ($6.00)

Pumpkin Cranberry Tart
Comes with cinnamon marshmallow knot ($5.75)

And of course, it wouldn't be a new month without a new cronut. October's flavor is a caramelized-apple crème fraîche. The pastry layers are piped with caramelized-apple compote that's been folded into a crème fraîche ganache (and a splash Calvados, of course). The cronut is rolled in vanilla-cinnamon sugar and decorated with a dried apple chip.
Dominique Ansel Bakery, 189 Spring St., nr. Thompson St.; 212-219-2773