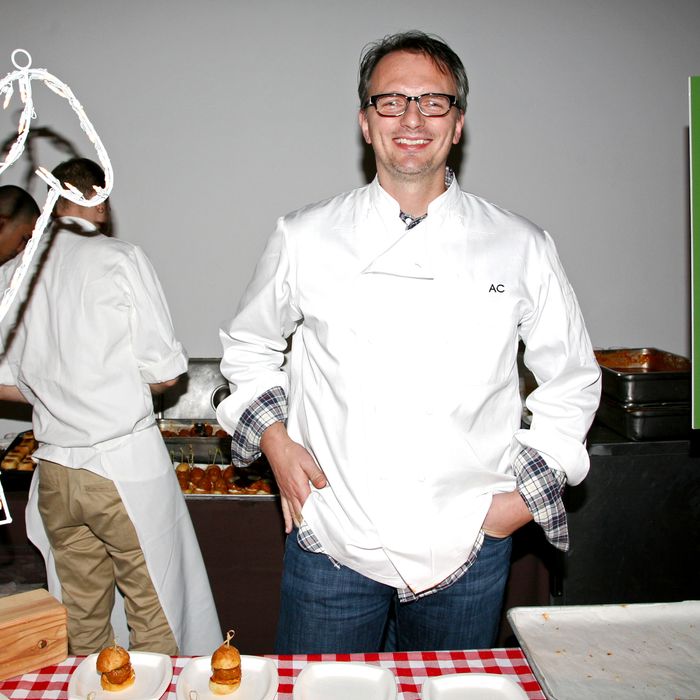 Dude makes béchamel like nobody's business.
Photo: Amber De Vos/Patrick McMullan
Now that the food offerings at the newly refurbished Terminal 4 are in flight, Delta has announced a bunch of changes coming to Terminal 2. Andrew Carmellini will channel some of the French spirit of Lafayette into Croque Madame, a new tartine shop; Salumeria Rosi chef Cesare Casella gets his rosemary on with Due Amici; Robby Cook of Morimoto will serve sushi and small plates. An incoming coffee shop and pizza spot round out the roster, and finally, Laurent Tourondel will take the high-roller-friendly food he serves at places like the Arlington Club down a few notches with BRKLYN Beer Garden, which, according to the press release, will come together with a "characteristic Brooklyn edge." It's unclear when exactly operator OTG will open the new venues, but "temporary versions" of the concepts debut today at the airport, and all are expected to be fully operational by next summer. The full descriptions, straight ahead.


• Due Amici: This restaurant features traditional Italian cuisine in the distinctive atmosphere of chic Italy. The menu highlights rustic Italian flavors and features locally grown products. A standout will be the salumi and cheese platters, a specialty of concept Chef Cesare Casella.


• BRKLYN Beer Garden: Beer gardens have historically been a gathering place for communities and celebration, and they are the inspiration for this outpost. With a characteristic Brooklyn edge, this bar features a selection of more than 20 beers on tap. Chef Laurent Tourondel will offer his expertise to see that the menu is as cutting-edge as the selection of brews.


• Shiso: Featuring contemporary Japanese cuisine by Chef Robby Cook, Shiso brings a modern menu that celebrates fresh ingredients and traditional technique. The menu includes a creative assortment of sushi and rolls, as well as fun Japanese small plates.


• Croque Madame: This playful sandwich shop offers traditional French sandwiches, tartines (open faced sandwiches), mouthwatering crepes, and a selection of made-to-order salads. Chef Andrew Carmellini¹s menu at Croque Madame highlights fresh ingredients and classic flavors. This eatery features a full breakfast and fresh breads and pastries from some of New York¹s best bakeries including Pain D'Avignon. The vibrant design adds a whimsical element to the terminal with its exuberant, feminine patterns. It is a celebration of excess ­ much like French design and cuisine.


• Cibo Express® Gourmet Markets. Cibo Express® Gourmet Markets feature a wide assortment of freshly prepared products and bottled beverages, including more than 1,000 different products. The markets feature not only 57 varieties of sandwiches, wraps, sides and salads rotated through the offerings, but also an expansive assortment of nuts, fruits, dried fruits, sweets, chocolates, cookies, health bars, granolas, veggies, cheese, crackers, side salads and pastas, spreads and dips, chips, pretzels and pastries.


• Tagliare: Classic New York-style pizza by the slice or the pie, baked fresh all day using local ingredients.


• WorldBean: WorldBean features fresh roasted coffee and espresso drinks. Fair-trade beans are sourced seasonally from small farmers throughout the world. Roasted in small batches to ensure freshness, the coffee selection will rotate depending on which coffee crops are in season. Balthazar pastries will be served at World Bean.
Related: Two Shake Shacks, La Brea Bakery, and New Marcus Samuelsson Projects All Headed for JFK Airport