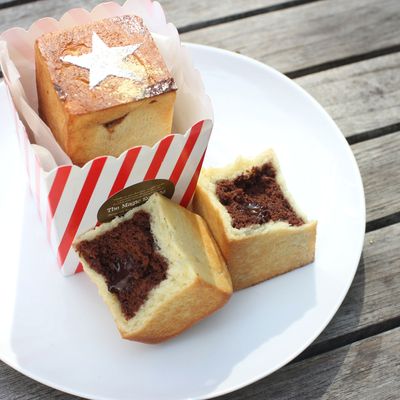 It's even got its own box.
Photo: Melissa Hom
Dominique Ansel — inventor of the cronut and frozen s'more — has another new creation ready to go. He's calling it the "magic soufflé," and it debuts this weekend at the Spring Street bakery. It's essentially a chocolate soufflé entombed in orange-blossom-scented brioche, and much like the aforementioned cronut, it's another feat of pastry engineering.
Ansel tells Grub Street he's using the roster of ingredients that would go in a traditional soufflé — chocolate, sugar, egg whites, a small amount of flour — but in different proportions. No gelatin or strange hydrocolloids are used, he says, and the soufflé remains risen even as it's proofed inside a zest- and orange-blossom-water-infused brioche dough for two arduous hours.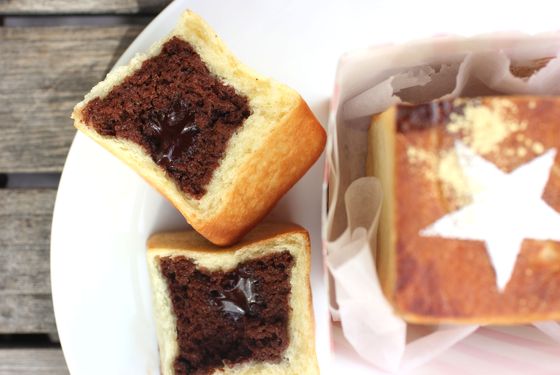 A close-up of the molten center.Photo: Melissa Hom

The result is a rectangular mini-tower of brioche with a soufflé and molten chocolate center. Ansel, who coincidentally says he hated when customers requested traditional soufflés at Daniel because he thought ramekins were "too old-fashioned," says there's also a touch of Grand Marnier in there, somewhere. While the presentation may be novel, the format is decidedly old-school: The chef says the dessert should only be consumed on the spot when still warm from the bakery's oven.
Staff will begin doling out a few samples of the magic soufflé tomorrow, and the three-in-one dessert officially goes on sale Saturday. The cost: $7.
Earlier: Introducing the Cronut, a Doughnut-Croissant Hybrid That May Very Well Change Your Life
Related:What Should Cronut Inventor Dominique Ansel Call His New Frozen S'Mores?