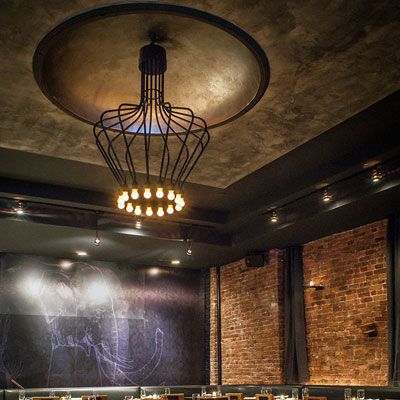 Consensus on Khe-Yo: Greats sticky rice; awful dessert.
Photo: Courtesy of Khe-Yo
In this week's issue of New York, the Underground Gourmet filed reviews on both Umami Burger and salad-centric newcomer Sweetgreen, awarding each three stars. Meanwhile, in a week filled with two-star reviews, Pete Wells explored Cantonese food in Flushing, Ryan Sutton ate $105 carpaccio in Greenwich Village, and more, straight ahead.

Pete Wells awarded two stars to a Cantonese restaurant in Flushing, Lake Pavilion, where the "dining room seats slightly fewer people than Citi Field." The seafood's worth the trek: Stir-fried crabs with ginger and scallions are a must-order; sea scallops in black pepper sauce are "bizarrely compelling"; and mayonnaise prawns are served with "deep-fried pillows of thickened condensed milk." Stranger dishes like "goose webs in a casserole with bok choi and Chinese black mushrooms" are good, too. While $110 bowls of shark-fin soup are available, Wells recommends diners skip it in favor of "the more humble winter melon soup" made with "homespun" chicken broth, seafood, and slivers of ginger.
At ZZ's Clam Bar, Bloomberg's Ryan Sutton downed a $105 plate of beef carpaccio, a price point he believes is a deal for its high-quality ingredients and "ethereal flavor." It probably didn't hurt that the plate came topped with a generous heaping of Petrossian caviar, Santa Barbara sea urchin, and "two or three silky raw" langoustines. The coconut cocktail costs $20, but it's easy to "acquiesce to that fee because the bartender, Thomas Waugh, is mixing New York's best drinks." Other hits include tuna on olive bread and "fatty kanpachi with Chinese-style broccoli and oyster sauce." Even if you can't afford to splurge, ZZ's is worth a visit for the $1.50 clams — the best way "to enjoy a Champagne setting on a beer budget."
Daniel S. Meyer headed to New York's first Laotian restaurant, Khe-Yo, and gave it two stars. Highlights include "moist sesame beef jerky," bowls of "earthy chili prawns" (which should be mopped up with "thick triangles of ginger-scallion Texas toast"), and the Berkshire pork belly served with "gently sweet summer-gourd broth." He suggests skipping the lemongrass-rubbed ribs ("too chewy"), Jurgielewicz duck that "gets burried in a humdrum garden of greens", and both dessert options, which "you could make at home."
Steve Cuozzo also penned a review of Khe-Yo. For the most part, he agreed with Meyer: Both are big fans of the sticky rice. But he found the chili prawns to be "less exciting" than Meyer did, calling them "an unimaginative riff on [Marc] Forgione's famous chili lobster." And he's not a fan of the dessert options, either: "I'd rather they went out for some decent doughnuts," he writes, even though "it would have nothing to do with the cuisine, but a meal so good deserves a happier ending."
Alan Richman ate sushi at Eric Ripert's "favorite neighborhood spot," Tanoshi Sushi Sake Bar, with the chef himself, and gave the restaurant two stars. It's the "anti-Le Bernardin": "When you call for a reservation, nobody calls you back" and you even have to go to the "wine store and buy your own sake." The omakase menu consists of only two things: sushi and miso soup. "No sashimi. No noodles. No soy. No wasabi. No dessert. No sake, even though 'sake' is in the restaurant's name." Richman's favorites include monkfish liver, big-eye tuna with "fruity tasting" moromi miso, and fluke cured in kelp. While "you can't compare this sushi to Masa," it's a great deal for the much more affordable price tag of $60 per person.
For the New York Observer, Joshua David Stein headed to the heavily reviewed Luksus. He quite enjoyed the chicken oysters and cabbage ("parsimonious and elegant"), lobster and mango relish with hazelnut foam, and the beef tartare, which he deems "one of Luksus's greatest triumphs" owing to "interesting and unexpected ingredients" such as small pickled ramp capers, black trumpet puree, sun-gold tomatoes and the much venerated "caramelized onion chip."
The New Yorker's Hannah Goldfield reviewed a reservation-only restaurant that serves an "elegant, vegetable-focused tasting menu" that pushes boundaries: Chez José. Couple José Ramírez-Ruiz and Pamela Yung do everything themselves, from cooking to serving, and they manage to churn out "ten courses" every night. Those included "fragrant chilled tomato-carrot soup, bobbing with cold Sungolds" and "bowls of creamy, al-dente risotto." Other hits: fresh-baked sourdough, "decadent green-garlic-nettle brioche," and the tangy buttermilk panna cotta topped with "tomatoes confited in caramel-vanilla vinegar and cracked-open figs."
Stan Sagner gave four stars to Astoria pizzeria Milkflower this week, calling it a "knockout" where "flour, water, and their glorious cheese is kissed by fire to make some of the city's most impressive pies." He insists diners start with the meatballs ("so light they practically dissolve in your mouth") before moving on to a range of "bruschetta-like toasts."