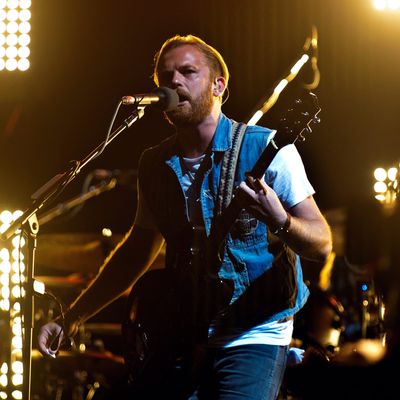 Followill.
Photo: Rob Harrison/Getty Images
A look at Kings of Leon's discography — including Mechanical Bull, out next week — reveals surprisingly few food references (booze, yes; food, not so much). Yet the Southern band played a huge part in putting together this weekend's Music City Eats festival in their hometown of Nashville. Co-produced by Barbuto's Jonathan Waxman, the fest features two days of cooking demos and panels with chefs like Nancy Silverton, Donald Link, Edward Lee, John Currence, and lots more. (The Kings themselves will also be headlining Saturday night's Petty Fest.) Grub spoke with lead singer Caleb Followill about the festival, his favorite spots in Nashville and New York, and his thoughts on using the Kings of Leon Instagram account for food porn.
How did you get hooked up with Music City Eats?
It was my idea to do a little food festival, then it grew into something a little bigger. But I think throughout the years we've become foodies, and Nashville's always been on the cusp of being a great food city.
How involved were you in picking the places for the festival?
We were very involved with the local restaurant scene, and we kind of threw out some chef's names that we wanted to be involved from around America. Me and Jonathan Waxman became friends about three or four years ago because I lived on Washington and West 12th and Barbuto was right there on Washington, and I ate there every day. So we became buddies, and when we started talking about the food festival, it was a no-brainer that he should be the guy that helped us get all of our contacts.
Talk about your food love. Do you, like, take photos of your food? Will your Kings of Leon Instagram be all food shots?
No … [Asks someone in the background] Do we have an Instagram now? I don't know how that all goes, but my brothers all seem into it. Nathan, if he takes pictures I always give him shit because I hate when you go to a restaurant and everyone's taking pictures of the food. It's like, just eat the fucking food.
So, what do you think contributed to your food appreciation?
I think just travel. After years of traveling around you are just going to have to find creature comforts that you're gonna look forward to away from home. So I think food became that. It started out more wine, but after you're drinkin' wine you've gotta have food with it.
And you have a baby girl — do you and your wife take her out to restaurants?
Yeah, we have a few little restaurants in Nashville that she can go to without making too big of a scene. She's very social. She says hi to everyone. But not just, like once; she says it nonstop. So sometimes if people are trying to eat she's just going "Hi! Hi! Hi!" She'll look at them until they respond. But there are a couple of restaurants where it's kind of quiet and they know what's coming. We haven't found any in New York yet, though. We could just take her to Barbuto, but we've moved from that area now.
Would you ever give a Yelp review?
I don't know, I'm really too nice. When I'm in New York — me and the wife live in New York, too — when I go to order in food and I see people's reviews, I don't understand how they could be so mean! So sometimes I'll go for the food anyway, and I'm like, Yeah, I'll give 'em a shot. And it's really not that bad! But people are like, "I will never eat there again! Zero stars!"
You are a cook as well. How did you learn?
I don't know, from a young age I really enjoyed it. Me and my cousin used to go hunting and camping or whatever, and we'd build a bonfire and we'd cook over the fire, so I was into it from an early age. Cooking eggs over an open fire. I'd even cook Spam. I was a Spam guy.
Do you hunt?
I have killed and skinned a rabbit, yes, ma'am. It was, like, a one-day hunt. But it wasn't even in season. It was disgusting. It should not have been eaten, but my uncle made us eat it, so we did.
Okay, so it's late at night, after a show. What would you throw together?
If I had groceries I would probably just do, like, a simple pasta at the end of the night. I know you're not supposed to eat pasta at the end of the night.
But it's the best thing. Do you know 2 Chainz just came out with a cookbook of recipes to make on tour?
Is that right? I'll throw down with him.
Would you ever do a cookbook?
I don't think the world needs to see a cookbook with my face on it just yet.
What about a booze? Maybe something to rival the Mumford & Sons whiskey or the Hanson beer?
I feel like people see enough of us. I mean, if I had a great idea or great supplier to do some sort of alcohol, shit. I mean, I would love to create the next Patrón and ride off into the sunset.