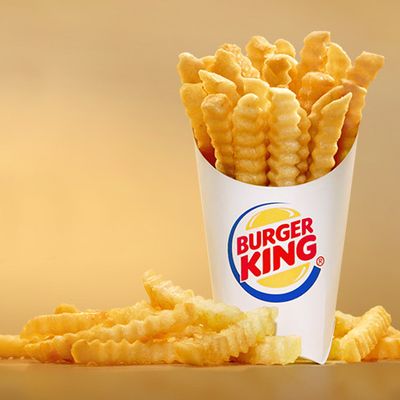 These probably are your father's crinkle-cut French fries.
Photo: Burger King
Apparently that weirdo French fry burger thing was just a warm-up exercise in fast-food innovation, because today Burger King has unveiled its new "Satisfries," quick-service spuds that are (a) crinkle-cut, and (b) have "40% less fat and 30% fewer calories" than the leading competitor, which the Times says is McDonald's. (Who knew?) The underlying fry tech that makes all of this possible, apparently, is a novel batter that coats the frozen food-service fries in some newfangled way and repels grease, all hopefully without the aid of nanobots.
"You live in Manhattan and might be having a kale smoothie on your way to work this morning," says chief marketing officer Eric Hirschhorn, who apparently speaks entirely in SEO-optimized koans and believes everyone in New York to be a deranged hoarder of cruciferous vegetables. He goes on to explain lots of people have no idea what kale is, adding, "You have to give people what they want." The way things are going, of course, that means you should probably start getting ready for the chain to roll out a low-fat French fry with a molten, kale smoothie interior, perhaps this time next year.
Burger King Introducing a Lower-Fat French Fry [New York Times]
Earlier: Burger King's Sad New 'French Fry Burger' Only Costs $1
Related: Kale Is Front-Page News