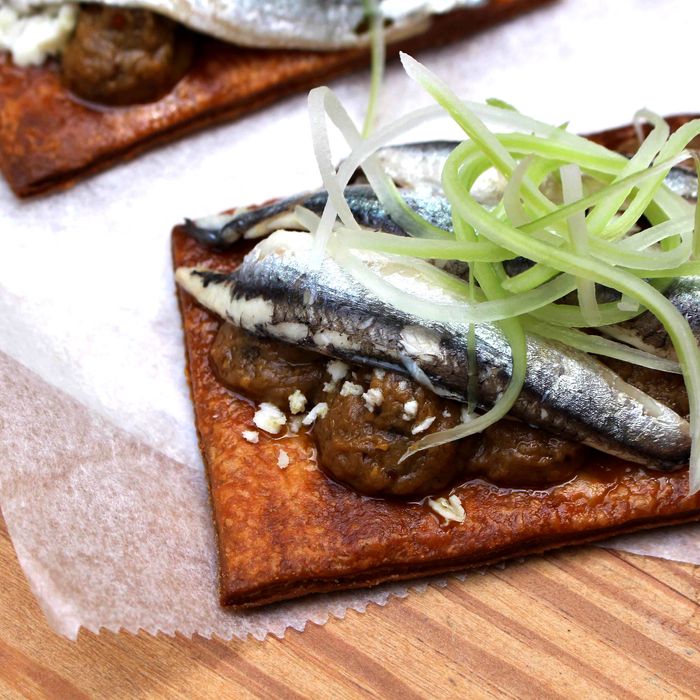 Roasted eggplant and boquerones.
Photo: Courtesy of Bien Cuit
Earlier this summer, Bien Cuit's West Village location was flooded just after its Smith Street flagship celebrated its jubilant two-year anniversary. The bakery's floorboards were damaged, but owners Zachary Golper and Kate Wheatcroft quickly found themselves set back by other flood-related issues. "It turned out to extend beyond the floors," says Wheatcroft, and the location's future currently has yet to be determined. "We're looking into every possibility," Wheatcroft says, explaining that no decisions have yet been made. "Maybe it'll take six months. It could be sooner, but we're just not sure." In the meantime, Bien Cuit in Boerum Hill is expanding its menu yet again, and the roster of new breakfast items and sandwiches will begin rolling out next week. The full lineup, which looks killer, is straight ahead.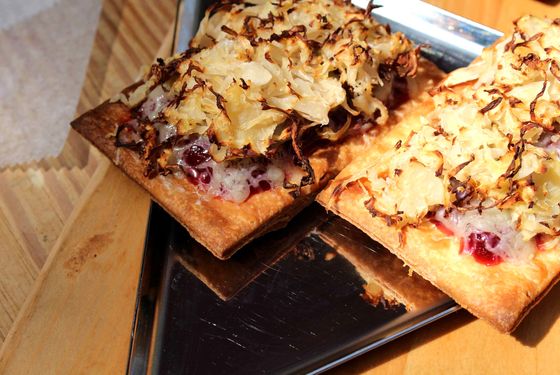 Lactofermentation in action right here.Photo: Courtesy of Bien Cuit



Seasonal Danishes
• Polenta pastry cream with roasted pineapple
• Housemade red currant and sake jam with sesame frangipane

Desserts
• Fig and rooibos tart
• Three chocolates tart with brown butter crémeux and miche feuilletine
• Banana, coffee, and walnut cake

Quiche
• Cauliflower roasted in black truffle salt, Rupert (Consider Bardwell Farms)
• Dandelion greens and New York cheddar

Savory tarts
• Eggplant, boquerones, celery, and queso blanco
• Italian prune jam (housemade, no sugar added), Reading roasted sauerkraut

Sandwiches
• Cuban
Roasted pork, ham, cornichon, mayonaise made from Iberico drippings, on baguette

• Estranjero (Vegan)
Chayote, sweet potato, black bean puree, chimichurri, on pugliese

• Corn Tartine (vegetarian)
Goat's cheese, tomato concasse, sage oil, seared corn, jalepeno powder, served on broa de milho

• Breakfast Tartine
Scottish smoked salmon, creme fraiche, sorrel pesto, egg yolk, served on campagne

Look for the menu items at Bien Cuit starting September 15.