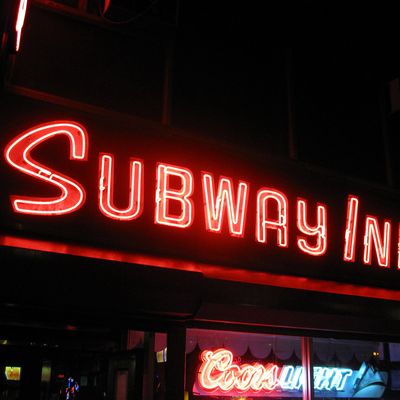 Still one of New York's best signs.
Photo: Goosefriend/Flickr
This week, Jackie's 5th Amendment, the long-lasting dive bar on Park Slope's Fifth Avenue, will close its doors forever. It will be replaced by a pharmacy. Lately, bars like Jackie's close with whiplash-inducing frequency. For many, myself included, each closing is a reminder of another urban treasure, lost in the city's inexorable march toward condo-and-chain-ridden mall-dom. And so, it's time to appreciate some of the dives that are left — before they're gone for good.
Dive-bar detractors look at a spot like Jackie's, or Mars Bar, or Holiday Cocktail Lounge, or Blarney Cove (to name a few recent casualties), and see a bar, plain and simple — a smelly place for drunks to fuel up. But where dive bars lack things such as crystal mixing glasses, bespoke cocktails, and vintage-spirit collections, they better serve the tavern's ancient civic functions as a gathering place, community center, and port in a storm.
 
And there's a class issue at play: That is to say, in the best possible sense, dive bars have no class. Anyone's allowed — there are no velvet ropes, bouncers, or rules of etiquette posted in the bathroom. They're the all-night diners of the bar world, and as long as you can hold your liquor, don't pick a fight, and your money's good, you're a Rockefeller. That's comforting in a city where status is so important.
 
There are still a few ancient, dingy draft lines out there through which you can draw a cold one. For sheer character and quirkiness, here are six personal recommendations:
Inside Hank's.Photo: Elliot Black
Hank's Saloon (Boerum Hill): Some dives look divey only on the inside. Hank's, quite out of place on the northerly border of of now-gentrified Boerum Hill, looks divey on the outside, too. Its frame is ramshackle and appears as if it might collapse at any moment; its facade is covered with hundreds of stickers and painted flames. Inside, if you squint, you'll spy out the details (stained-glass cabinets, cast-iron pillars) of a very old bar. A historical one, too. Before it was Hank's, this was the Doray Tavern, hangout for the ironworking Caughnewaga Indian community that once lived in this area. Now, though, it is a dark corner spot where bands perform most nights on a matchbox stage at the end of the bar. The crowd is a surprisingly refreshing mix of young and old, hipsters and barflies.
 
Lucy's (East Village): Half the attraction of this dark East Village cove is Lucy herself, the bar's diminutive, seen-it-all owner, who can be found most nights quietly sipping bison-grass vodka and apple juice at the end of the bar. Getting in can be a trick because opening times vary from night to night. And Lucy has the tendency to take off when the whim strikes her, sometimes to travel back to her native Poland. The floor is a patchwork of various materials. But then, so is the bar itself, which is part of its charm.
Lucy's.Photo: Shanna Ravindra
O'Hanlon's Bar (Astoria): In Astoria, under the rumbling metal canopy of the elevated train, sits one of several bars in New York that's named O'Hanlon's. This one is probably the oldest — founded 74 years ago. It's still in family hands, too. To see what O'Hanlon's was like in its swankier days, check out the old framed photographs in the back. Other sections of wall are papered with caricatures scrawled on cocktail napkins. A bit of an outpost, it attracts mainly regulars of a certain age. But a stranger will receive a friendly welcome from the bartender.
Reynold's Cafe (Washington Heights): This corner bar is worth a visit way up to Washington Heights to gaze at the old neon sign that curves along its corner entrance, as well as the old wooden bar that stretches the length of the oddly shaped space. The joint was born shortly after the repeal of Prohibition. Originally an Irish bar, its current clientele — half Irish, half Hispanic, all elderly — reflects the changing demographics of the neighborhood. As a result, drinking here can feel both like a time warp and a modern melting-pot experience. The jukebox, filled with romantic classics of another era, is golden.
Inside O'Hanlon's.Photo: Jackie Klempay
Station Cafe (Woodside): You can always tell the really old dives, because they still refer to themselves by the genteel name of "café." This place — my personal favorite among Gotham's dive bars — won its name because of its location in Woodside directly under the 61st Street 7 line station. It began life as a speakeasy and went legit in 1933. The interior seems crummy at first, but, as your eyes adjust, you'll notice a once-handsome bar and old posters advertising a Tom Collins for pennies. Drinking here is a straightforward affair and, as at the best dives, they start early.
Subway Inn (Midtown East): It gets a lot of press — maybe the most of any New York dive bar — and famous people like to slum here, but it's still a dive. The floor and ceiling undulate in unsettling ways, and the red-leather booths are held together by duct tape. As with most dives, beer and shots are the way to go here. The joint's high profile probably derives from the fact that it sits smack dab opposite Bloomingdale's. It basically functions as a silent rebuke to its hoity-toity neighbor.
 
To be clear: I don't want to go to dive bars all the time, anymore than I want to face down a densely detailed cocktail menu every time I'm thirsty. I just want the choice: Spots for beer, wine, and craft cocktails; bars for meeting a group, and bars for solitary nightcaps; someplace I can get one flawless Manhattan, or, for the same money, two buckets of Miller High Life ponies. Different bars for different times. Why live in New York if not for the infinite variety of experience?
Yes, vanishing dive bars aren't a city-stopping loss. I tend to look at it as more like losing a patch in the metropolis's quilt. Most of the quilt is still there, but in the middle of the night, when the cold winds blow, that hole makes itself felt. The town's just that much chillier.