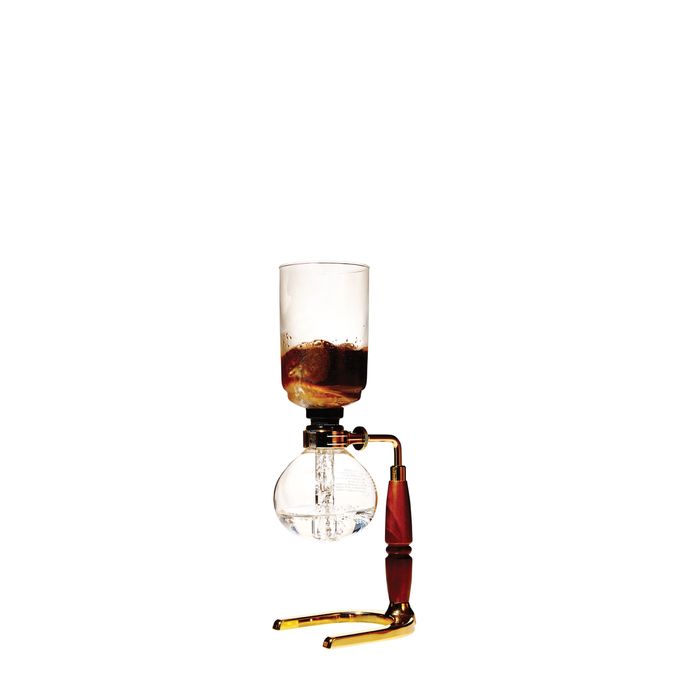 Hi-Collar's siphon coffeemaker.
Photo: Bobby Doherty/New York Magazine
It used to be that if you were serious about running a coffee bar, you didn't give the food you served—if you offered food—much thought. You made espresso, espresso drinks, and single-cup brewed coffee, and that was that. Food was for amateurs. The problem with this approach was that some people actually like something to nibble on with their coffee, no matter how wonderfully pure and complex that cup may be. The solution, it seemed, was to outsource the grub from a few reliable bakeries. But that got old fast as everyone outsourced the same stuff from the same bakers. (Man, after all, cannot live by Ceci-Cela croissants alone.) Then came house-baked-pastry pioneers like Abraço and Café Grumpy, and deliciously oddball concepts like the breakfast tacos at Williamsburg's Whirlybird. Here, the latest wave of coffee specialists where the food is just as much of a draw.
Blue Bottle
450 W. 15th St., nr. Tenth Ave.; no phone
What more can you say about Blue Bottle—the Oakland-based roaster with a handful of shops and kiosks in New York and more on the way—that hasn't been said? You already know its espresso and drip coffee are the gold standard of third-wave coffee connoisseurs, and so are its pastries—especially the savory shortbreads and that diet-be-damned double-chocolate cookie. Well, waffles … that's what you can say. They've recently installed a rustic waffle iron at the Chelsea location's semi-clandestine siphon bar, and as it turns out, made-to-order Belgian waffles (with Vermont butter and New York maple syrup) plus a cup of organic, Fairtrade heirloom Ethiopian Sidama is pretty much a match made in heaven.


Hi-Collar
214 E. 10th St., nr. Second Ave.; 212-777-7018
This elegant nook is the only place we know where you can get a cup of siphon, AeroPress, or pour-over coffee fastidiously made by a friendly dude in a workwear kimono and a bowler hat, accompanied by a delicious pork-katsu sandwich on pain de mie with the crusts cut off. In a city of increasingly frenetic coffee bars, the thirteen-seat counter is a calm oasis with Stan Getz and Bill Evans on the playlist. Beans come from Counter Culture and Toby's Estate, and additional Western-inspired comfort-food dishes include fluffy hot cakes and rice-stuffed omelettes. Should nature call, make use of the facilities—the tricked-out, gold-walled bathroom would do Donald Trump proud.


El Rey
100 Stanton St., nr. Ludlow St.; no phone
At first glance, everything—as lovely as it is—seems familiar at this brand-new Lower East Side coffee bar: Counter Culture beans, La Marzocco Strada espresso machine, and a barista wearing a cap that wouldn't be out of place in the window of the J.J. Hat Center. And yet, on closer inspection, you see that your Vietnamese coffee has been poured from a tap, and it's terrific. So is the cortado, served in a nice glass. The clincher, though, is the work of owner and former pastry chef Nicholas Morgenstern: delectable, multi-hyphenated things like a salt-and-pepper-pine-nut sandy, zucchini-and-walnut-pesto focaccia, and a chocolate-apricot-buckwheat cake that will ruin you for muffins and scones.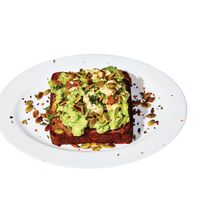 Little Collins

667 Lexington Ave., nr. 56th St.; 212-308-1969
You know you're in an Australian coffee bar by the flat whites (a Down Under latte variant) and the avocado toast, which at midtown's spiffy new Little Collins is mashed with feta and speckled with pepitas and chile flakes. Food is never neglected in Aussie coffee shops, according to partner Leon Unglik, who named the place after a street in his native Melbourne. (Chef-partner Arnon Magal happens to be Israeli, hence the schnitzel with hummus and brunch shakshuka.) Melting-pot menu aside, Little Collins is making its name on the coffee-geek circuit as home to New York's first Modbar, an undercounter brewing system that stows the bulky equipment out of sight, so the Counter Culture espressos and water for single-origin pour-overs seem to issue forth from built-in spouts and spigots like magic.

Toby's Estate Coffee
125 N. 6th St., nr. Berry St., Williamsburg; 347-457-6160
You'd think its proximity to rival roastery-café Blue Bottle would be a liability for this Australian import, but in fact, Toby's offers the North Side's super-caffeinated citizenry an entirely different coffee-shrine experience: It's Wi-Fi central, with tons of seating and an on-premise kitchen that makes first-rate sandwiches and salads to order. Of these, the egg on a roll stands out, with its squishy, airy bun; good, sharp Cheddar; and espresso-maple-lacquered bacon. And then there's the avocado toast, a tahini-and-black-sesame-dressed reminder of Toby's antipodean roots. The coffee itself is house-roasted, demystified in public cuppings and classes, and shown to exquisite effect in espresso blends and single-origin pour-overs.
Cafetería La Mejor
191 Suydam St., nr. Wilson Ave., Bushwick; no phone
Stumptown Hair Bender beans and a steady hand at the La Marzocco make for a rich and rounded café con leche at this cheerful little Cuban coffee bar run by two Florida expats. But even if these guys were serving Folgers from a Mr. Coffee, we'd go for one of the city's best Cuban sandwiches—expertly smooshed and streamlined to half its size. As for the Veggie Cubano: It sounds wrong but tastes right.
*This article originally appeared in the October 7, 2013 issue of New York Magazine.