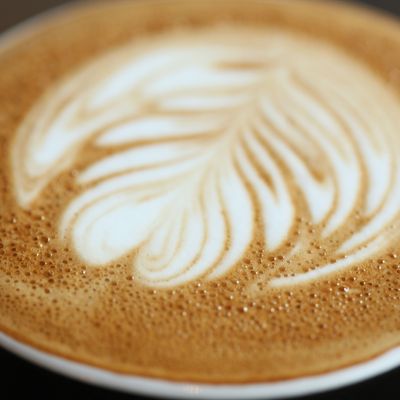 A flat white from Toby's Estate.
Just a few decades ago, Americans' coffee choices were largely limited to regular or decaf. No more, obviously. The explosion of cappuccino- and latte-laden shops of the eighties and nineties gave way to the so-called "third-wave" movement of the early aughts, in which owners (smartly) began treating coffee beans — technically seeds from coffee berries — as a proper ingredient and not some simple commodity. That point of view has evolved even further, and it's now easier than ever to find a shop staffed with coffee obsessives who will happily blow your mind with their knowledge and skills.
Here's what defines the modern American coffee shop, circa 2013: a desire to source coffee responsibly (or buy beans from someone who does), trained (but not grumpy) baristas who can pull perfect shots and turn them into top-level espresso drinks, and a mind-boggling array of coffee-extracting techniques (awesomely named things like Chemex, v60, and Steampunk).
That's not to say all of these new-look spots are created equal: As with all things in life, some are better than others, which is why Grub Street tracked down every coffee expert we could think of — people like Oliver Strand, Atera chef Matthew Lightner, and coffee entrepreneur Duane Sorenson — to tell us which spots they think are the best in class. The results include industry hangout Joe Pro Shop & HQ in New York, Octane coffee in Atlanta (which specializes in Coke-and-espresso shots), and Barista Parlor, tucked into an old auto garage in Nashville.
Everyone has a favorite coffee shop, and the reasons for a customer to pick one place or another vary greatly. But the spots on this list aren't just dedicated to pouring excellent coffee; they're also committed to pushing the movement forward with next-level food, booze, and hospitality programs, continuing to make America an even better place to grab a cup of coffee.
To make things a little easier, we've broken the list down by city. Click any of the names to jump ahead: New York; San Francisco; Los Angeles; Chicago; Portland, Oregon; Seattle; Washington, D.C.; and the rest start right here.
Related: Here's the Complete List of 58 Extraordinary Coffee Shops — With a Map!