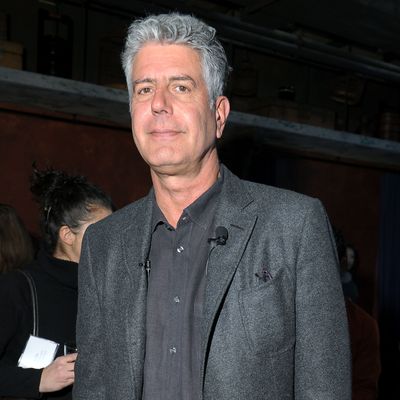 Congrats, Tony.
Photo: Michael Loccisano/Getty Images
Yesterday marked the Creative Arts Emmy Awards — a.k.a. the less star-studded, more tech-focused Emmys — and Anthony Bourdain's CNN Show Parts Unknown took home the award for Outstanding Cinematography for Nonfiction Programming and shared the honor of Outstanding Informational Series with Inside the Actor's Studio. (In other food-related-show news, Top Chef's Last Chance Kitchen won the award for Outstanding Creative Achievement in Interactive Media and MasterChef won Outstanding Art Direction for a Multi-Camera Series.)
Aaaand we won Best Informational Series for #PartsUnknown!!! Congrats @bourdain @tvsuperstarr @Freemanballs, Chris, Lydia, and Sandy!— ZPZ Production (@ZPZProduction) September 16, 2013

We won!!! #PartsUnknown @bourdain pic.twitter.com/wrW6XUSrWz— T V (@tvsuperstarr) September 16, 2013

#PartsUnknown Table. pic.twitter.com/hPKpt6l7bG— Zach Zamboni (@zachzamboni) September 16, 2013

This post has been updated to include the award that MasterChef received.
HBO, 'Behind The Candelabra' Lead Creative Arts Emmy Awards [Deadline]