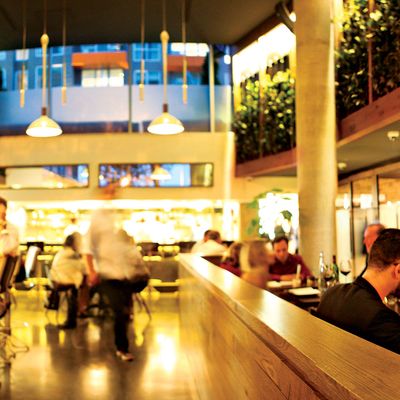 Photo: Jenny Westerhoff/New York Magazine
Change, in the rapidly gentrifying New York dining world, tends to unfold in a series of slow, predictable stages. Take Brooklyn, which in the beginning was settled by the outliers (Saul Bolton of Saul, Sharon Pachter and Charles Kiely at the Grocery), who opened their quaint West Village-style bistros during the nineties in what were then the distant, sketchy gastronomic regions around Smith Street. They were followed by a rabble of energetic second-wave colonists who pushed farther into undiscovered areas like Bushwick, Williamsburg, and Red Hook, opening scruffy bourbon bars and locally sourced restaurants. Now, inevitably, comes a period of retrenchment and counterrevolution, in which innovation gives way to imitation and the original style that the locavore gastronomes created for themselves begins to mirror the stuffy, gilded fine-dining world of Manhattan that they left behind.
For a firsthand view of this remorseless anthropological cycle, I suggest you book a table at Paul Liebrandt's eagerly awaited new restaurant, the Elm, which opened recently on the border of McCarren Park, on the northern fringes of Williamsburg. Before defecting across the river, of course, Liebrandt was one of Manhattan's most celebrated chefs, known for his tempestuous outbursts and his four-star cooking, most recently at Corton in Tribeca. Like Corton, his new home features a gleaming, state-of-the-art kitchen, although this one is set, somewhat unceremoniously, on the basement floor of the new hotel King & Grove Williamsburg. There's a dining counter designed for elaborate tasting dinners and a bar serving cocktails with "fresh-picked herbs and fruits." But despite these folksy touches (a forest wall covered in ivy; a view, if you crane your neck upward, of the trees outside), the room feels less like a raffish outer-borough destination than like the breakfast lounge of a second-tier midtown tourist hotel.
"This is the end of Brooklyn," I muttered to no one in particular as a plaid-shirted waiter moved around our table serving tiny, pointy-ended (and, yes, delicious) baguettes from a specially constructed wooden baguette tray. These were followed shortly by the first round of appetizers, which included a butter-pat-size torchon of foie gras, caked on top with a scrim of strawberry gêlée and a carefully tweezed arrangement of garden beets (set over a spicy housemade XO sauce), which Ms. Platt happily devoured in roughly eight seconds flat. My classic preparation of steak tartare was obscured in a little bouquet of shaved radish and garden herbs and tasted faintly of flowers ("It's the violet mustard," the plaid waitperson said), and so did the house gnudi, which were plated with an expertly seared scallop the size of an apricot amid clouds of Southeast Asian-style lime-and-coconut-flavored tom yum foam.
Liebrandt's à la carte menu is deceptively simple (it contains just sixteen dishes) and is divided into elemental names like "Raw," "Sea," and "Land." But in terms of technique and composition, the food is about as different from your garden-variety Williamsburg-bistro dinner as a racy European sport coup is from a weather-beaten old Chevrolet. "This dish is like a fairy-tale forest," one of my guests exclaimed as she examined the components of Liebrandt's exotic interpretation of braised lamb's neck, which included, among other things, boats of hollowed-out baby eggplant filled with quinoa, and a carefully flattened anise leaf, dusted with a North African spice blend, set over a little dab of lemon purée. The skins of the bite-size Swiss-chard agnolotti are rolled with a faint trace of lobster, and the modestly priced duck breast ($20) is slow-roasted to a kind of pink, bubble-gum sweetness and brushed on its crispy, golden top with toasted honey.
This kind of precious, high-wire cooking may take some getting used to for the locals around McCarren Park, but the Manhattanites at my table could barely contain their glee. "I can't tell you how delicious this is," cried my wife as she dug in to a gently cooked mélange of Greenmarket vegetables called Summer Garden (on the menu's "Share" section), which the waiters hoisted to our table in a glittering Le Creuset pot. Other items from the "Share" section included a serving of wet, blandly denatured Kiev-style chicken breast, and a slow-roasted, gourmet version of pork belly (garnished, in the Iberian style, with pan con tomate), which is soft enough to eat with a spoon but lacks any real barnyard taste. If you get one "Share" dish, make it the ivory-colored turbot, which Liebrandt and his chefs paint in the middle with a thin green mousse made of ramps and serve over an elegant lemongrass nage piled with summer beans and bits of bacon.
As you would expect, there are many elaborate wine-snob options available, including fifteen varieties of Champagne (twelve of which are over $100) and a gourmet selection of Bordeaux (divided into Right Bank and Left Bank) and Rhônes (divided into North and South). Before the dessert menu arrived, we were presented with an enticing display of modestly priced goat cheese laid out on a slate tray ($12 for a section of Bonne Bouche from Vermont Creamery), which you can enjoy with what I'm sure is one of the better offerings of Sauternes in this section of North Williamsburg. The desserts include a fine, cherry-infused Black Forest brownie made with the darkest of dark chocolates, and a predictably un-messy, meringue-heavy version of an Eton Mess. But the undoubted star of the show is the elaborate summer "red fruit" tart, which is served under a shiny glass dome.
160 N. 12th St., nr. Bedford Ave., Williamsburg; 718-218-1088; theelmnyc.com
Hours: Breakfast every day 7 to 11 a.m. Dinner Tuesday through Saturday 6 to 11 p.m., Sunday and Monday until 10 p.m.
Prices: $15 to $56 (shared plate).
Ideal Meal: Steak tartare, turbot for two, summer "red fruit" tart or Eton Mess.
Note: Liebrandt will begin serving an elaborate tasting menu at the dining counter in the upcoming months.
Scratchpad: Two stars for the accomplished, un-Brooklyn savory menu and another for the booze and desserts.

This article originally appeared in the September 23, 2013 issue of New York Magazine.