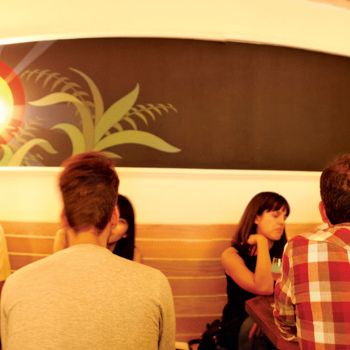 Luksus Photo: Jenny Westerhoff/New York Magazine

All the maddening little tropes of the haute-Brooklyn dining experience are on display at Luksus, which opened earlier this summer on Manhattan Avenue in Greenpoint amid the jumble of rapidly gentrifying beauty parlors and bodegas. There's the obscure Nordic name ("Luxury" in Danish) and the online reservation system, which is generally more annoying than it is efficient. There's the hidden, shoe-box dining space, which you get to, in this case, through a sliding pocket door in the back of a neo-Danish beer hall called Tørst. There's the spare, Scandi-style tasting menu filled with the usual artisanal buzz phrases ("wood sorrel," "burnt hay"). And, of course, there are the patrons themselves, crouched at tiny hand-hewn wooden tables, communing with their carefully foraged dinners while sipping craft beer from dainty wineglasses.
"This is a very interesting vegetal construction," commented one of my skeptical guests as we pondered one of our first courses: an arrangement of garden carrots and baby beets, presented with utmost care on a wooden butcher block. The boutique beets were pale yellow and vividly purple, and we dipped them in puddles of a shiny substance called "carrot egg cream," which looked vaguely unnerving but tasted like some elegant form of hollandaise. We ate the carrots next, and then a little slip of Broadbent's country ham, dehydrated to a melting potato-chip crisp and dusted with vinegar powder. After the course was cleared away, we sipped glasses of fruity Jolly Pumpkin's Weizen Bam ale and listened to the sitar section of "Norwegian Wood," which seemed to be looping endlessly on the house stereo. "This is surprisingly pleasant," my now less skeptical friend said.
The chef at Luksus is an intense bewhiskered gentleman named Daniel Burns. Like lots of the intense, bewhiskered young chefs of his generation, he has worked in various kitchens in the Momofuku empire, and he's also served as the head pastry chef at René Redzepi's famous forager mecca, Noma, in Copen­hagen. Unlike many of his compatriots, however, Burns seems to have a knack for leaching the staginess and pretentiousness out of the whole tasting experience and imbuing it with a kind of natural elegance. After the carrots and beets, we took delivery of three fresh, faintly briny razor clams, garnished with curls of radish, in a light, richly flavored seafood purée. The inevitable egg dish appeared after that, composed of a single bright-orange yolk, a pod of buttery chanterelles, and green fans of roasted sucrine lettuce, all of which were covered with a faintly smoky corn-flavored broth.
There are only five courses on the $75 tasting menu at Luksus, but almost all of them carry a subtle, sophisticated punch. Instead of razor clams one evening, my tasters and I enjoyed a delicate helping of chicken oysters, followed by flat pink sheets of steak tartare dressed with sliced tomato and a diaphanous, deliciously crackly substance that our waitress merrily described as an "onion chip." My favorite main course was the lamb breast, which the kitchen marinates in buttermilk, burnt hay, and yogurt, then sears in crunchy-skinned slices and plates with a spoonful of a cool, faintly gamy lamb's-tongue salad on the side. It was followed by a palate-­cleansing sorbet—tasting pleasantly of pine needles—and ­dessert, which on one night was simple blueberries and on another was a delicate mousse flavored with rhubarb and dressed with a sweet purple meringue, which was touched, in high-Brooklyn style, with pickled garden beets.
It's possible to enjoy a decent gourmet meal for yourself at the ambitious, ­preciously named new midtown restaurant Betony (it's a kind of herb) provided you ignore the location (on a hectic stretch of 57th Street) and the feng shui-challenged room and décor, much of which seems to have been left over from the previous tenant. Betony's proprietor is a Russian businessman named Andrey Dellos, who also bankrolled a doomed venture called Brasserie Pushkin, which briefly occupied the same address last fall. The spaceship-size pastry counter that graced the front of the room at Brasserie Pushkin has been ­mercifully removed, along with the flowery neo-­oligarch artwork. But the oppressive color scheme is a holdover (brown tablecloths; grayish bathhouse brick walls; brown velvet banquettes), and the two-tiered dining space still feels oddly stuffy, ­especially if you sit in the back.
Betony's studied, occasionally overfussy menu (conceived by former Eleven Madison Park ­executive sous-chef Bryce ­Shuman) appears to be a kind of uptown-lite ­version of the one at his old mother ship. The most successful dishes tend to lean ­heavily on Daniel Humm's polished, haute-barnyard model, in particular the seared foie gras (in an inventive ham-hock consommé), and the chicken breast, which is served with a side of shredded thigh meat on dandelion greens. My soft flap of short rib seemed to have been in the sous vide bag for several hours too long, but no one had any complaints about the poached lobster, topped with a little toupee of fresh dill. For maximum gourmet pleasure, complement it with a luxurious chocolate crémeux or the coconut pâté au bombe, a buttery dessert that combines the earthy pleasures of sticky-toffee pudding with the ethereal booziness of an old-fashioned baba au rhum.

Luksus
615 Manhattan Ave., nr. Nassau Ave., Greenpoint; 718-389-6034; luksusnyc.com
Hours: Tuesday through Friday 6:30 to 10 p.m.
Prices: $75 tasting menu.
Ideal Meal: Carrot-and-beet snack, chicken oysters and cabbage, garden lettuce with chanterelle and egg, lamb breast, rhubarb mousse.
Note: There are no cocktails or wine, but an excellent craft-beer tasting is available for $45.
Scratchpad: Two stars for the deceptively sophisticated cooking and another for the exceptional value.

Betony
41 W. 57th St., nr. Sixth Ave.; 212-465-2400; betony-nyc.com
Hours: Monday through Thursday 5:30 to 10 p.m., Friday and Saturday until 10:30 p.m.
Prices: Appetizers, $14 to $28; entrées, $25 to $36.
Ideal Meal: Seared foie gras, roasted chicken breast or poached lobster, chocolate crémeux.
Note: There are plenty of wines to choose from on the 45-page list, but pay attention to the cocktails, curated by Eamon Rockey.
Scratchpad: Two stars for the cooking and another for the drinks. Minus a star for the feng shui-challenged space.
*This article originally appeared in the September 16, 2013 issue of New York Magazine.