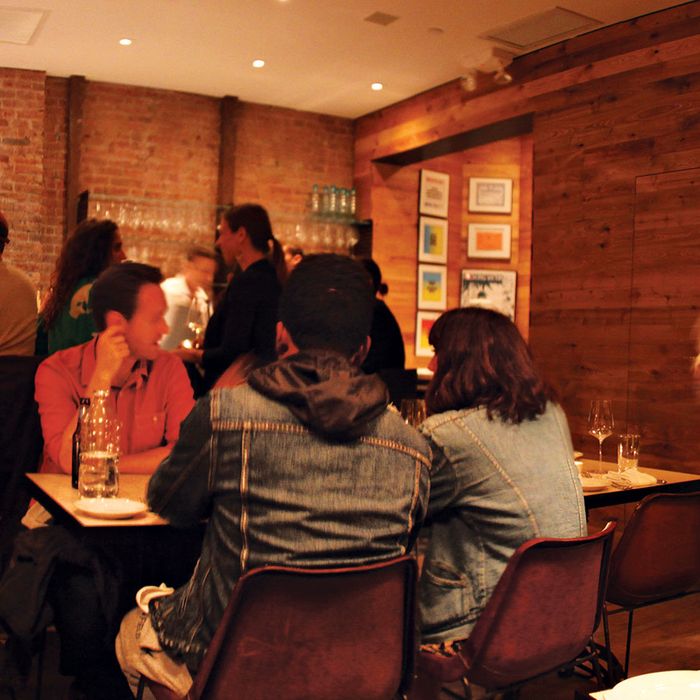 Photo: Jenny Westerhoff/New York Magazine
You have to give the proprietors of the jaunty new Soho restaurant Charlie Bird credit for transforming one of the more awkward dining spaces in the entire city into an agreeable—if clamorous—spot for a bowl of early-evening pasta. The squat, double-height room, off King Street, is tight and narrow and tapered at one end like a wedge of pie. The last time I dropped in, the doomed occupants had installed dark wood molding on the walls, among other grim, claustrophobic touches. Now these walls are a combination of reclaimed white ash and exposed brick. Instead of featuring gloomy burled oak, the new bar is made of polished marble and set here and there with fans of spindly, house-baked bread sticks. You can get a classic Negroni at the bar to go with the bread sticks, and the café tables are well spaced and fitted with comfortable designer chairs covered in hand-sewn leather.
The nouveau rustico Italian menu at Charlie Bird—constructed by a lapsed haute cuisine chef named Ryan Hardy—has a jaunty tone to it, too. It's brightly colored, like a concert flyer, and divided into bold-lettered sections (RAW, SMALL PLATES, LARGE PLATES), which will be familiar to anyone who's lifted a restaurant fork around town in the past decade or so. Much of the food is diligently sourced from the farms and waters around the city, and most of it, especially in the early going, is very good. I'm thinking of the raw diver scallops, which Hardy dresses with spoonfuls of brown butter; the farro salad (with crunchy pistachios, little shingles of Parmesan, and fresh sprigs of mint); and the robust SMALL PLATE helpings of stewed tripe and whipped chicken liver, both of which are served with thick, buttery wedges of Tuscan-style toast.
As dinner progresses, however, the noise levels in the pint-size room become less bearable, and the quality of the cooking begins, ever so slightly, to unravel. "This is a junior-varsity bowl of noodles," said my friend as he picked at an inert, glutinous rendition of round, folded cappellacci, muffled in threads of oily broccoli rabe. My bowl of crab-laced squid-ink "chitarra nera" pasta tasted weirdly fishy, and the sobalike knot of noodles underpinning the excellent-sounding duck-egg ­spaghetti were bland and chalky. The LARGE PLATE entrées were more successful, although none of the preparations my tasters and I enjoyed—tepid shreds of suckling pig with a rewarmed piece of crackling on top, good crispy country chicken with a robust bread salad, a ­professionally cooked piece of skate with chanterelles—will win any awards for originality.
Robert Bohr, who used to be the ­sommelier at the great wine restaurant Cru, is now a partner (and sommelier) of this small establishment. So if you're feeling a little frazzled late on a crowded evening, and if you have the funds, I suggest you take refuge in his wine list, which is eclectic and wide-ranging for a restaurant this size and includes bottles produced by some of his accomplished sommelier friends (Aldo Sohm at Le Bernardin, Dustin Wilson at Eleven Madison Park). The pre-made house desserts are more prosaic and include strawberries with mascarpone, a pedestrian square of lemon cake, and a decent chocolate budino scattered with caramelized Rice Krispies. If you want to end your meal in classic rustico style, call for the smooth, properly wobbly panna cotta, which is stippled on its top with vanilla beans and sunk in a rich puddle of blueberry compote.
I don't know how many truly trendy restaurants there are in the tiny Southeast Asian country of Laos these days, but Marc Forgione, Nick Bradley, and their chef partner, Soulayphet Schwader, have done their best to create the facsimile of one right here in the big city. The brick walls of their bustling Tribeca establishment, Khe-Yo, are hung here and there with pots of ivy, and the lacquered, carefully distressed tables look like they've been lifted from one of the night markets around Bangkok or Louangphrabang. There are exotic, tongue-twisting dishes on the menu with names like ping pa (grilled black bass) and gaeng phet moo (pork-jowl curry), and if you belly up to the bar with the crowds of corporate revelers who frequent the restaurant in the ­evenings, you can addle yourself with hibiscus mimosas and glasses of mezcal touched with litchi juice and sprigs of mint.
Inevitably, many of these creations feel more like hybrid mash-ups than the real thing. Laotian food is known for its heat and its touches of French Colonial ­delicacy, but the mellifluously named gaeng phet moo tasted oddly de­natured, and the spice accompanying my serving of prawns (where you would procure prawns in tiny, landlocked Laos, I have no idea) appeared to have been poured from a can. Schwader's best dishes tend to be more subtle combinations, like balls of crunchy sticky rice sweetened with coconuts; the fresh salads (try the duck laap peht); and an amalgam of sautéed mushrooms (a special), which our waiter instructed us to wrap in strips of fresh kale. The lone house dessert is a random but soothing rice pudding. It's dotted with chunks of green apple, which you can sprinkle, for an extra Tribeca kick, with crushed peanut brittle.

Charlie Bird
5 King St., at Sixth Ave.; 212-235-7133; charliebirdnyc.com
Hours: Sunday through Thursday 5:30 to 11 p.m., Friday and Saturday until midnight.
Prices: Small plates, $12 to $17; large plates, $27 to $38.
Ideal Meal: Farro salad, whipped chicken liver and/or stewed tripe, roasted chicken, panna cotta.
Note: All wines on the house list are available by the half-bottle.
Scratchpad: One star for competent, if occasionally uneven, rustico cooking and another for the décor and wine.

Khe-Yo
157 Duane St., nr. W. Broadway; 212-587-1089; kheyo.com
Hours: Lunch takeout window open Monday through Friday 11:30 a.m. to 2:30 p.m. Dinner Monday through Saturday 5:30 to 11 p.m.
Prices: Appetizers, $9 to $15; entrées, $21 to $33.
Ideal Meal: Laap peht duck salad, crunchy coconut rice, sauteed-mushroom special, rice pudding.
Note: Now serving its signature bánh mì to go at lunchtime.
Scratchpad: Two stars for the cheerful vibe and the idea of Laotian cooking. Minus a star for the execution.
*This article originally appeared in the October 7, 2013 issue of New York Magazine.