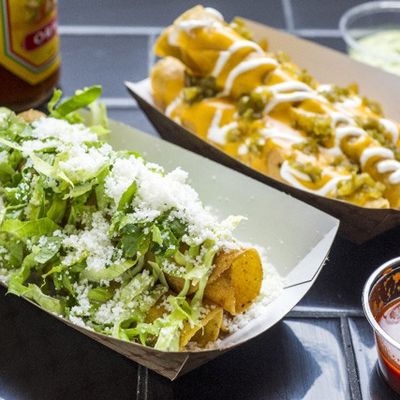 Taquitoria offers San Diego–style rolled tacos.
Photo: Evan Sung
You are no longer allowed to complain about the New York City taco situation. We've got high-caliber places like Empellón Taqueria and Tacombi at Fonda Nolita, as well as a superabundance of incredible smaller spots. The best news yet: The list of excellent taco shops, both high and low, continues to grow. Check out ten exceptional new spots, straight ahead.
TacoTown
BrisketTown's Daniel Delaney has set up shop at Madison Square Eats to sell his beloved Best of New York–winning tacos. Since this pop-up only goes through October 25, you have every right to order all of the varieties offered: brisket, pulled pork, fried chicken, and fried-Brussels-sprout tacos.
Los Tacos No.1
Three friends — two Californians and one from Tijuana — launched this Chelsea Market stand in the spring to "bring the authentic Mexican taco to the East Coast." Critics have praised the adobada (marinated pork tacos), as well as the deep-fried quesadilla especial with carne asada.
Tacos Morelos
The new brick-and-mortar outpost of this beloved pushcart opened in August on East 9th Street. It gets extra points for authenticity — and apparently Aziz Ansari is a fan.
Taqueria Diana
This is another new taco spot that's "inspired by the countless taco trucks and burrito outposts of California." San Francisco native and former Meatball Shop manager Matthew La Rue opened this East Village restaurant in July, offering simple steak, spit-roasted pork, chicken, and poblanos tacos with freshly made corn tortillas. (Bonus: Nachos are on the menu, too.)
Sembrado
The East Village is bursting with tacos: Hecho en Dumbo's Danny Mena's new venture is far more casual than his sister restaurant, but he's still using high-quality ingredients like natural, hormone-free meats and hand-pressed corn tortillas. Make sure to order the "Make-Your-Own Mexican Sundae" with horchata ice cream for dessert.
Taquitoria
Three Marc Forgione alums are behind this brand-new standing-room-only, single-dish snack bar, which specializes in "San Diego–style rolled tacos." For just $5, you can choose three fillings: Creekstone Farms beef, Bell & Evans chicken, Berkshire pork, and black bean. The chicken's marinated in Batch 22: Marc Forgione's bloody mix.
Tres Carnes
Imagine if Chipotle made tacos: At this fast-casual Flatiron restaurant, which opened in April, pitmaster Mike Rodriguez specializes in "Texas-smoked Mexican fare." You can fill soft, white-corn tacos with smoked brisket, chicken, or pork shoulder, and then pile on toppings like chipotle squash, street-cart corn, and roasted tomato salsa.
El Diablito Taqueria
This place isn't as meat-heavy as the others; it offers a fish taco with tempura tilapia, a grilled-shrimp taco, and a vegetarian variation with poblano rajas, corn, zucchini, and grilled nopales. Don't forget to order churros, too.
La Cenita
Former La Esquina chef Akhtar Nawab is overseeing the kitchen at the EMM Group's newest restaurant, which opened last week in the former 250-seat Abe & Arthur's space. It's by no means traditional — and you should brace yourself for the typical B&T; scene — but Nawab's involvement gives Grub hope that this place will transcend its MePa surroundings.
Otto's Tacos
Yet another East Village taco joint! Los Angeles expat Otto Cedeno is opening this restaurant in October because he's tired of eating New York's second-rate tacos. (Maybe he should visit the aforementioned spots in the neighborhood first.)