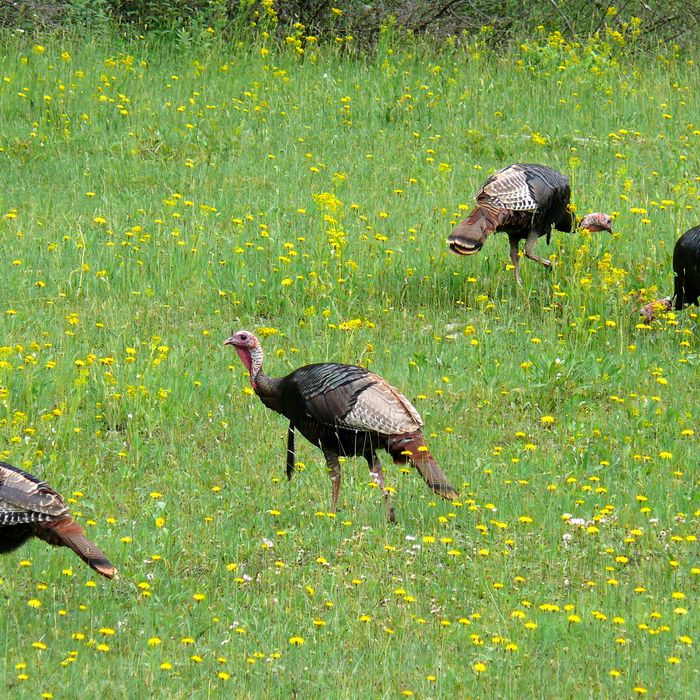 The USDA says it'll "require several visits" to get them all.
Photo: Ken Thomas via Wikimedia Commons
More than 80 turkeys of different breeds who've had free reign over a South Beach Psychiatric Center campus on Staten Island are in the process of being rounded up by the USDA and will be slaughtered, the Staten Island Advance reports. State reps claim the birds have caused a buildup of "excessive feces" on handrails, and at other times they've effectively blocked ambulances pulling up to the Staten Island University Hospital next door. A USDA spokesperson says it'll "require several visits" to bag all of the turkeys, which have grown in number and are frequently fed by locals. Once slaughtered, "the resulting meat will be stored frozen until testing confirms its suitability for donation for human consumption," the agency tells the paper.
An employee of the psychiatric center tells the Advance that the feds stormed the campus yesterday morning. "They were picking the turkeys up by their necks and feet, and throwing them into plastic crates," she says.
Because the population contains both wild and hybrid turkeys, the federal agency says, the captured birds cannot be released back into the wild per New York State Department of Environmental Conservation regulations. But what about other options? We live in a country where the president "pardons" a turkey each year, and this is an election year. Perhaps one of our hardworking mayoral candidates will work out an amnesty deal for the remaining birds. Will someone please help these wild turkeys go Snowden?
Feds round up wild turkeys on Staten Island for slaughter [SI Advance]