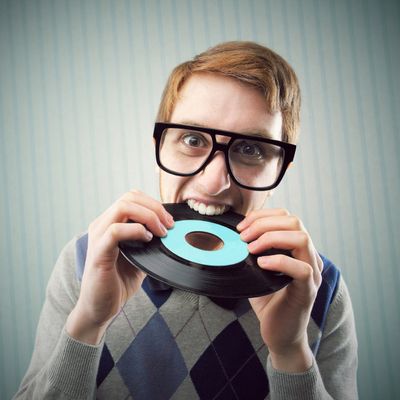 Please don't eat the music.
Photo: iStockphoto
As if all those Facebook-propelled flash sales and blitz tweets announcing two-for-one free-range chickens wasn't enough, Whole Foods last week opened record stores inside five of its locations in Southern California. Stock includes vinyl albums by artists like Bob Marley, Daft Punk, and Tegan and Sara, otherwise known as those people whose songs play normally in Whole Foods while you're quixotically tapping the hell out of some cantaloupes in a quest to find the ripest specimen.
The organic-grocery-store chain's executive coordinator Mike Bowen tells Time that the run on vinyl isn't really about squeezing extra cash out of customers, it's more about "giving them access to the things they want — whether it's their favorite cheese or their favorite way to enjoy music." It's unclear if the program will expand to the 335 other Whole Foods out there, so, for now, don't be surprised to find Daft Punk paired with Époisses. Elsewhere, grooves are near the tarts.
GMO-free vinyl now spinning at select Whole Foods [Time]
Earlier: Whole Foods Struggles to Move Past 'Whole Paycheck' Reputation