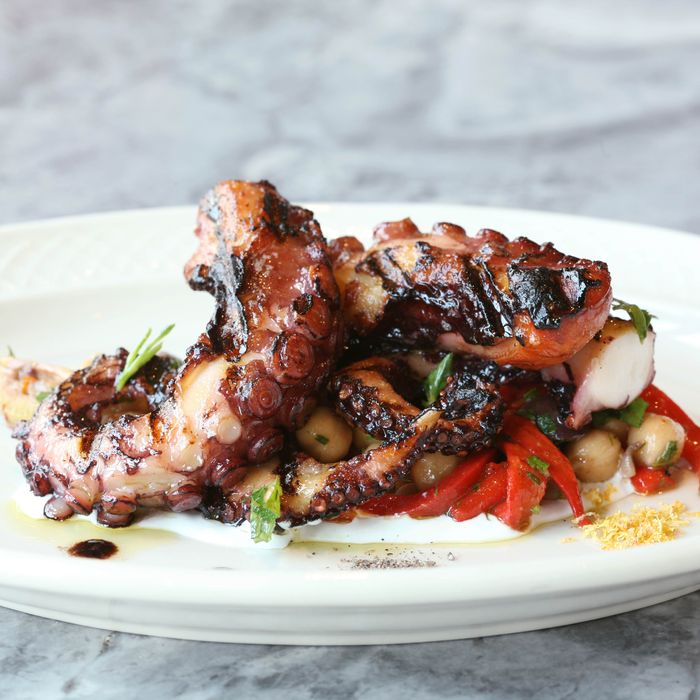 Order the octopus, says Wells.
Photo: Melissa Hom
This week, New York's Underground Gourmet awarded Café Nadery three stars, and El Aripo Café two. At the former, Chef Louisa Shafia transforms Iranian cooking into "health food for this locavore era," while the "mom-and-pop" team at El Aripo Café serves excellent empanadas and arepas and other Venezuelan specialties. Meanwhile, Pete Wells liked the hearty Greek food at MP Taverna, but, like Platt, Daniel S. Meyer found fault with Costata. Read it all, straight ahead.
Pete Wells ate at the Astoria outpost of MP Taverna, chef Michael Psilakis's Greek restaurant that feels like a diner. He's a fan of the "marvelous" ricotta gnudi, the grilled-octopus appetizer, the extensive wine list, and the "terrific sausages," which "turn up a lot" on the menu. But he didn't like the roast chicken, fried squid, and grilled watermelon that "tasted as if it had been slapped down on the same part of the grate where fish is cooked." Service was clunky, too. One star.
Daniel S. Meyer reviewed Costata. The bland, "generic" décor set the tone for Michael White's "half-thought-out" restaurant, where "for every hit there's a miss." The romaine cacio e pepe is "one of the best chophouse Caesars in town," but many of the overpriced crudos are "skimpy" and "underwhelming", like a sardine crostini "slapped around by floral preserved lemon." While the namesake rib-eye, aged 60 days and broiled at 1,900 degrees, is "laudable," with a "lingering funk"; other steaks are dry around the edges. With Michael White's empire expanding so quickly, this restaurant is suffering from "thinness of attention." Two stars.
Alan Richman visited ZZ's Clam Bar and was "flabbergasted" by the restaurant. The food is "noteworthy," particularly Santa Barbara uni on grilled pretzel bread with mustard oil. But the main event is the "supremely stylish" room, decked out in flowers and "as ornate, startling, joyous, and ridiculous as a blonde popping out of a birthday cake." But the experience was marred by a man wearing a backpack who walked in from the street to use the bathroom, and shattered the illusion of otherworldly refinement. And with a bill for two coming in at $316, those things matter. Richman's verdict: ZZ's "has to upgrade the experience." Still: Three stars.
The Daily News's Michael Kaminer reviewed the Bar Room, a spinoff of downtown Bar Six that "plays the serious sibling to its predecessor's party girl." Cod croquettes, with light-as-air fish-and-potato filling, are tastefully paired with horseradish mayo, and the Montuak cod is served with fingerling potatoes "sublime in their straightforwardness." Though the salmon tartare is a flop and the deserts are skippable, the food here outclasses the Moroccan-tinged Bar Six, and overall "outshines the original." Three stars.
Instead of a review, Steve Cuozzo wrote an ode to the chicken parmigiana that is masquerading as a pizza at the newly opened Quality Italian. The chicken "not-pizza," plated on a tabletop stand, could "fool anyone." The preparation involves grinding chicken with Italian herbs, breading, frying, and then cooking in the oven with San Marzano sauce and cheeses. The result is "luxuriantly juicy," and is "possessed of an herbal complexion as might come off a North African grill." It costs $52 for two, but can easily feed four.
The New Yorker's Hannah Goldfield passed on a review in favor of a review-length look at some of the new offerings at Chelsea Market. She gives a nod to Hybird, where Questlove's "juicy" and "satisfyingly crisp" fried chicken "pairs surprisingly well" with dumplings. Next door is Los Tacos No. 1, which "boasts an authoritative air of authenticity" and quesadillas that are "impossible to stop eating." And then there's the more upscale Cull & Pistol, where, aside from lobster, you can get oysters "like gulps of fresh seawater" and a Long Island clam toast with "plump, briny littlenecks flecked with parsley and tasso ham" that will transport you straight to Montauk.