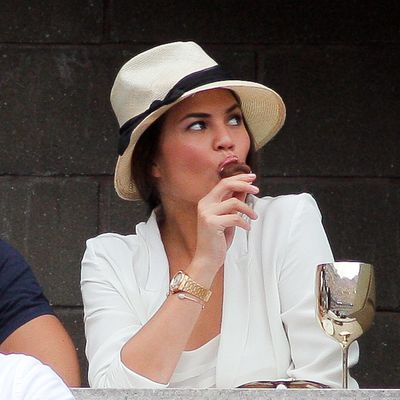 Chrissy Teigen, at last year's Open.
Photo: Brock Miller/Splash News
No offense to the classic ballpark combo of hot dogs and Bud Light, but when it comes to quality sporting-event grub, there's no competing with the U.S. Open. Oysters on the half-shell and a flute of Moët? Check. Yellowtail sashimi from an Iron Chef? There's that, too, along with dosas, tacos, and too many types of burgers to count. But what of it is actually good (and worth the price markup)? Grub Street's got you covered.
Organizers held a media tasting last week at Aces, a restaurant inside Arthur Ashe Stadium. You'll need a courtside or luxury-box ticket to dine here during the tournament, but there's still plenty of new food highlights, even if your seats aren't Anna Wintour–level.
Tony Mantuano (of Chicago's Spiaggia), Masaharu Morimoto, and David Burke are back running the show at the sit-down venues, serving things like salumi antipasto ($12), serviceable sushi rolls ($12 to $25), and cheesecake lollipops ($18 for 8), respectively.
But Grub was most excited about the new additions to the so-called Food Village. Here's why: Hill Country. The Texas-style Flatiron 'cue joint will be serving up its oak-smoked signature brisket ($15), as well as chicken tenders ($13, with fries) and their popular cupcake-size pie cups ($3.75) in seasonal flavors. We especially liked the cowboy variety made with dark chocolate, butterscotch, and toasted pecans.
Another standout to-go option is the tender filet mignon sandwich ($16) from East Gate Grill, which comes with Pat LaFrieda Black Angus and a pile of caramelized onions. That LaFrieda meat might not be Black Label–burger quality, but it's still better than what you'd find at most stadiums.
Players are covered, too, thanks to Balance Kitchen, which offers sandwiches, sushi, smoothies, and the like. But, since that's not open to the public, it's not really worth discussing here — needless to say, if Rafael Nadal or Serena Williams invites you back for a green juice, you go no matter what.