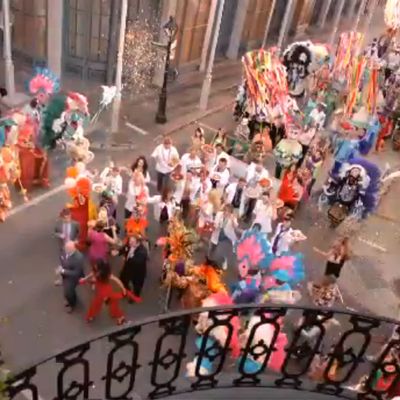 The Times-Picayune has a bunch of pertinent Top Chef news this morning, starting with its premiere date, which is October 2. The show's New Orleans–set eleventh season will also feature celebrity judges Jon Favreau, Lea Michele, Anthony Mackie, and Questlove, as well as celeb-chef judges Eddie Huang, Jacques Pepin, and David Chang. Local legends Leah Chase and Paul Prudhomme will guest-star on certain episodes, as will musicans Kermit Ruffins and Dr. John. Here's a festive little trailer in which Gail, Padma, and Tom are dancing in the street with the bumper crop of new contestants, along with some new friends.
In addition, Bravo announced the names of six contestants; the remainder will be named tomorrow and Wednesday. Here they are.


BENEDETTO BARTOLOTTA
AGE: 37
HOMETOWN: Astoria, New York - currently resides in Manhattan, New York
PROFESSION: Chef/owner of Indulge by Bene Catering & Events
CULINARY EDUCATION: A.O.S Culinary Arts, C.I.A
FAVORITE SIMPLE FALL DESSERT RECIPE: Simple apple crumble tart with a talegio cheese gelato
A star graduate of The Culinary Institute of America, Benedetto Bartolotta has studied extensively in Europe and Asia where he honed his skill and brought back fresh and innovative ideas. Bene has worked as the Executive Chef for acclaimed New York City restaurants such as San Domenico NY, Cipriani, and Osteria del Circo. He most recently appeared alongside Chef Odette Fada as her Sous Chef on Bravo's "Battle of the Sous Chefs," as part of "Top Chef Masters" culinary competition. His latest creation is Indulge by Bene, a premier catering and event planning company in New York City. Bene has planned his signature company to appeal to clients who seek a unique food experience in a setting of their choice. Indulge by Bene's fine-dining approach to catering presents clients with seasonally inspired menus, prepared to perfection, designed and tailored just for you. If he could have a last meal with anyone, it would be a Kobe beef burger with bacon and cheese, onion rings and a chocolate peanut butter milk shake with former President George Bush.

JANINE BOOTH
AGE: 25
HOMETOWN: Perth, Australia - currently resides in New York City, New York
PROFESSION: Chef de Cuisine
CULINARY EDUCATION: Le Cordon Bleu, Miami
FAVORITE SIMPLE FALL DESSERT RECIPE: Pumpkin scones with maple mascarpone.
Growing up in Australia, Janine was surrounded by unique flavors from all over the world which inspired her to embark on a culinary journey throughout Europe, Asia and beyond. Janine's travels lead her to Miami, Florida, where she studied Culinary Arts at Le Cordon Bleu and worked in restaurants alongside former "Top Chef" Alum Chef Jeff McInnis, exploring Southern American, Thai, Vietnamese and Modern American cuisines. Janine is currently living in New York City where she is working on her own restaurant, which is scheduled to open late 2013. When Janine is not sweating it out in the kitchen, she is spending time with her shih-tzu, traveling, and making memories with friends and family.

JASON CICHONSKI
AGE: 27
HOMETOWN: Bucks County, Pennsylvania - currently resides in Philadelphia
PROFESSION: Chef/ Owner, Ela Restaurant
CULINARY EDUCATION: The Restaurant School at Walnut Hill College
At the young age of 27, Chef Jason Cichonski, is the Chef and owner of Ela Restaurant in Philadelphia's Queen Village neighborhood. Hailed by The Philadelphia Inquirer that "few kitchens in town can match Ela's food value-wise for pure excitement…from the first course to the last, the chef at Ela is hottest where it matters most." Ela is co-owned by Chef Chip Roman, one of the city's acclaimed chefs who first partnered with Jason to open his Chestnut Hill restaurant Mica, another top restaurant in the region. Prior to joining Chef Roman at Mica, Jason served as executive chef at Lacroix at the Rittenhouse when he was only 24 years old. Before his success at Lacroix, he worked in other highly praised kitchens, including the Pluckemin Inn, a fine dining Italian restaurant in Bedminster, NJ and Moonlight, a progressive American restaurant in New Hope, PA. The five ingredients Jason always has on hand are: Mustard crackers, ginger oil, kaffir lime leaves, smoked balsamic vinegar, ginger.

STEPHANIE CMAR
AGE: 28
HOMETOWN: Boston, Massachusetts
PROFESSION: Sous Chef, No.9 Park
CULINARY EDUCATION: A.A. Culinary Arts, B.A. Food Service Management, Johnson & Wales
FAVORITE SIMPLE FALL DESSERT RECIPE: Apple cobbler with an equal size scoop of vanilla ice cream
Always passionate about cooking, Stephanie Cmar began working in the food industry when she was 15 years old at the Muffin Shop in Marblehead, MA. It ignited her thirst for food and provided the direction for her life. In 2007, Stephanie graduated from Johnson & Wales University and returned to Boston to begin her career at Top of the Hub. She continued developing her talent by working as sous chef at Ivy Restaurant. Her next step was working with Barbara Lynch Gruppo at B&G; Oysters in 2009 as line cook where she was quickly promoted to sous chef and from there, she moved over to Stir. Most recently, Stephanie has continued to further her fine dining skills at No. 9 Park. The fast paced, creative environment continues to inspire her and drives her passion for food.

NICHOLAS ELMI
AGE: 32
HOMETOWN: West Newbury Massachusetts - currently resides in Philadelphia, Pennsylvania
PROFESSION: Executive Chef
CULINARY EDUCATION: A.O.S Culinary Arts, C.I.A
FAVORITE SIMPLE FALL DESSERT RECIPE: Pickled and Preserved Blueberries with Yeast and Sorel Ice Cream
Chef Nicholas Elmi has worked at some of the top rated French restaurants on the east coast, including Guy Savoy (Paris), Le Bec Fin, Union Pacific, Oceana and Lutece. Nicholas has built a solid French repertoire that is constantly undated with influences from his travels as well as his upbringing in New England. In the fall of 2013, Nicholas plans on opening his own restaurant and business in Philadelphia, the city he has called home for 13 years.

PATRICIA VEGA
AGE: 29
HOMETOWN: Gurabo, Puerto Rico – currently resides in Queens, New York
PROFESSION: Sous Chef, David Burke Fishtail
CULINARY EDUCATION: Classic Culinary Arts, French Culinary Institute
Chef Patricia Vega was born and raised in Puerto Rico and moved to New York at the age of 21 to pursue her childhood dream of becoming a chef. After training in classic French cuisine and graduating from the French Culinary Institute in 2010, Patricia has worked in some of NYC's most prestigious kitchens, including: Plein Sud, Nougatine at Jean Georges, and most recently, David Burke Fishtail. She loves giving a nod to her Puerto Rican heritage in her food, but she is most passionate about French and Italian cuisine. Her favorite recipe to cook is ricotta cavatelli pasta with braised short ribs and bitter greens.

'Top Chef: New Orleans' to premiere Oct. 2, season guests to include Leah Chase, Kermit Ruffins [Times-Picayune]
Earlier: 'Treme' Creator David Simon Takes Down Bravo's Andy Cohen Over 'Top Chef' New Orleans's BP Oil Spill Cash