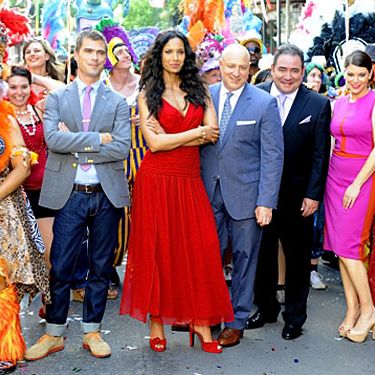 The hosts and judges sure are a colorful bunch.
Photo: Courtesy of Bravo
This morning, Bravo announced the names of the final batch of contestants who will appear on the forthcoming New Orleans season of Top Chef. They include a young veteran of brigade-style kitchens, another protégée of Boston chef Barbara Lynch (season-ten winner Kristen Kish was another), a Queens native who yearns to make a peanut-butter milk shake for George Bush, and, perhaps fittingly, a theater major turned cook. If the rowdy new promos are any indication, Tom Colicchio and Padma Lakshmi had more fun than usual while shooting in the city, and we'll find out when the show premieres on October 2, when they're joined Emeril Lagasse, Gail Simmons, and Hugh Acheson, along with guest stars such as Dave Chang and Leah Chase. Check out the seventeen hopefuls, straight ahead.
BENEDETTO BARTOLOTTA
AGE: 37
HOMETOWN: Astoria, New York - currently resides in Manhattan, New York
PROFESSION: Chef/owner of Indulge by Bene Catering & Events
CULINARY EDUCATION: A.O.S Culinary Arts, C.I.A
FAVORITE SIMPLE FALL DESSERT RECIPE: Simple apple crumble tart with a talegio cheese gelato
A star graduate of The Culinary Institute of America, Benedetto Bartolotta has studied extensively in Europe and Asia where he honed his skill and brought back fresh and innovative ideas. Bene has worked as the Executive Chef for acclaimed New York City restaurants such as San Domenico NY, Cipriani, and Osteria del Circo. He most recently appeared alongside Chef Odette Fada as her Sous Chef on Bravo's "Battle of the Sous Chefs," as part of "Top Chef Masters" culinary competition. His latest creation is Indulge by Bene, a premier catering and event planning company in New York City. Bene has planned his signature company to appeal to clients who seek a unique food experience in a setting of their choice. Indulge by Bene's fine-dining approach to catering presents clients with seasonally inspired menus, prepared to perfection, designed and tailored just for you. If he could have a last meal with anyone, it would be a Kobe beef burger with bacon and cheese, onion rings and a chocolate peanut butter milk shake with former President George Bush.

RAMON BOJORQUEZ
AGE: 31
HOMETOWN: Rio Rico, Arizona - currently resides in San Diego, California
PROFESSION: Sous Chef, Nine-Ten
CULINARY EDUCATION: Scottsdale Culinary school
FAVORITE FOOD: Thai and Mexican
Ramon Bojorquez is the Sous Chef at Nine-Ten, an upscale farm to table restaurant in downtown La Jolla, California. Ramon is of Mexican descent, born in Rio Rico, Arizona, and was professionally trained at the Scottsdale Culinary School. He grew up watching his grandfather cook, and carries a considerable amount of Mexican, Spanish, and Thai influence in his cuisine. He has traveled the world, from serving as a stage in Spain to fighting Muy Thai professionally in Thailand. Ramon loves bold and spicy flavors- simple yet powerful. He believes "the combination of peppers, cilantro, and lime can be used in almost any dish." Above all, fresh, seasonal products stand as the cornerstone of Ramon's cooking.

JANINE BOOTH
AGE: 25
HOMETOWN: Perth, Australia - currently resides in New York City, New York
PROFESSION: Chef de Cuisine
CULINARY EDUCATION: Le Cordon Bleu, Miami
FAVORITE SIMPLE FALL DESSERT RECIPE: Pumpkin scones with maple mascarpone.
Growing up in Australia, Janine was surrounded by unique flavors from all over the world which inspired her to embark on a culinary journey throughout Europe, Asia and beyond. Janine's travels lead her to Miami, Florida, where she studied Culinary Arts at Le Cordon Bleu and worked in restaurants alongside former "Top Chef" Alum Chef Jeff McInnis, exploring Southern American, Thai, Vietnamese and Modern American cuisines. Janine is currently living in New York City where she is working on her own restaurant, which is scheduled to open late 2013. When Janine is not sweating it out in the kitchen, she is spending time with her shih-tzu, traveling, and making memories with friends and family.

SHIRLEY CHUNG
AGE: 36
HOMETOWN: Beijing China, and Fremont, California - currently resides in Las Vegas, Nevada
PROFESSION: Former executive chef of China Poblano
CULINARY EDUCATION: Culinary Art Degree, California Culinary Academy
FAVORITE SIMPLE FALL DESSERT RECIPE: Apple Tarte Tatin with Crème fraiche
As former Executive Chef for China Poblano by Jose Andres, and under her guidance, the restaurant was nominated for James Beard Award's prestigious "Best New Restaurant" in 2011. Born and raised in Beijing China, Shirley came to America for a college education. She worked in Silicon Valley for a few years after college but decided to follow her passion for food - and enrolled in culinary school. She trained in classic French and Italian cuisine, and went on to work and open restaurants for culinary superstars Thomas Keller, Guy Savoy and Mario Batali. Through her work at China Poblano, she fell in love with Mexican cuisine and learned more about her own heritage - Chinese cuisine. Shirley loves to travel and studies the local cultures through regional food. Her style of cooking is "Cuisine with no boarders" - and she draws inspiration from all of her travels.

JASON CICHONSKI
AGE: 27
HOMETOWN: Bucks County, Pennsylvania - currently resides in Philadelphia
PROFESSION: Chef/ Owner, Ela Restaurant
CULINARY EDUCATION: The Restaurant School at Walnut Hill College
At the young age of 27, Chef Jason Cichonski, is the Chef and owner of Ela Restaurant in Philadelphia's Queen Village neighborhood. Hailed by The Philadelphia Inquirer that "few kitchens in town can match Ela's food value-wise for pure excitement…from the first course to the last, the chef at Ela is hottest where it matters most." Ela is co-owned by Chef Chip Roman, one of the city's acclaimed chefs who first partnered with Jason to open his Chestnut Hill restaurant Mica, another top restaurant in the region. Prior to joining Chef Roman at Mica, Jason served as executive chef at Lacroix at the Rittenhouse when he was only 24 years old. Before his success at Lacroix, he worked in other highly praised kitchens, including the Pluckemin Inn, a fine dining Italian restaurant in Bedminster, NJ and Moonlight, a progressive American restaurant in New Hope, PA. The five ingredients Jason always has on hand are: Mustard crackers, ginger oil, kaffir lime leaves, smoked balsamic vinegar, ginger.

STEPHANIE CMAR
AGE: 28
HOMETOWN: Boston, Massachusetts
PROFESSION: Sous Chef, No.9 Park
CULINARY EDUCATION: A.A. Culinary Arts, B.A. Food Service Management, Johnson & Wales
FAVORITE SIMPLE FALL DESSERT RECIPE: Apple cobbler with an equal size scoop of vanilla ice cream
Always passionate about cooking, Stephanie Cmar began working in the food industry when she was 15 years old at the Muffin Shop in Marblehead, MA. It ignited her thirst for food and provided the direction for her life. In 2007, Stephanie graduated from Johnson & Wales University and returned to Boston to begin her career at Top of the Hub. She continued developing her talent by working as sous chef at Ivy Restaurant. Her next step was working with Barbara Lynch Gruppo at B&G; Oysters in 2009 as line cook where she was quickly promoted to sous chef and from there, she moved over to Stir. Most recently, Stephanie has continued to further her fine dining skills at No. 9 Park. The fast paced, creative environment continues to inspire her and drives her passion for food.

NINA COMPTON
AGE: 34
HOMETOWN: Saint Lucia - currently resides in Miami, Florida
PROFESSION: Chef de Cuisine, Scarpetta Miami, Fontainebleau hotel
CULINARY EDUCATION: A.O.S Culinary Arts, C.I.A
FAVORITE SIMPLE FALL DESSERT RECIPE: Butternut squash raviolini, braised veal cheeks and broccoli rabe pesto
A native of St. Lucia, Nina Compton has trained in French, Caribbean and Italian kitchens. She has worked under renowned Chef Daniel Boulud and now lives in Miami where she is the Chef de Cuisine for acclaimed chef Scott Conant. A self-proclaimed "gnocchi Queen," Nina always keeps Maldon salt, good olive oil, lemon, calabrese chilies, and either pancetta or guanciale on hand. Nina strongly believes one should enjoy the moment whenever they are cooking.

AARON CUSCHIERI
AGE: 29
HOMETOWN: Livonia, Michigan
PROFESSION: Executive Chef, Slurping Turtle; Chicago, Illinois
CULINARY EDUCATION: International Culinary School at The Art Institute of Michigan
FAVORITE SIMPLE FALL RECIPES: Butternut squash agnolotti with brown butter, toasted walnuts and sage
Chef Aaron Cuschieri has worked in some of the top kitchens in the country including, Assaggi Bistro in his home state of Michigan, to the world-renowned Alinea in Chicago. Ultimately, Aaron earned a position at Takashi Restaurant where he met his most influential mentor, Takashi Yagihashi. Under Takashi's direction, Aaron further developed his simple and fresh cooking philosophy, learning the importance of upholding the integrity of ingredients and always looking for the right balance of texture and flavor. Recognizing his skills, Chef Takashi tapped Aaron to oversee his Japanese comfort food concept, Slurping Turtle, as Executive Chef. Outside of the kitchen, Aaron spends his time playing guitar and drums, reading the latest cookbook and taking advantage of Chicago's emerging culinary scene.

NICHOLAS ELMI
AGE: 32
HOMETOWN: West Newbury Massachusetts - currently resides in Philadelphia, Pennsylvania
PROFESSION: Executive Chef
CULINARY EDUCATION: A.O.S Culinary Arts, C.I.A
FAVORITE SIMPLE FALL DESSERT RECIPE: Pickled and Preserved Blueberries with Yeast and Sorel Ice Cream
Chef Nicholas Elmi has worked at some of the top rated French restaurants on the east coast, including Guy Savoy (Paris), Le Bec Fin, Union Pacific, Oceana and Lutece. Nicholas has built a solid French repertoire that is constantly undated with influences from his travels as well as his upbringing in New England. In the fall of 2013, Nicholas plans on opening his own restaurant and business in Philadelphia, the city he has called home for 13 years.

CARLOS GAYTAN
AGE: 42
HOMETOWN: Chicago, Illinois
PROFESSION: Executive Chef / Owner of Mexique; Chicago, Illinois
CULINARY EDUCATION:
Chef Carlos Gaytan arrived in Chicago in early 1991, quickly working his way up from pantry cook to line cook at Sheraton North Shore Hotel. After earning a position as Chef Garde Manger, Carlos discovered his creative ability to carve on ice, fruit and vegetables, winning several awards for his talent. In 1996, Carlos earned a position as Chef Garde Manger at the Union League Club of Chicago, ranked as the best private club in the nation. In April of 2004 Carlos became the Chef de Cuisine at Bistrot Margot where he worked with renowned French Chef Dominique Tougne and participated in such events as the Confrerie de la Chaide de Rotisseurs, the Moet and Chandon Brunch and the Annual Flora Springs Dinner Auction in Napa Valley. In May of 2008, Carlos opened his own restaurant - Mexique on Chicago Avenue in Chicago. With great creativity, love and dedication he applies his knowledge of French cooking techniques and ingredients to his roots of traditional Mexican cuisine, creating a revolution of Mexican gastronomy. Mexique has received much recognition since its opening, including one of Chicago Magazine's top new restaurants of 2009, best restaurant of 2010 and received its first star in the Michelin Guide in 2013. Most recently Carlos was awarded "Chef of the Year 2011," by the American Culinary Federation.

BRIAN HUSKEY
AGE: 32
HOMETOWN: Pasadena, California - currently resides in Los Angeles, California
PROFESSION: Saucier, Paiche; Los Angeles, California
CULINARY EDUCATION: A.O.S Culinary Arts, California Culinary Academy
FAVORITE SIMPLE FALL DESSERT RECIPE: Warm nutella brioche bread pudding with "drunken" banana ice cream
Chef Brian Huskey is a native of Pasadena, California. After attending UCLA, where he had his first job as a short order cook, Brian moved to San Francisco to get his formal culinary education at CCA. After CCA, Brian went on a culinary journey, traveling to places as far as the Caribbean but eventually landing back in Los Angeles. For the past two and half years, Brian has been working directly with Chef Ricardo Zarate in opening his three restaurants: Picca, Mochica, and Paiche. Throughout this process, Brian has been able to travel and learn how to incorporate Asian, French, Peruvian, and Californian influences into his food.

SARA JOHANNES
AGE: A Lady never tells…
HOMETOWN: Milwaukee, Wisconsin - currently resides in Minneapolis, Minnesota
PROFESSION: Executive Chef, Shoyu, MSP Airport
CULINARY EDUCATION: St. Paul College, Culinary Arts Degree
FAVORITE SIMPLE FALL DESSERT RECIPE: Honeycrisp Apple Cobbler with Aged Cheddar Gelato
Chef Sara Johannes started as a Theater Major at the University of Minnesota - Twin Cities, before a redirection ultimately led her to culinary school. Falling in love with food at a young age, Sara could always be found diligently listening to the cooking shows on PBS on Saturday mornings and was inspired by her grandparents, who always let the season, mood and occasion dictate their menu. Sara served as executive chef for Wolfgang Puck's Five Sixty restaurant in Dallas and WP24 in Los Angeles at the Ritz Carlton before heading back to Minneapolis. Currently, Sara serves as the executive chef at Shoyu at the Minneapolis St. Paul Airport.

LOUIS MALDONADO
AGE: 32
HOMETOWN: Ukiah, California - currently resides in Healdsburg, California
PROFESSION: Executive Chef, Spoonbar and Pizzando in Healdsburg, California
CULINARY EDUCATION: California Culinary Academy
Chef Louis Maldonado launched his culinary career at One Marker in San Francisco, working under Chef Adrian Hoffman. After working his way up, Louis earned a sous chef position at Cortez, where he was quickly promoted to co-executive chef in 2006 and earned a Michelin star for his work. In addition, Louis has worked at top San Francisco restaurants including French Laundry, Café Majestic and worked for 3 years as chef de cuisine of Aziza. In 2012 Louis moved to Healdsburg to become the executive chef of Spoonbar at h2hotel, where he was able to create a menu of clean and simple dishes that honor the culinary traditions of the United States. In addition, Louis oversees the menu of Pizzando, the restaurant at h2hotel's sister property, hotel Healdsburg.

TRAVIS MASAR
AGE: 27
HOMETOWN: La Junta, Colorado - currently resides in Philadelphia, Pennsylvania
PROFESSION: Executive Chef
CULINARY EDUCATION: B.A. in Culinary Arts, Johnson & Wales
Chef Travis Masar was born and raised in Southeast Colorado where his exposure to food was mainly through his family and upbringing. Growing up in Colorado, he gained experience hunting wild game such as elk, deer, and antelope and he honed his craft by helping his family butcher whole pigs and beef. He has traveled and cooked all over the world including Alaska, Wales, U.S. Virgin Islands, Vermont, Czech Republic, Thailand, Taiwan, and Vietnam. Over the last 5 years, Travis has focused on traditional Asian cuisine and says the food he cooks represents grandmothers all over the world.

CARRIE MASHANEY
AGE: 35
HOMETOWN: Carpenter, Iowa - currently resides in Seattle, Washington
PROFESSION: Chef de Cuisine, Aragona
CULINARY EDUCATION: Seattle Central Community College, Baking and Pastry
FAVORITE SIMPLE FALL DESERT: Date Cake with Amaro gelato
Chef Carrie Mashaney works as the chef de cuisine at Aragona, following Jason Stratton from Spinasse. Having attended baking and pastry school in Seattle, her early culinary focus was on the sweet side but she quickly realized she loved cooking savory as well. Her style of cooking focuses on simple flavors and more traditional cooking techniques. While she has trained in Italian and most recently Spanish restaurants, she most enjoys cooking Mexican, Vietnamese and Caribbean cuisines at home. In her free time, she participates in Crossfit and currently has a personal record of 49 double under jump ropes.

BRET PELAGGI
AGE: 34
HOMETOWN: Norwood, Massachusetts - currently resides in Miami, Florida
PROFESSION: Chef de Cuisine
CULINARY EDUCATION: A.O.S., New England Culinary Institute
FAVORITE FALL RECIPE: Beef Short Ribs Braised in Oatmeal Stout with Creamed Parsnip, Shaved Brown Butter and Brussel Sprouts
Chef Bret Pelaggi began his cooking career as a teenager at a local Norwood, MA restaurant. After graduating from the New England Culinary Institute, he went on to work at Boston-area restaurants including L' Espalier, Kingfish Hall, Sibling Rivalry and Chiara. Bret believes in using local products along with pasture fed meat and game, and enjoys a rustic approach to cooking, saying, "I love braising and cooking on the bone, and classic stock based sauces." When not working, Bret loves playing all sports and exercising. He currently resides in Miami where he is looking forward to establishing himself on the culinary scene.

PATRICIA VEGA
AGE: 29
HOMETOWN: Gurabo, Puerto Rico – currently resides in Queens, New York
PROFESSION: Sous Chef, David Burke Fishtail
CULINARY EDUCATION: Classic Culinary Arts, French Culinary Institute
Chef Patricia Vega was born and raised in Puerto Rico and moved to New York at the age of 21 to pursue her childhood dream of becoming a chef. After training in classic French cuisine and graduating from the French Culinary Institute in 2010, Patricia has worked in some of NYC's most prestigious kitchens, including: Plein Sud, Nougatine at Jean Georges, and most recently, David Burke Fishtail. She loves giving a nod to her Puerto Rican heritage in her food, but she is most passionate about French and Italian cuisine. Her favorite recipe to cook is ricotta cavatelli pasta with braised short ribs and bitter greens.
Bravo announces third batch of 'Top Chef: New Orleans' chefs [Times-Picayune]
Earlier: Top Chef: New Orleans Announces Season 11 Contestants, Premiere Date