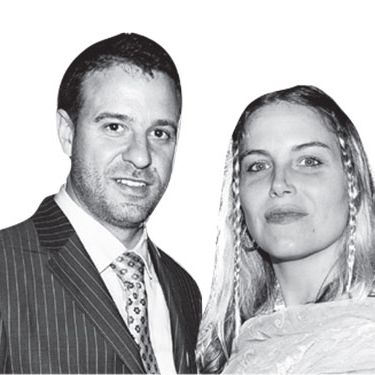 After upending preconceived notions of diner food and museum cafeterias with their Queens-born, Quebeçois-inspired M. Wells brand, chef Hugue Dufour and Sarah Obraitis prepare to rattle the foundations of another culinary institution: the New York steakhouse. Their version will occupy a former auto-body garage in Long Island City, and though the off-the-beaten-path location and extant industrial shell seem the perfect atmospheric fit, the Canadian cook is still harboring a few doubts. "Opening a steakhouse is worrisome for me," he says. "People have strong opinions.
It's so anti-American to say, 'That's the way I want to cook your steak.' " (Not to worry: Dufour might have his waiters make suggestions, but he'll cook it however you'd like. To do otherwise, he believes, would be to trample a God-given right—"I think it's in the Constitution.") In addition to the featured attraction, most everything will be charred on the wood-fired grill, from iceberg, for a wedge salad with powdered ketchup and blue cheese, to country bread leavened with a starter from 1890. Shellfish platters are designed for diners to linger over while cooked steaks rest in butter. (Thick slices of bread positioned under the meat to absorb pan drippings become a sort of savory French toast.)
And about that beef: Dufour plans to serve a variety of cuts, aged as fat content dictates. To counteract the relative leanness of grass-fed beef, he'll offer an option of "extra marbling" in the form of a few shavings of Kobe brisket, a steak-on-steak answer to maître d'hôtel butter or bone marrow. A two-ton concrete trough will house live trout from a Long Island hatchery that Dufour and his chef de cuisine, Jeff Teller, plan to dispatch in Hemingway's favorite fashion, the Alsatian classic truite au bleu, quickly poached in a salty court bouillon.
There will be game birds and rabbit, steak tartare, and sides like creamed sea spinach, gnocchi stuffed with foie gras, and baked beans cooked overnight in the grill's embers. Dufour's taste in wine runs Old World and aged, things with umami. "Just because it's a steakhouse, I don't have to go with big California reds," he says. Nor do he and Obraitis feel obliged to hew to the dark-wood, brass-trim steakhouse-design playbook. They're outfitting a fenced-in patio with garden furniture, installing taxidermy dioramas under the kitchen counter, and, in an especially whimsical flight of fancy, dedicating half the structure's square footage to a workshop where they can pursue a new hobby: building a catamaran from a manual they bought online.
M. Wells Steakhouse, 43-15 Crescent St., Long Island City; 718-786-9060; October.

And in other carnivorous news…
American Cut
September
Iron Chef Marc Forgione named his Atlantic City steakhouse in homage to An American Place, the seminal restaurant his father, Larry Forgione, opened in 1983. The new Tribeca outpost is replete with copper ceilings, brass chandeliers, and the signature tomahawk-rib-eye-and-chili-lobster surf and turf. 363 Greenwich St., nr. Franklin St.; 212-226-4736.
Reserve Cut
September
The Setai Wall Street has lost SHO Shaun Hergatt but gained a kosher steakhouse and sushi bar. Conveniently, the meat comes from the Prime Cut, owner Albert Allaham's Flatbush butcher shop, and the chef, Hok Chin, from Allaham's cousin Joey's midtown restaurant, Solo. 40 Broad St., nr. Exchange Pl.; 212-747-0300.
Empire Steak House
October
The three Sinanaj brothers—Jack, Jeff, and Russ—have gone from a farm in Montenegro to a multiunit steakhouse chain, with three Ben & Jack's and, as of this fall, two Empire Steak House locations to their name. (In between, there was that career-defining stint at Peter Luger.) This latest seats 230 and features the same 28-day-dry-aged porterhouse, rib eye, and filet mignon. 237 W. 54th St., nr. Broadway; 212-582-6900.
Gallaghers Steak House
October
New owner Dean Poll claims his multimillion-dollar renovation won't displace the landmark's sidewalk-showcase meat locker; the menu and décor are fair game, though. 228 W. 52nd St., nr. Broadway; 212-245-5336.
*This article originally appeared in the September 2, 2013 issue of New York Magazine.
More From Our Fall Preview
Boulud's Former Market Maven Opens Rôtisserie Georgette
Marco's Is Franny's, All Grown Up
Jonathan Wu Goes From Per Se to Chinatown With Fung Tu
The Season's New Crop of Hotel Restaurants
Notable Openings for Fall