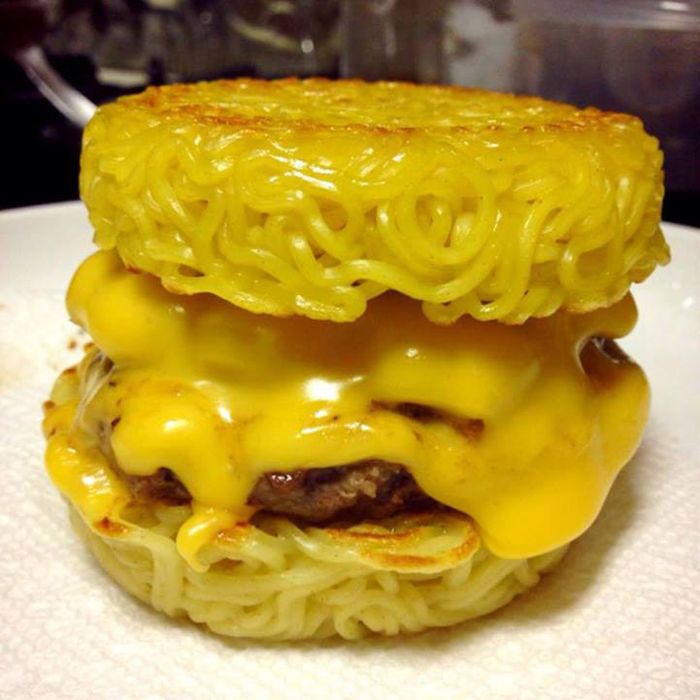 Ramen blogger turned chef Keizo Shimamoto recently returned to the U.S. to open Bassanova Ramen on Mott Street, but when that didn't quite work out, Shimamoto headed straight to the extrusion and soup innovators at Sun Noodle in New Jersey and got to work on his next project. Now, after a few weeks of recipe testing, his brand-new Shoyu Ramen Burger is ready for its Smorgasburg debut. Check out this beautiful, formidable beast, straight ahead.
Shazam.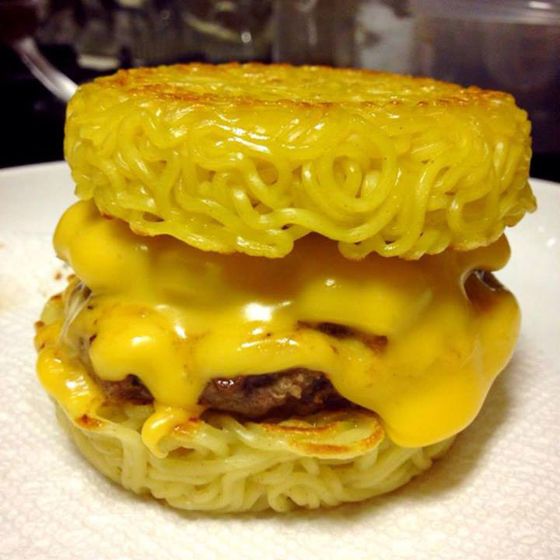 Shazam.

This weekend's ramen burgers won't be so cheesy.Photo: Courtesy of Ramen Burger/Facebook


Here, for your reference, are some ramen-burger talking points:
• Marvel Comics' C.B. Cebulski points out that this is a new twist on the burgers served in Japan by chains like Lotteria. Instead of fashioning a patty out of fried noodles and slapping that on a bun, Keizo's take involves fashioning the "bun" out of fried noodles. For this reason, the ramen burger seems like of a novelty and more of a tightrope-walk of complex carbohydrates.
• There will only be 100 ramen burgers at Smorgasburg on Saturday. Accordingly, there will likely be a line with more than 100 people in it.
• You can check out Keizo taking Vice "Munchies" through a real-life field guide to drunk food in Tokyo, including ramen burgers, right here.
• Yes, a secret sauce is involved in all of this.
• Unlike the R&D; model seen above, Keizo's Shoyu Ramen Burger consists of one, all-beef chuck patty (3-1 lean-to-fatty), some secret sauce, arugula, and chopped scallions — all on a ramen-noodle bun. Ramen cheeseburgers may be in the pipeline. After all, Keizo says this is the next big thing in both ramen and burgers.
The Ramen Burger, Coming to NYC This Weekend! [Eataku]
Ramen Burger [Facebook]
Related: Tokyo Import Bassanova Ramen About to Open on Mott Street [Updated]