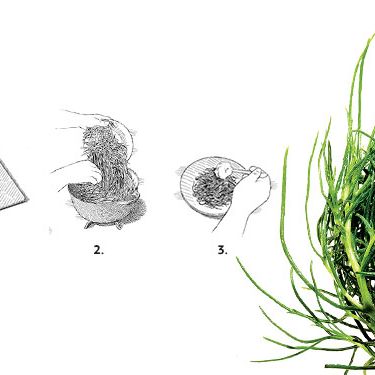 Photo: Bobby Doherty/New York Magazine; Illustrations by John Burgoyne
The Italian green agretti is a Greenmarket rarity even during its typically short season in late spring and early summer. But up at Mountain Sweet Berry Farm in Roscoe, New York, where, last week, the bizarro-world nighttime temperature dropped to the mid-forties, agretti season is just getting going. The feathery succulent (a.k.a. barba di frate, or friar's beard in Italian) has a grassy, slightly salty flavor and a crisp and juicy texture coveted by certain Italian-leaning locavore chefs, Porsena's Sara Jenkins included. Toss raw agretti in a salad for extra crunch, or, even better, blanch it and drizzle with lemon and olive oil and a sprinkle of sea salt as does Jenkins, who finishes the dish with a dollop of the Persian shallot-yogurt combo called mast-o-musir.
Sara Jenkins's Agretti With Shallot Yogurt
1 cup Greek-style yogurt or labne
1 shallot, minced
Sea salt
1 pound agretti
1/4 cup extra-virgin olive oil
Juice of 1 lemon
Whisk the yogurt and shallots together with a pinch of salt; let marinate for at least a half-hour. (1) Trim away any tough woody stems from the agretti, and (2) blanch in a large pot of well-salted boiling water for 3 to 5 minutes. Drain and toss with the olive oil and lemon juice, and season with salt. (3) Serve warm with a dollop of shallot yogurt. Serves 4.
*This article originally appeared in the August 19, 2013 issue of New York Magazine.