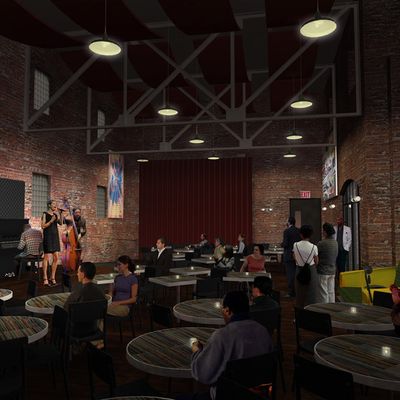 It's time to acknowledge the big yellow school bus in the room.
Photo: Courtesy of Rock & Roll Playhouse
A group of thirteen Gowanus neighbors are suing the city, the Daily News reports, in an attempt to halt construction of the sprawling Rock & Roll Playhouse at 280 Bond Street. If all goes as planned, the 8,000-square-foot complex will ultimately encompass a full-service restaurant, bar, and performance venue for "music-related programming for children and adults." (That's it above, yellow-school-bus front bumper and all.) The overall concept, owner Peter Shapiro told the paper in May, is to fill the space with programming for kids during the days, then open things up to adults only after 8 p.m. with a full bar and the soothing sounds of "jazz and acoustic singers."
Also, fried chicken: The Brombergs of Blue Ribbon fame have signed on to run the food operations like they do at Shapiro's Brooklyn Bowl. Despite this, and Shapiro's claims to the contrary, We Are Gowanus alleges the whole thing is a front for what neighbors believe will essentially turn out to be a loud nightclub. "Don't fall for his Trojan Horse!" warns its website.
Gowanus residents sue city Buildings Department to prevent massive 'nightclub' plans from becoming reality [NYDN]