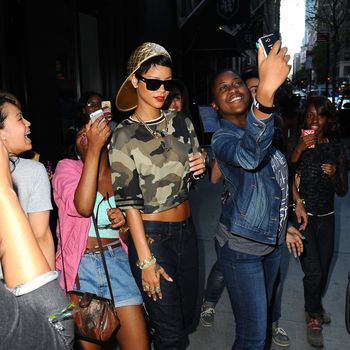 Always causing a scene.
Photo: Raymond Hall/FilmMagic
Celebrities went out in all kinds of intriguing pairings this week: Joan Rivers and Judge Judy ate together at Bobby Van's, Denzel Washington dined with Lenny Kravitz at EN Japanese Brasserie, and Cameron Diaz was spotted on a (maybe) date with Jason Segel at Nick & Toni's in the Hamptons. This, and more, in our weekly roundup of celebrity dining.
Antica Pesa: Bill Murray went out for Italian food in Williamsburg. [Page Six/NYP]
Bobby Van's Steakhouse: Joan Rivers and Judge Judy Sheindlin ate dinner together at the Park Avenue restaurant. Oh, can you imagine the gossip? [amNY]
Catch: Swizz Beatz ate with Carmelo Anthony. [Page Six/NYP]
Café Fiorello: Eliot Spitzer dined on the Upper West Side. [Page Six/NYP]
Corvo Biano: Matt Lauer and Bryant Gumbel tried out Elizabeth Falkner's new Upper West Side restaurant together. [Page Six/NYP]
Da Silvano: Rihanna had lunch with four friends at the buzzy West Village spot. [Page Six/NYP]
East Hampton Grill: Jack Nicholson was spotting dining in head-to-toe black, which we think is a better look for him than head-to-toe houndstooth. [Page Six/NYP]
Elio's: Bruce Springsteen, Patti Scialfa, Rita Wilson, and David Geffen enjoyed dinner together uptown. [Page Six/NYP]
EN Japanese Brasserie: Denzel Washington dined with Lenny Kravitz in the West Village. We hope the pair shared lots of laughs, or at least that Denzel laughed his wonderful laugh. [Page Six/NYP]
Joni's Kitchen: Gwyneth Paltrow and Chris Martin had a laid-back lunch with friends at the Montauk restaurant. The group ate at a picnic table outside, and an onlooker said "they seemed like a normal group of couples enjoying Joni's." Gwyneth appeared to be "makeup-free" and "natural-looking and beautiful." [amNY]
Le Bain: Kate Upton allegedly walked into a party doing her signature Dougie dance. She was with "fratty guys in caps" and "power gays," but reportedly not her rumored boyfriend. [Page Six/NYP]
The Living Room at W Downtown: Beyoncé and Jay Z celebrated the birthday of Bey's stylist, Ty Hunter. Everyone ate birthday cupcakes and sipped on Ciroc and Ace of Spades. [Page Six/NYP]
Manon: Mark Feuerstein and the cast of Royal Pains fêted the wrap of the show's fifth season at the gilded meatpacking-district restaurant and lounge. [amNY]
Marquee: Swizz Beatz rolled up to the Chelsea club in a white Ferrari. The rapper/producer joined Todd English, Busta Rhymes, Maxwell, and Nina Agdal inside to celebrate Tao Group co-owner Noah Tepperberg's birthday. [Page Six/NYP]
Miss Mamie's Spoonbread: Bill Clinton treated a few of his staffers to lunch in Harlem. Staffers ate fried chicken while Vegan Bubba crunched on a platter of veggie sides and chatted with owner Norma Jean Darden. [Page Six/NYP]
Nick & Toni's: Fledgling shoe designer Cameron Diaz and Jason Segel were spotted on what one witness said "'seemed to be" a date, and were later seen buying groceries together at a nearby Citarella. [Life & Style Weekly]
Provocateur: Leo DiCaprio was an "unexpected guest" at a fashion party at a club packed with top models. Unexpected? Really? [Page Six/NYP]
Serafina East Hampton: Mr. and Mrs. Goop were spotted again with their kids, Apple and Moses, in East Hampton, where a source says of Gwyneth: "She only ate the steamed vegetables. So everyone else had a pizza and pasta feast while she ate her vegetables and drank sparkling water." [Us Weekly]
Stage 48: Ja Rule, Kevin Durant, J.R. Smith, and Russell Westbrook hung out in the VIP section. [Page Six/NYP]
Upstairs at the Kimberly Hotel: Shaquille O'Neal hoisted a cocktail waitress over his head while Charles Barkley, Kenny Smith, and Greg Anthony looked on. [Page Six/NYP]