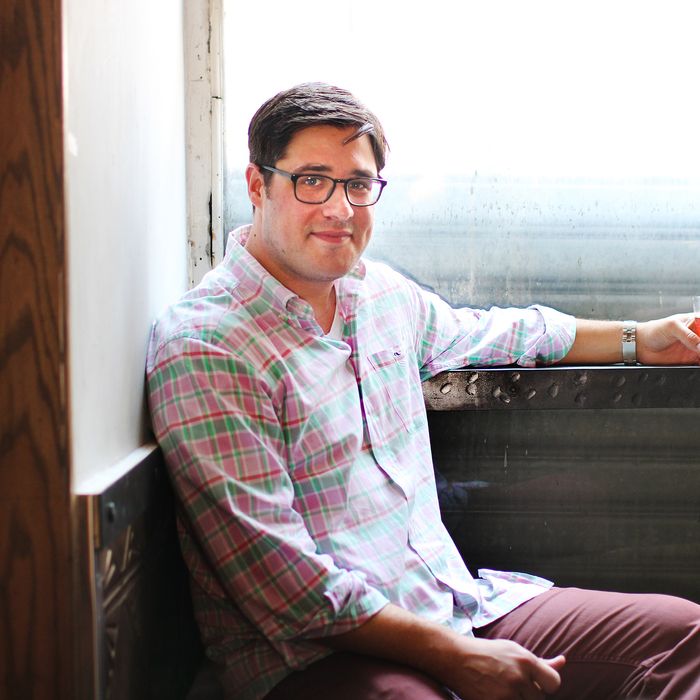 "I have spent more nights at Attaboy this summer than I can count."
Photo: Melissa Hom
"Please don't judge me too harshly," Rich Sommer says of his diet this week, before reconsidering. "Or do. I definitely deserve it." You probably know Sommer as Harry Crane in Mad Men, but if you've been to Attaboy at all this summer, you probably also know him as the guy at the bar drinking shots that are named after him. (Seriously.) Sommer's in town for the, um, summer, for a role in the acclaimed drama The Unavoidable Disappearance of Tom Durnin at the Roundabout. This weekend marks Sommer's last performance, so it seemed like a good time to check in. "My lovely wife and the kids have left town," he says. "My time in NYC is coming to a close — things are getting a little hairy, intake-wise." See just how hairy in this week's Grub Street Diet.
Friday, August 16
Kris, my brother-in-law, is in town. I've been staying in Park Slope, and we have an afternoon activity planned on the Hudson, so we get up around eleven and start moving. Slowly. We had a late night. We grab iced coffees from Java Joe on 8th Street. Great little neighborhood coffee shop. Then we head down to Dizzy's, and I get an egg, cheese, and sausage sandwich on a croissant.
We get on the train and take Citi Bikes from 23rd and Sixth over to Pier 66. We try stand-up paddle boarding. We fall a lot. I smash my ribs and ingest more than my fair share of the Hudson River. We finish the hour and walk over to the High Line. On our way down, we grab a gelato at L'Arte Del Gelato. I get coconut and mint. It's delightful.
But before we even finish the gelato, we spot the fine folks from Melt Bakery selling ice-cream sandwiches. I kinda have a thing for ice cream, you see.
We finish our gelato, then immediately chase it with the ice-cream sandwiches. I have the CinnaMax: snickerdoodle cookies with cinnamon ice cream. It is, um, really good.
We grab bottles of water from a street vendor and start making our way uptown. Kris wants to hit a New York deli on his trip, so we head to Carnegie Deli. We split an order of onion rings, and I had half a chicken sandwich, a Diet Coke, and two pickles.
I head to the theater for my show. I have two bottles of water and an Atomic Fireball. They have a bucket of Atomic Fireballs backstage. I am powerless.
After the show, we get drinks with my friend Chad at Attaboy on Eldridge. I have spent more nights at Attaboy this summer than I can count. I love it there. I love the bartenders. I love the space. And I defy you to find a better drink in NYC. We proceed to have too many of said drinks. I begin writing down the ingredients of each, because I am your dutiful and clearly shameless food-writer guy for the week. I have:
• Narragansett Cooler (bourbon/lime/fresh ginger/shaken with orange wedges)
• Chinatown (gin/cognac/sweet and dry vermouth)
• Penicillin (blended Scotch/lemon/honey/fresh ginger/Islay Scotch float)
• Dobbs Manhattan (bourbon/sweet vermouth/Fernet Branca rinse)
Andrew also makes us a pair of shots. One is a mix of Fernet Branca and Branca Menta, which I am told is a favorite of the gents behind the bar. The other is three-quarters Fernet Branca and one-fourth coffee liqueur. It is a shot they make for me whenever I am there. Sam Ross, one of the owners, named it the Sommer in the City. I believe I mentioned that I've spent some time at the bar.
(Side note: In looking at the piece of paper I wrote everything down on, I see that I apparently also had "1,000 dicks." However, it seems to be in Chad's handwriting, so I am going to omit it from my food record. But in full disclosure, it's written there.)
Ready to head home, we stop for pizza at New Roma Pizza. I go with a slice of pepperoni and bacon. We fight about whether you have to say "American bacon" or just "bacon." I argue that it's good to discern between American and Canadian bacon at a pizza place. Chad argues that bacon is called "bacon." I point out that Chad is stupid and drunk. I win.
But then Chad gets me back by somehow convincing us to go to McManus on 19th and Seventh for one more, even though it is a thousand miles in the exact wrong direction from Park Slope, and, also, it is after three in the morning. We go anyway. We have Jack on the rocks. We are awash in regret.
Saturday, August 17
I am dying. No food in the world sounds good. I have a Chobani peach yogurt. Chobani yogurt is the only thing in my fridge. On the way to my matinee, I pick up an iced coffee and some beet salad at Gather on Seventh Avenue. My body begins to happy-cry, since it has not seen nutrients in more than 24 hours. I pat my body on the shoulder and say, "Don't get used to it."
At the theater, I have a bottle of water and a cup of orange-and-spice tea. It is hot and good.
I have a voice lesson between shows, so I grab a shrimp-and-cilantro wrap at Pret A Manger along with a small cup of soup, half a roll, and a bottle of sparkling water. My voice teacher tells me I sound particularly scream-y today. I tell him I may have had a little too much to drink last night and maybe not quite enough sleep. He says, "Yeah, that's what it sounds like."
On the way back to the theater, I stop at the YoGo truck on 45th and Sixth. I go with tart yogurt with strawberries and blueberries. The strawberries are sliced stupid-thin.
I have three Ricolas during the show. They do not all of a sudden make me sound less terrible.
When I get home, I order from Nahm Thai Kitchen with Kris and my buddy Jeff. We split spicy noodles, curry puffs, edamame, and spicy basil fried rice. I drink water.
Sunday, August 18
I get an iced coffee at Java Joe and head to Crespella for breakfast. I order a croissant with eggs, Italian bacon (Chad will hate that), spinach, and tomato. They forget the bacon, and I don't realize it until I get home. Sadness ensues.
I put Kris on a bus to the airport and head to the theater for the matinee. It's Sunday, so there are bagels. I have a sesame bagel with veggie cream cheese, cucumber, heirloom tomato, and three tiny capers. It's delightful. During the show, I have two bottles of water and an Atomic Fireball.
After the show, the cast goes with our director to Bond 45 for some drinks and light food. I have an Empire IPA to drink and nosh on some bread with some sort of peppers inside it, some calamari and shrimp, beets, broccoli rabe, asparagus, and zucchini.
We split up, but one of my cast mates Sarah agrees to accompany me to Attaboy to see what all the fuss is about. Unfortunately, they aren't open yet. I know that Andrew, who made my drinks on Friday, is working at Milk & Honey, so we go there first. Andrew makes a few drinks:
• Paper Plane (bourbon/Aperol/lemon/Amaro Nonino)
• Blackberry Shake (Laird's apple brandy/lime/blackberries)
• Sommer in the City (It's my first time having one outside of Attaboy. It tastes like sacrilege.)
We enjoy them, then head down to Attaboy. Sam, the aforementioned co-owner of the joint, is tending bar. I am happy. He makes me an All-Grape Chancellor, using cognac, port, sweet vermouth, and bitters. Following that, Sarah and I split a Penicillin (I told you about that one already; I come here a lot). Things are warm and wonderful.
We decide to head to the late show at Upright Citizens Brigade, where I used to hang out quite a bit. We laugh. We drink Narragansett Light. We go backstage to say hello to some friends I know in the show. There is cold cheese pizza from earlier in the night. I eat it. I have no pride in telling you this.
Monday, August 19
I wake up with nightmare pain in my ribs. Remember when I went paddle boarding? And I smashed my ribs? Yeah, I think one might be broken. Or at least badly bruised. My blindly numb laughter at UCB last night has absolutely exacerbated whatever the hell is going on. This has nothing to do with food, but I am telling you anyway, because it's just about all I can think about.
I find my way to Gather for breakfast. Iced coffee and tortilla Española. There is a red-pepper aioli. I am not a big fan of aioli.
I hang out for a bit, throw down a Chobani strawberry yogurt, and head out to see a movie, where I have a bottle of water, a peach-sorbet Popsicle, and some Junior Mints.
I hurry to get to a screening I'm attending. I get to the block with about 30 minutes to grab a bite, so I stop at a café and ask what I can get quickly. The server suggests a burger. Because I rushed them, the burger is still mooing when it comes. I eat the edges of it and throw down some fries and water. I race off to the screening.
After the movie, I have half a generic IPA and am forced to leave by my crushing party anxiety.
I go to meet some friends at Marie's Crisis. Have you been to Marie's Crisis? If you said "No," please go there tonight. It is the best dive bar in the world, because it is not only a dive bar, but it is a dive bar where everyone sings Broadway show tunes together. It is a brilliant place. I have 5 billion whiskeys and one Stella Artois.
I get home around 4:30 a.m. There's a new gelato-slash-other-foods place that's open 24 hours. I may or may not have had some pineapple and strawberry gelato, along with a bag of Dirty mesquite barbecue chips.
Tuesday, August 20
I get up a little late and have to head straight into the city for a lunch meeting. I get some iced coffee and head to the train. At a random pub, I have half of a not-great Buffalo chicken sandwich (grilled) and some fries. Oh, and about a gallon of water. I am a little thirsty, it turns out. Probably because of the 5 billion whiskeys last night.
After lunch, we get double decaf espressos at Macchiato.
For dinner, I go to STK in midtown. No one told them that Restaurant Week ended already, so I do the Restaurant Week prix fixe. I start with a scallop with white asparagus and tomato agrodolce. The tomatoes are super sweet and acidic, and they're tasty. The entrée is roasted chicken with charred corn and pancetta, along with confit chicken and a little jus. It's some amazing chicken. There's something sort of stuffed under the skin ("stuffing," maybe?), which is crispy and good. The dessert is a chocolate soufflé with berries and hazelnut ice cream. My goodness. It's good.
At the show, I have a cup of Earl Grey and — get ready — an Atomic Fireball.
After the play, I head to — get ready again — Attaboy with some friends who came to the show. We have drinks and some shot called Sommer in the City. My friends thank me for warning them that it might be "bracing."
When I get back to Park Slope, I go straight to bed and have dreams and sleep all night because I am fully satiated.
Just kidding: I eat some pizza.
Wednesday, August 21
Chobani yogurt. Blueberry.
I have a couple of extra minutes before I have to head in for the matinee, so I sit down around the corner at Scalino for some pasta. I'm not Italian, and I don't cook, so my frame of reference for "pasta" is limited to sticks of spaghetti that come in a box and the Olive Garden. Scalino is easily the best pasta I've had in a restaurant. I am told that it may have something to do with the fact that it is "fresh."
I have the pappardelle with smoked bacon in tomato cream sauce. It's been a family-favorite this summer. It's fantastic. Their lunch deal includes a mixed-greens salad, which my body recognizes as a whisper of nutrition in the otherwise barren landscape that is my diet. Ten bucks! Beat that. I also have bread and water.
During the matinee, I have water! And an Atomic Fireball! Surprise!
I stop in to see my manager before my voice lesson. I tell him I'm doing this Grub Street thing and that he should probably expect some people calling him, worried about my health. He suggests that I could be a little more vague in my report. I tell him that I wrote, "I had 5 billion whiskeys at Marie's Crisis." That's pretty vague. He seems concerned.
Dinner is sushi at Iroha on 49th. I have water, edamame, and an Iroha roll, which consists of tuna, salmon, mango, sweet corn, and avocado. I skip the "spicy sauce," which looks suspiciously like an aioli, and go for soy sauce with some wasabi swirled in. Just a couple of doors east, I get a vanilla frozen yogurt with raspberries, pineapple, blueberries, and mango.
I'm not even gonna tell you what I have to eat and drink during the second show, because you would never believe it. Here's a hint: It starts with a w and ends with ater and an Atomic Fireball.
After the show, I slam a cup of coffee and race to film an episode of a crazy public-access show called The Chris Gethard Show. We try to play a board game on the air. It is chaos. The good news is that it ends at midnight, which happens to be when I no longer have to report to you the horrors I commit upon my body. So I don't have to tell you that the group heads to Lincoln Park on Ninth Avenue and that it's really fun and that I have a billion _________.