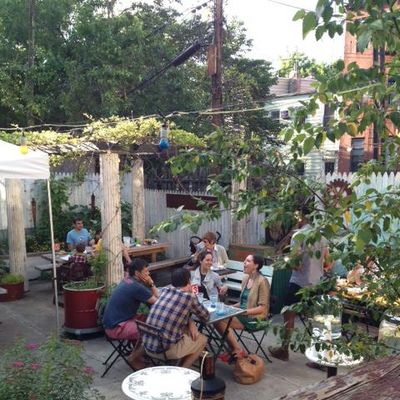 The backyard at the Pines.
Photo: Courtesy of the Pines
New York's Adam Platt didn't file a review this week, but the other critics have lots to say. Pete Wells reviewed the Pines, which despite early missteps "can keep drawing you back," and Alan Richman found Estela "extraordinary." Meanwhile, two critics skipped traditional reviews, with Joshua David Stein writing a piece on the Museum of Food and Drink, and Ryan Sutton discussing the job opening at the Modern. Read it all, straight ahead.

Pete Wells reviewed the Pines in Gowanus, where "glimmers of originality can keep drawing you back" despite the inconsistencies. On one night, the food was immaculate, from the glass of cold soup with "frothy" minty tofu with champagne grapes, to a plate of "empty purses" pasta with razor clams, trout roe, and chile-studded miso-butter sauce that was "simply great." Another night, "still bloody" roasted, dry-aged squab nearly ended Wells's "fascination with The Pines," as did the "untucked" decor and the spotty service, paired with an exorbitant cash-only bill. But "the restaurant has been growing up." The service is smoother, bills can be paid by credit card, and "distinctive and skillfully prepared" dishes, like purslane salad with a warm, creamy egg yolk foam "have become the rule, not the exception." One star.
Daniel S. Meyer dined at New York Sushi Ko, the intimate omakase restaurant with a "rock and roll vibe," where Masa and 15 East vet John Daley "not only runs the show," but also "is the show." Though the timing at the ten-seat restaurant can lag, Daley moves at "a frenzied pace that half thrills, half unsettles." He wields a blowtorch with bravado, searing "tuna chicharróns" to top a mound of toro and rice that is a "fat drizzled tartare bombshell." But he also demonstrates delicate virtuosity in a dish of Japanese uni in a cold dashi gelée, "subtly sweetened" with baby shrimp but with a "whop of smoked sea salt." And with a talented chef and "pristine" fish, the occasional flop — like a one-note, undersalted chawanmushi — doesn't spoil the experience. Two stars.
Alan Richman ate at Estela, and found Ignacio Mattos's cooking "extraordinary." While the decor itself is "entirely nontoxic," Mattos is "ever-curious, ever-dissatisfied, ever-challenged, compelled to alter dishes." The quail, served halved with head and legs attached with chickpeas, nettles, and yogurt was "spectacular, blazingly wonderful." The "meltingly magnificent" ribeye, with anchovy-draped halves of miniature eggplant and chopped leeks, "could be the steak dish of the century." And although spotty, slow service, "overcooked" pork, and already-cooled cod marred one visit on a busy night, trying to serve too many patrons at once is Estela's only real problem. But "Mattos' cooking is so exuberant, original, unconventional, and compelling," Richman writes, "I don't know how you can keep them away." Two stars.
Steve Cuozzo ate at Betony and found it "ridiculously wonderful." The daring menu by chef Bryce Shuman can be a little over-involved at times (the "silly but yummy" foie gras bonbons), but dishes like the trout, "in a vivid trout roe and vegetable pool, leave you breathless." The sous-vide beef short ribs are a "'money' dish," rich as cote du bouef and served with "hefty" beef fat brushed grilled romaine and a delicious veal sweetbread. In the bland-mannered food scene of midtown, Shuman's cooking is "stunning in its audacity." Three stars.
The Daily News' Michael Kaminer reviewed Three Letters, a Clinton Hill restaurant that "operates in its own culinary universe" — often in a bad way. Branzini crudison, a "round mosaic of fish pieces" with "mouthwash-green vinaigrette," is one of the year's "least appealing dishes," and a pan-roasted tilefish is "insipid" paired with "bland" croquettes of crab and rice and "flavor-free fennel cream." Sometimes, though, chef Pip Freeman "can whack it out of the park" with dishes like "fresh, fun" moules poutine and a pork rib confit with peach and plum that delivers "fireworks." Two stars.
The New Yorker's Shauna Lyon dished on the Elm. If Reynard, in the Wythe hotel just a few doors down, is the cool kid on the block, Paul Leibrandt's the Elm is "the geeky smart kid cocky in the knowledge that his S.A.T. scores precede him." The chef's haute sensibilities sometimes frustrate, as in a portion of "superbly tender" duck breast is "so small it's stressful" and an excellent avocado soup is dragged down by too many garnishes. But Leibrandt's flair for inspiring awe comes through in "Summer Garden," a "vast, delicate jumble" of "forty to sixty fruits and vegetables," that made Lyon feel "like a blissfully ignorant lucky rabbit."
In lieu of a review, Ryan Sutton discussed the executive chef position opening up at Danny Meyer's the Modern. The new chef will fill the shoes of Gabriel Kreuther, whose cooking "cunningly reflects MoMA's mission of showing off the best of new ideas," without burger-taco pandering. Sutton hopes Meyer will hire someone with similar taste, hopefully a woman, "as there are simply too few female executive chefs in our city's top kitchens." Either way, "one of the city's most important dining rooms is on the verge of a major culinary change."
After his takedown of Charlie Bird last week, Joshua David Stein cooled his jets with a "Puff Piece." It's about the "Puff Party" last Tuesday in Carroll Gardens, held by the Museum of Food and Drink (MOFAD). The party had a $300 price tag, and drew chefs like Anita Lo and Wylie Dufresne to "watch shit get puffed" to celebrate the museum's first exhibition, "BOOM! The Puffing Gun and the Rise of Breakfast Cereal."