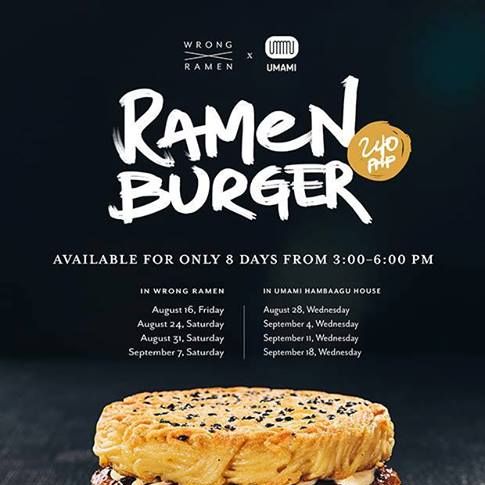 Oh, yes, they did.
Photo: Courtesy of Umami Hambaagu House and Wrong Ramen
How lovely! Two restaurants in the Philippines — Wrong Ramen in Fort Bonifacio and Umami Hambaagu House in Pasig City — have teamed up to engineer a deluxe, limited-edition knockoff version of Keizo Shimamoto's ramen burger over the course of eight upcoming days, beginning this Friday. The freaky W.R.-U.H.H. version appears to be a lot like the original, except with sesame seeds instead of chopped scallions and mayonnaise sauce in place of shoyu. You know what they say: You're no one until somebody many thousands of miles away steals your idea and brags about it on Facebook.
Of course, there are already noodles aplenty at Wrong Ramen, and the house specialty at Umami Hambaagu House appears to be some sort of smothered, bunless burger, so the collaboration seems almost natural. The poster promoting the limited-time knockoff juxtaposes two quotes: "The cronut has finally met its match," from the New York Daily News on the lower left, and "Disgusting and overhyped piece of shit," from the proprietors of Wrong Ramen at the right.
The restaurant, it should be noted, regularly advertises itself with a simultaneously self-deprecating and chipper banner that proclaims, "Our ramen sucks!" Meanwhile, some Facebook fans are still trying to figure out if this whole ramen burger business is for real. "This is no joke," Umami Hambaagu House wrote on Facebook. "Wrong Ramen is just crazy."
You know this had to happen [Wrong Ramen/Facebook]
Related: Next-Level Noodles: The New Era of New York Ramen