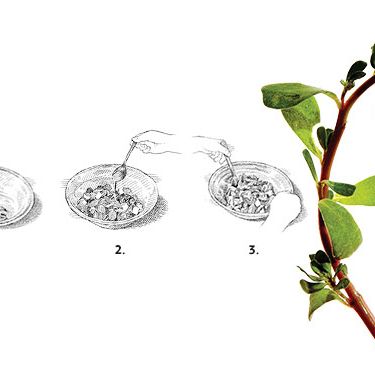 Photo: Bobby Doherty/New York Magazine; Illustrations by John Burgoyne
In the heat of summer, purslane grows like the weed many consider it to be—a succulent, creeping plant with fleshy leaves that's off the charts in omega-3 fatty acids, not to mention vitamins A and C. Mahatma Gandhi was a fan, as was that old frugal gourmet Henry David Thoreau, who likely foraged it at Walden Pond. In the Middle East, purslane plays a starring role in fattoush, a Levantine panzanella of sorts that functions both as a showcase for peak-season tomatoes and an ingenious disposal method for stale pita bread. This recipe, adapted from the Armenian-Lebanese restaurant Almayass, honors fattoush tradition with the vibrant flavors of fresh lemon, mint, and the tart, citrusy spice sumac.
Almayass's Fattoush
Juice of two lemons
Sea salt to taste
1/2 tsp. sumac
5 tbs. extra-virgin olive oil
1 pita bread
1 bunch purslane
Leaves from 1/2 bunch fresh mint
2 small red radishes, thinly sliced
3 small Persian cucumbers, peeled, halved, and cut into half-moons
2 medium tomatoes, cut into wedges
In a bowl, make the dressing by combining the lemon juice with a pinch of salt and 1/4 teaspoon of sumac, and whisking in 4 tablespoons of olive oil; set aside. Cut the pita into 1-inch squares. In a pan, heat the remaining olive oil over medium heat, add the pita, and toast until golden brown on both sides; remove the pita from the pan, and reserve. (1) Remove thick stems from the purslane, and place the leaves in a large salad bowl. Combine with the remaining ingredients. (2) Spoon on the dressing, and (3) toss the salad with the toasted pita. Season with sea salt and remaining sumac. Serves 4 to 6.
*This article originally appeared in the August 12, 2013 issue of New York Magazine.