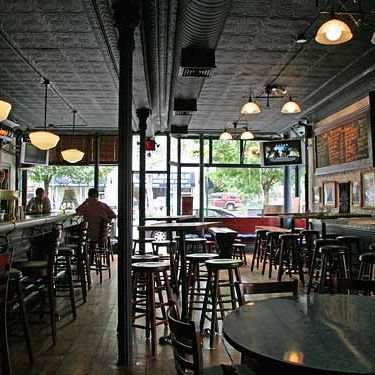 Dark days: The old P.J. Hanley's interior, which has since been renovated.
Photo: Kate Attardo
A New York State Supreme Court ruled against South Brooklyn Pizza, Buschenschank, and Goldenrod restaurateur James McGown's request for an injunction against the Hanley family, his landlords at the Carroll Gardens bar and restaurant space formerly known as P.J. Hanley's. Crain's reports that McGown, who filed for Chapter 11 earlier this year at the Court Street business (which is commonly referred to as the oldest bar in Brooklyn), allegedly proceeded with a extensive renovation project inside the space as part of its rebranding. Goldenrod, which is named for a beer once made in Brooklyn in the late nineteenth century when the boroughs were replete with large breweries, opened just days ago with a new look, including a lot more dark wood paneling than its predecessor, an ambitious line of custom-brewed beers on tap, and even an earpiece-wearing bouncer in a tailored suit stationed out front.
One issue is that the Hanley family alleges that McGown had no real permission for any of the work he did on the space, and none of the appropriate permits were filed with the Buildings Department. In his ruling yesterday, Crain's reports, judge Manuel Mendez wrote McGown had "essentially gutted the building, obstructed doorways throughout the premises and exceeded the amount of legally permissible bars" in his effort to restore an old-timey alehouse vibe.
Earlier this week, one of McGown's South Brooklyn Pizza locations in Park Slope was seized by the City Marshal's office. Yesterday's ruling clears the path for the Hanley family to continue to try to evict him from 449-451 Court Street, an address that includes the adjoining South Brooklyn Pizza, though McGown tells Crain's he will "probably appeal" the ruling. He filed for Chapter 11 bankruptcy protection this afternoon and will appeal, a representative confirms, noting that the developments are part of a "long, legal process." For now, Goldenrod remains open.

Bankrupt restaurateur to 'finally pay the piper' [Crain's]
This post has been updated throughout.