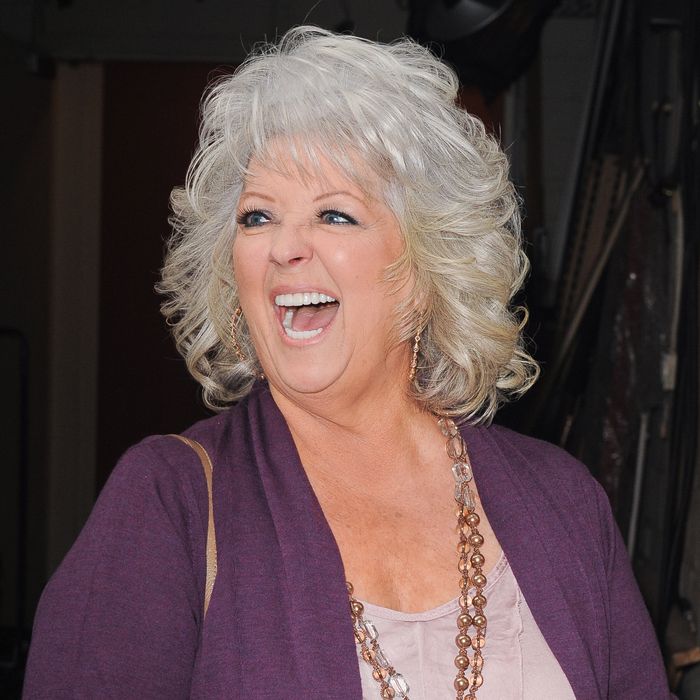 Both parties are said to have come to an agreement earlier this week in Savannah.
Photo: Getty Images
Our long, Southern nightmare might finally be over: Paula Deen's lawsuit has come to an end. Less than two weeks ago, a U.S. District judge dismissed the racial discrimination charges against Deen and her brother Earl "Uncle Bubba" Hiers. Today, the U.S. District Court for the Southern District of Georgia dismissed the entire lawsuit after Deen's camp reached an undisclosed settlement with the plaintiff, Lisa Jackson. No further details are available. The settlement was reached earlier this week, and Savannah's WTOC has obtained and posted a PDF copy of the court's dismissal document, if you want to see it with your very own eyes.
For those only now catching up and/or coming out of cryogenic deep-freeze, Paula Deen's career went into a tailspin earlier this summer when the National Enquirer published a "bombshell" story alleging she had used racial epithets in the past and had allegedly planned a wedding complete with servers and attendants dressed to look like plantation-era "slaves." The information had been culled from a videotaped deposition Deen had given in May as part of the discrimination case. In the deposition, Deen said she had used the epithet only one time in the past that she could remember.
The Food Network nonetheless announced it was dropping the 66-year-old Southern chef from its lineup on June 21, just hours after Deen missed an appearance on Today and uploaded three heavily scrutinized apology videos to YouTube. Though supporters took to various social-media channels to defend her and propelled Deen's forthcoming cookbook up the Amazon pre-sales charts, Random House executives decided to nix the would-be best seller's publication. Festival appearances were also canceled and Deen's wide range of products like housewares were removed, discontinued, or phased out by QVC, Sears, K-mart, Walgreens, Home Depot, and Target. Meanwhile, Paula Deen Enterprises hemorrhaged lucrative endorsement deals with Smithfield Foods, Novo Nordisk, Caesar's Entertainment, and other corporations.
In late June, Paula Deen dumped her legal team and hired well-known crisis manager Judy Smith, and while speculation turned to how the embattled celebrity chef might be able to salvage her career, more aspects of Deen's character were challenged, and longtime employee Dora Charles told the New York Times that Deen had used racial slurs in the past. Now that it has been announced that the lawsuit will not go trial, Paula Deen will presumably use her still-extant restaurants as the starting point in the attempt to revive her career.

Paula Deen discrimination lawsuit dismissed [WTOC]
Earlier: Judge Dismisses Race-Discrimination Claims in Paula Deen Lawsuit
This post has been updated throughout.