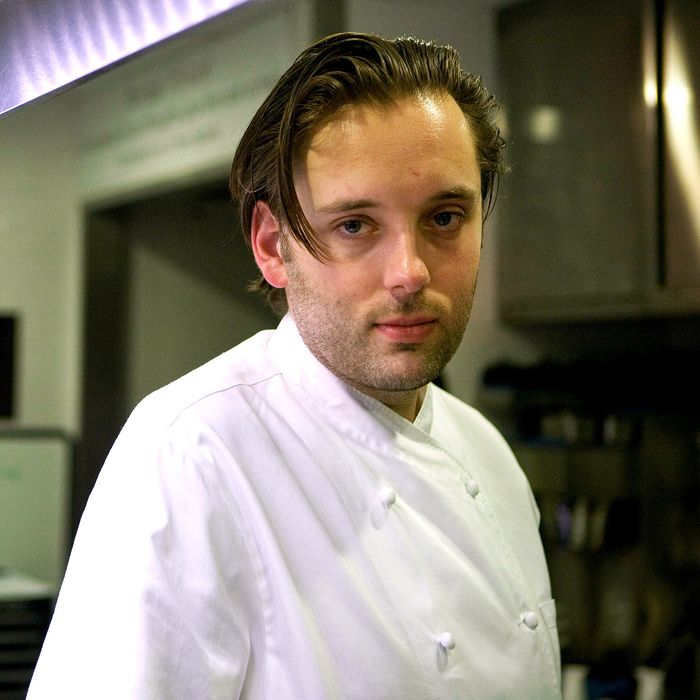 The chef says he has "many more" projects in development.
Photo: Bloomberg
It was announced last weekend that Corton partners Drew Nieporent and Paul Liebrandt had abruptly parted ways. The restaurateur says he's figuring out the next step for the restaurant, which has essentially served as the stark, white-tableclothed launch pad for Liebrandt's French-modernist food for the last five years, and in the meantime, the English chef is now focused on his new restaurant the Elm, which opened last month at the King & Grove Williamsburg. Grub Street sat down with Liebrandt to talk about the Elm's next big step, his forthcoming cookbook, and why it is, exactly, that everyone wants him to pose for photos with dead animals.

You were at partner at Corton. There were four stars from Adam Platt at New York, Michelin stars, New York Times stars, and it was one of the last fine-dining restaurants in the city. Why did you leave?
It was a number of factors. I'd been there five years, and I didn't want to do just one restaurant or one particular kind of restaurant for the rest of my career. I decided to explore other opportunities that were offered to me, bigger opportunities. It was a combination of new things that, after five years, led me to a different path and a different philosophy.
Before Corton opened, one of the things you always mentioned was that you wanted was to open a signature "Paul Liebrandt" restaurant. I hear that might be in the cards. Is it?
Yes, it's in the works, yes.
And that would be with the same partners you have at the Elm?
Yes. Let me just clarify: My partners [Ed Scheetz and company of King & Grove Hotels] and I are involved on another project, and it's multifaceted. We're doing a lot of different restaurants and projects, more than one.
So after the Elm—
The Elm is a gateway. Honestly, I wanted to do a restaurant that would reach a clientele that would never, ever have come to Corton.
Tell me more about that clientele.
Well, we have young people, like ourselves, young professionals who don't necessarily want to go out to eat at a Corton-esque restaurant. I wanted to do an affordable, approachable restaurant which still holds the standards that I cook at, but with a more relaxed feel.
What's different about it, though?
The property has a rooftop lounge bar with quite stunning views of Manhattan — it makes you appreciate living in New York, when you get to actually see New York, which living here you never see because you're in it. So we operate the rooftop, and there's a saltwater pool in the back, and it's beautiful. And then the Elm, and we're getting ready to launching the Little Elm, which will be a chef's counter.
How many seats and courses are you thinking of?
Eight seats; dinner only, and two seatings a night. We'll open at the end of August. Course number is undecided as of yet, but it will be a tasting experience. So if you want to sit at the bar and have a glass of wine, great. If you want to sit at a table and have a three-course meal, fine. If you want to come and do a gastro-bar tasting, much the same way it is at Blanca and Brooklyn Fare, you can have that feel.
So, do you think it'll be upward of fifteen courses at the Little Elm?
I don't know. I don't think so. My food doesn't translate as well to, like, 30 courses. The Little Elm going to be different from my food at Corton, because what you do for 64 seats, or 80, is completely different than what happens in this kind of setting. I went to Japan last year and was just blown away by the mentality.
Which places in Japan blew you away?
We went to Sawada and Araki, which is closed now, and RyuGin, which is Seiji Yamamoto's place, and it's amazing.
There have been hints at what's to come online (like this photo, presented on a plate on loan from manufacturer Bernardaud with a design by Parisian street artist JR). It seems to be a departure from what you're doing right now at the Elm.
Oh, yes, the tasting menu will be more gastro, and with these eight seats, I almost want to do more like a kaiseki but with a French tête-à-tête, meaning two flavors, the beauty of two ingredients, in each dish.
We talked about this a little last time, but Williamsburg and Tribeca are two completely different scenes.
Yeah, but I don't know why everyone is so hung up with the fact that the Elm is in Williamsburg, like it's another country. It's New York City, and it's the same as going to the Upper East Side instead of going to Tribeca.
But unlike Williamsburg, you come to Tribeca in the middle of the night and—
Oh yeah, there's nothing. It's dead.
I was talking to someone who's building a new restaurant in Tribeca who said the more ambitious restaurants are on the decline because they aren't more family-friendly and aren't keeping up with the changing demographic of the neighborhood.
Right. I don't think it's easy to open a restaurant in Tribeca, but look, I don't think anywhere is easy. Every neighborhood has its own unique challenges.
What's been your challenge in Williamsburg?
The Elm isn't aimed at Williamsburg, and it would be silly to think of it only as a neighborhood restaurant, although we have an incredible number of locals thanking us for opening something like this. Now they don't have to go over the bridge to have a meal like this, and it does fill a niche there.
All these well-respected food writers and elder statesmen, like Jeffrey Steingarten and Mimi Sheraton, who have written pieces bemoaning the bumpy cab ride to Brooklyn like it's some big deal—
In London, same thing. North and south. There's this them-up-there and them-down-there mentality. But this is the next generation of diners here, and I'm looking at people who are going to be dining at my restaurants in the next ten and fifteen years, not only the here and now. It's about cultivating the late-twenties professional who is interested in your food and may fall in love with what you do. It's about offering what we do to a bigger audience. I love fine dining, I do, but at this point I want more people to enjoy what we do.
Industry people have been telling me that at the Elm, even though it's more casual and the price point is lower, the standard shows and there's still that fine-dining aspect to it.
The day that someone criticizes me for using good ingredients, proper technique, well-seasoned food, and correct service … There's nothing wrong with serving a standard of food — we're not talking about luxury here. We're talking about very simple things, like a chicken Kiev: It's just a beautiful chicken, with garlic, lemon, parsley, and broccoli, and that's it. Or, the garden, which is vegetables from the Greenmarket, with herbs.
That's it! We put it on the table for you to serve yourself. That is not fine dining at all. But we cook it correctly and serve it correctly. The fact that I do things the way I do them, that the food looks beautiful, has nothing to do with how approachable it is. In order to be approachable you have to lower your standards? No, not at all.

And your book, which is part memoir, is coming out December 3. What I see on Amazon, is that final cover?
Yup. That photo was never published, but it actually was taken for New York Magazine. We did that photo when I was a wee lad, back in 2001. Nigel Parry took it — he's on another level.
Are people still asking you to pose with animal carcasses and fish guts?
That was in 2001! That was young Paul who had just got to New York City, who was all, you know.
So this cover photo is kind of like your Marco Pierre White, White Heat era moment?
Well, not intentionally, but perhaps so. The book spans my whole life, and we wanted it to have personality. It's not a recipe cookbook exactly, but we wanted it to be a book you could read so it's nurturing for the mind as well as the eye.
And you're in the middle of your review cycle — do you know which critics have come in?
Platt hasn't been in; Wells hasn't been in. The reviewing thing, I find more and more it's not so much about the food as it's the style, the feel. Do you like the style of the food? You know, it's not so much about whether the fish has been overcooked anymore.
Why do you think that is?
No idea, but the overall experience is very important, of course. When I review a dish, I try to take emotion and ego out of it and look at the product in front of me. I try to be as objective as possible, but of course food is the most subjective thing. It's very, very hard to please everybody.
Earlier: Paul Liebrandt Leaves Corton in Tribeca
Earlier: Check Out the Menu for the Elm, Paul Liebrandt's New Williamsburg Restaurant
Related: Paul Liebrandt on Fine Dining and Corton, the Greatness of Mission Chinese Food, and the Elm