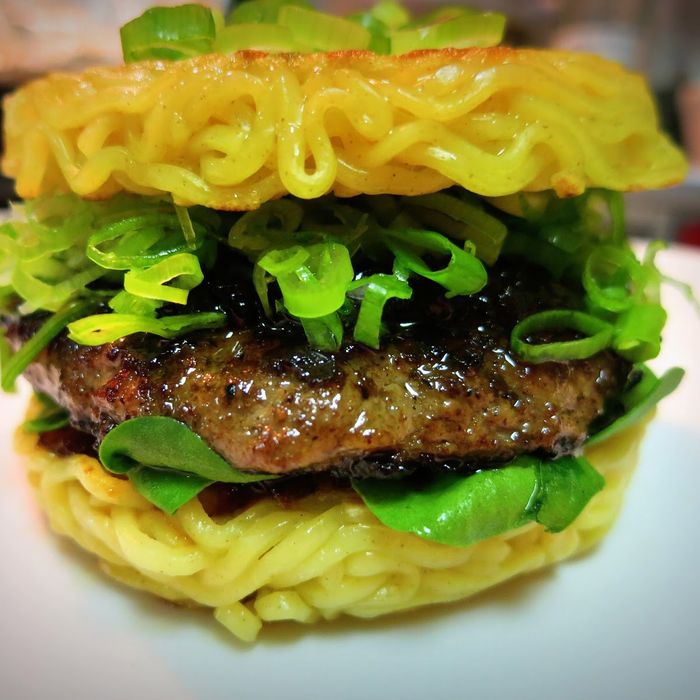 Behold, the ramen burger.
Photo: Go! Ramen
In the summer of the cronut — a time of high alert for culinary mash-ups and "edible memes" — the ramen burger looks like the next big food fad. Two weekends ago, Keizo Shimamoto's hybrid of grilled beef, secret sauce, and fried-noodle buns brought scores of hopeful eaters to Williamsburg's Smorgasburg food market to line up for one of the 150 burgers available. This past weekend, Shimamoto doubled down with supplies to make 360, and the line, which eventually stretched all the way to the East River, started forming at 8.a.m. And people who queued up took to social media to tell the world that the burger itself was worth the wait. The $8 ramen burger is already a fascinating novelty (it turned up on Good Morning America), but it could also be the beginning of New York's next era of ramen consumption.
First, some quick backstory: Because it's easy to spot hour-long lines outside several well-regarded New York ramen restaurants (the Japan Society estimates nearly 100 places serving ramen in New York), it might seem as though the city has a thriving ramen scene. But it's nothing compared to Japan, where the country's 34,000 ramen shops have inspired hundreds of comic books, songs, and at least one very good movie (as well as one not-as-good movie.)
New York's first-wave ramen-yas are, by and large, re-creations of what's already found in Japan. Ippudo is an international chain with 40 locations in Japan alone; Momofuku Noodle Bar and Totto Ramen are famous for the traditional noodle-broth-umami trifecta that ramen fanatics love. Thanks to these shops and others, many New Yorkers now know their tonkotsu from their shoyu.
But, at its core, ramen culture isn't just about soup — it's also about commitment to detail. A bowl of ramen is deceptively simple, and flaws throw whole bowls out of whack. "A ramen chef will, depending on the humidity that day, cook his noodles for 46 seconds instead of 45; there's that level of detail," Kenshiro Uki of noodle supplier Sun Noodle told food writer Francis Lam earlier this year. Japan's ramen scene is defined by regional variations developed over 100 years of ramen evolution: thick wheat noodles in Kyoto, Fukuoka City's focus on pork-bone broth, soups glossed with shellfish oils and salty bonito in Sapporo. (It's similar to the way that New Yorkers have deeply held beliefs about what constitutes "proper" pizza, despite varying regional styles.)
In New York, however, ramen culture isn't constrained by tradition. That frees chefs to take the basic tenets of noodle soup and twist them into something else entirely — and several are racing to define New York City's own regional ramen.
The ramen burger is just the most populist example of this new wave of New York ramen. There are others: Yuji Haraguchi, who runs the Cheap Eats favorite Yuji Ramen at the Bowery Whole Foods and will open Okonomi this fall in Williamsburg, fashions custom-made noodles that often resemble traditional Italian pasta shapes like fettuccine, orecchiette, or even ramen "ravioli." He's not afraid to serve blowtorched mussels and broths poured tableside, or sell brothless bowls of thick noodles dressed with smoked salmon and Camembert.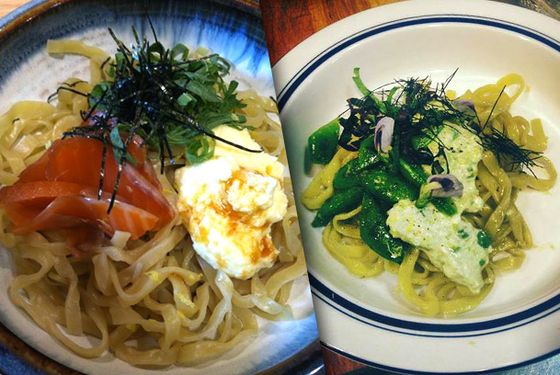 Smoked salmon and Camembert mazemen on the left.Photo: Yuji Ramen/Facebook

Then there's Ivan Orkin, who is from Long Island but famously became a ramen titan in Japan. His restaurants overseas might have benefited exactly because he was an outsider, unafraid to put toasted-rye noodles in his shio ramen, or mozzarella cheese and roasted tomatoes in other dishes. He also embraces mazemen, the closest thing ramen chefs have to plated, composed dishes. Orkin's triple-fat garlic mazemen isn't exactly standard fare in Tokyo; it's noodles dressed with shreds of pork and bacon, balanced out with pickled garlic slices and powdered dashi. In other words, a bit old-school and definitely some new. "It's a total New York invention," he says.
In the fall, Orkin will open his two heavily anticipated Ivan Ramen outposts in New York (one on the Lower East Side; the other, a Slurp Shop in Hell's Kitchen, where Orkin promises a less conventional approach to noodles). He's looking forward to serving New York customers that aren't necessarily concerned with the idea of what ramen "should" be: "In Japan, something like mazemen is more of a challenge," he says. "Japanese people want soup when they order ramen. In New York, there's no specific classic bowl."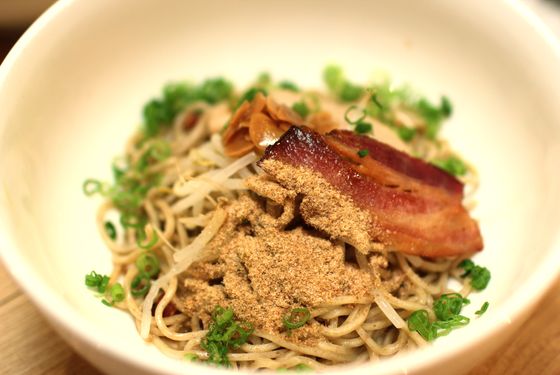 Brothless ramen with bacon and dashi at Ivan Ramen.Photo: Melissa Hom

Orkin is working on brothless noodles, dipping noodles, and what he says is a top-secret style of noodles that hasn't been seen in New York before. Like Shimamoto and Haraguchi, Orkin is trying to define "New York–style ramen," which he argues can fundamentally be more than one thing, as long as it tastes good. "Hopefully people will start eating ramen the way they eat pizza," he says. "It's meant to be a quick snack, then you move on to the next thing."
It's been nearly a decade since places like Rai Rai Ken, Minca Ramen Factory, and Setagaya first introduced New Yorkers to "real" ramen, and now the ramen burger is the latest attempt to add a New York sensibility to Japanese tradition — and an indication of the possibilities that could come along with New York's second wave of ramen-yas.
Earlier: The Ramen Burger Is Back This Weekend
Related: Ramen Master Ivan Orkin Gets Pretzels in New York, Sushi in Tokyo, and Ice Cream Anywhere He Can Find It