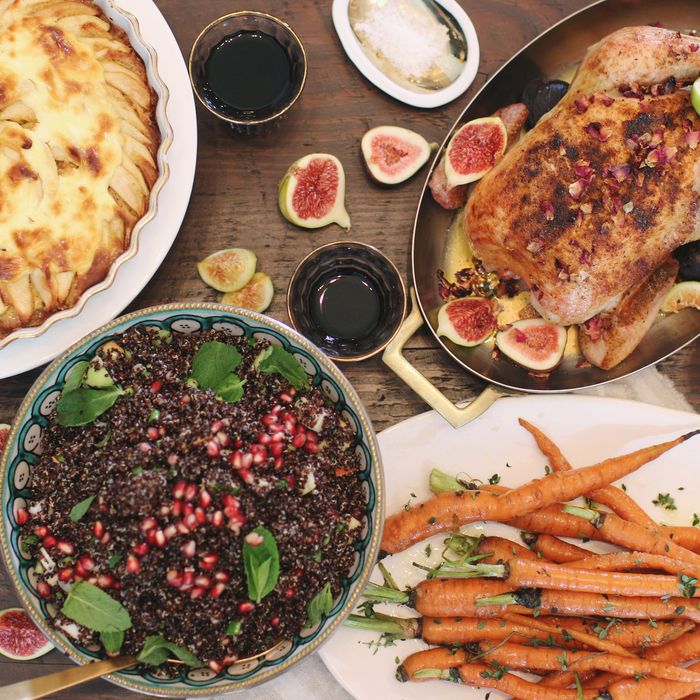 No one has to know that Nourish Kitchen + Table prepared your feast.
Photo: Melissa Hom
This is that special time of the year — the first of the High Holy Days — when you feel like you should do something vaguely religious. Eating latkes counts, obviously. The Jewish New Year (September 4 to 6) rocks because it's one of the best food-centric holidays: It's basically sacrilegious not to feast on round challah, honey cake, and tons and tons of brisket. The good news — if you live in New York, anyway — is that you don't have to cook any of it. Whether you want to pick up a full spread to go or sit down and schmooze at a restaurant, there are numerous options. Here are sixteen good ones, ensuring that you properly celebrate Rosh Hashanah by eating your face off.
If You Want to Order Food to Go:
Breads Bakery
What: Israeli-born baker Uri Scheft's offering a special menu of food that you can pick up to go, and it includes marzipan challah and a classic honey cake. Definitely order the apple babka — a festive spin on the Best of New York-winning chocolate babka.
When: You can order now through Wednesday, September 4 by calling 212-633-2253.
Price: Prices range from $7.50 for herb bread with honey and apple chutney to $47 for a centerpiece challah with three ceramic bowls.
Mile End
What: Of course Noah and Rae Bernamoff have something special in the works: Their catering menu includes chicken and matzo ball soup, potato kugel, and braised brisket.
When: Orders must be placed by August 31, and all food is ready for pickup on September 4 at Mile End's Red Hook Commissary Kitchen (Pier 41, 204 Van Dyke St., 323A).
Price: Prices range from $7 for challah (serves four) to $26 for braised brisket (serves two).
Nourish Kitchen + Table
What: The new health-focused West Village restaurant is offering a full holiday dinner to go, which can feed four to six people. The spread includes the eatery's signature roast chicken with Moroccan spices, a side order of black quinoa with pomegranate seeds, diced apple, mint, and scallions, as well as roasted carrots and an apple kuchen cake.
When: Order anytime before September 3.
Price: $110 for the whole meal; $22 for just the roast chicken; $36 for the kuchen cake cinnamon-honey glaze and a coconut cake crust.
François Payard Bakery
What: All four locations of François Payard Bakery are selling a Rosh Hashanah French macaron collection, with raisin-pecan and green apple and honey variations. You can also buy an apple-honey cake.
When: Anytime!
Price: $29 for a twelve-piece macaron box; $39 for a cake that serves six; $52 for a cake that serves eight.
BKLYN Larder
What: With options like olive-oil-crushed potatoes, pickled beets with citrus and honey, and poached Scottish farmed salmon with capers, BKLYN Larders' offerings are bit more gourmet than your Bubby's gelfite fish. And that's a good thing.
When: Place orders by August 30.
Price: Prices range from $8 per cup for chopped liver to $26 per pound for braised beef brisket.
Shelsky's Smoked Fish
What: Know a picky New Yorker who wants gluten-free, vegetarian potato latkes? Of course you do, and Shelsky's has you covered. It's offering a special catering menu, with à la carte sides, latkes, desserts, and platters.
When: Order by August 30 at 3 p.m.
Price: Food is sold by the pound and by the person, and prices vary.
2nd Avenue Deli
What: If you need to feed your whole family, this is a one-stop shop. For $325, you can buy a spread for ten people, with your choice of soup, appetizer, entrée, side dishes, and dessert. It's a New York institution for a reason.
When: 48 hours of advance notice are required; available for delivery or pickup.
Price: $325 (but food's also available à la carte).
Russ & Daughters
What: Why not eat breakfast for your holiday dinner? Russ & Daughter's holiday menu includes salmon and whitefish gelfite fish, Baltic rye bread, and rugelach.
When: There's no strict deadline, but if you're preordering, do it soon.
Price: There's a $100 minimum for preorders, but you can always stop in and pick up foods à la carte.
If You'd Prefer Eating at a Restaurant:
Shalom Japan
What: This new Jewish-Japanese restaurant in Williamsburg is a debuting a new dish on Rosh Hashanah: "New Year's-style" duck. It comes with caramelized parsnips, apples, and Katz's honey viognier vinegar. Shalom's also serving Sake Kasu Challah with raisin butter in the holiday-appropriate round form.
When: The duck will be on the menu through the High Holy Days.
Price: $27 for duck.
Jack's Wife Freda
What: The Nolita restaurant's continuing its tradition of giving all diners free apples and honey during dinner service on September 4 and 5, as well as serving a special of honey- and red-wine-braised short ribs.
When: September 4 and 5.
Price: $28 for short ribs.
Kutsher's Tribeca
What: A prix fixe holiday menu includes five courses (like matzo ball soup, pastrami reuben egg rolls, and kreplach), plus dessert. The restaurant's also offering its full catering menu — just make sure to give Kutsher's 48 hours of advance notice.
When: September 4 and 5.
Price: $85 per person; $50 for kids under 10.
Balaboosta
What: Einat Admony's running a few specials all of next week: a salad with poached, fresh, and oven-dried apples, watercress, grilled radicchio, hazelnuts and honey vinaigrette; ceviche with pomegranate seeds, fennel, roasted pistachio, cilantro, chili, and pomegranate yogurt; fish and leeks kebabs with spicy tzimmes puree and micro greens; and roasted poussin with rice and black-eyed peas, served paella-style with pomegranate walnut sauce.
When: September 2 to 8.
Price: TBD
Cherry
What: Celebrate the new year with a little unce-unce at this French-Japanese restaurant inside the Dream Downtown. Surprisingly, it's offering two holiday specials: chopped liver with shiso, umeboshi, celery, and pita, and black bass with fuji apple dashi, kabocha squash, and acacia honey.
When: September 4 and 5.
Price: $18 for chopped liver; $32 for black bass.
Tocqueville
What: Tocqueville's the place to go if you want modern takes on classic Jewish dishes. The prix-fixe, three-course holiday menu includes house-smoked arctic char with salmon roe and Greenmarket vegetables, and a duo of dry-aged prime sirloin of beef and braised cheek.
When: September 4 and 5 .
Price: $68 per person; $38 for children ten and under
Oceana
What: Chef Ben Pollinger is honoring the holiday by cooking grouper with an apple-and-shallot crust, which comes with a leek latke and fig jus.
When: September 4 and 5
Price: $34.
Katz's Delicatessen
What: Gilt City is (strangely) selling tickets for Katz's sit-down dinner. Admission includes a full meal (complete with latkes, pastrami, and babka), up to five beers per person, and your choice of an apron or T-shirt.
When: September 5, 7 to 9 p.m.
Price: $80 per person.