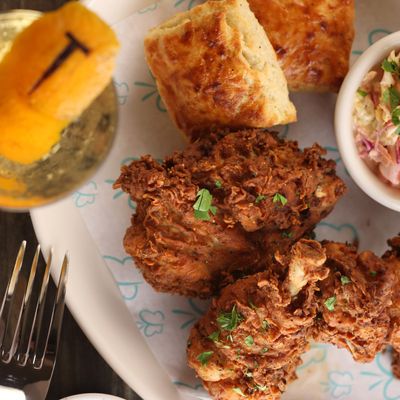 You get a lot of food for your $23 at the Butterfly.
Photo: Melissa Hom
With the openings of Blue Ribbon Fried Chicken, the Butterfly, and Hybird, New York finds itself in a new golden age of fried chicken. Even better, things are cheap now: Not so long ago, you had to pay $26 to get the Brombergs' excellent chicken at Blue Ribbon Bakery Kitchen. But now you can stop by and grab a wing to go for just $1.75 at Blue Ribbon Fried Chicken, or sit down and order spicy-sweet "fresh-killed" Korean fried chicken at Hanjan for $12. There are tons of options that vary in both price and preparation. Here are fourteen standout chicken options from restaurants that have opened within the past year, all ranked by cost, ensuring that you can get damn good fried chicken, no matter your budget.
Bromberg Bros. Blue Ribbon Fried Chicken
Cost: $1.75 to $59
What You Get: Breasts, thighs, wings, drumsticks, and mighty wings
Chicken is sold by the piece here, starting at just $1.75 for a wing. The combination dinner meals range from $9 to $15.50 and come with rosemary bread, pickled cucumbers, and fries. But for $59 you get 24 "mighty" wings and your choice of two family sides. Go big.
Hybird
Cost: $3 to $11
What You Get: Drumsticks
There's a reason why Questlove and Stephen Starr's chicken made the cover of New York's Cheap Eats issue: The succulent, meaty drumsticks start at $3 for one piece, and for just $11 you can get four pieces and a buttered biscuit.
Black Tree
Cost: $12
What You Get: Fried-chicken French toast
After making sandwiches in the back of Crown Inn, Black Tree now has its own brick-and-mortar outpost on the Lower East Side. Try buttermilk-fried chicken on top of a Caputo's roll that's been soaked in sweet batter and griddled until golden brown. Spicy honey butter and Vermont maple syrup take it to the next level. Note that this is only on the brunch menu, but it's always available on request.
Hanjan
Cost: $12
What You Get: Gwangju Market fried chicken
Adam Platt's a fan of the spicy-sweet Gwangju Market fried chicken, made with boneless dark meat "tong-dak"-style. Hanjan boasts that the chicken is "fresh-killed."
The Musket Room
Cost: $12
What You Get: Fried chicken liver
At this New Zealand spot, chicken liver is dipped in buttermilk, coated with a sourdough crumb mixture, and deep-fried. It comes with roasted and pickled cherries, as well as cherry jus, and it's only served as a bar snack. Fancy!
Barn Joo
Cost: $13
What You Get: Wings
The Korean restaurant's signature fried wings come in three varieties: soy garlic, hot and spicy, and salt and pepper. There's no wrong choice.
Distilled
Cost: $13
What You Get: Wings
Momofuku Noodle Bar alum Shane Lyons pairs fried chicken with Gochujang (Korean chili) sauce, Point Reyes blue cheese, and celery at this pub-style restaurant in Tribeca. A small order gets you six wings for $13, and a large is twelve wings for $22.
Marietta
Cost: $13
What You Get: Memphis-style fried chicken
In Clinton Hill, you'll find "extra-fancy" Memphis-style fried chicken that's brined in lemon and honey. It comes with the restaurant's housemade hot vinegar, and a good move is to order a side of Anson Mills grits to sop up the sauce.
All Good Things
Cost: $14
What You Get: Fried chicken with honeycomb and kimchee
Inside the 2,000-square-foot megamarket in Tribeca you'll find fried chicken at the upstairs café during lunchtime. Pro tip: Wash it down with some Blue Marble ice cream after.
Hudson Common
Cost: $15
What You Get: Southern fried-chicken sandwich
Hudson Common's preparation is traditionally Southern: Chicken is breaded with marinated in buttermilk, breaded in flour and corn starch, and served with pickle slaw on a focaccia cornmeal bun.
Sweet Chick
Cost: $16
What You Get: Chicken and waffles
This Williamsburg restaurant serves its signature pairing for $16, and you can choose between classic, bacon-cheddar, and rosemary-mushroom waffles. There's even vegetarian chicken available. For $17 you can get three pieces of fried chicken with a buttermilk biscuit and collard slaw.
Mayfield
Cost: $20
What You Get: Buttermilk-fried quail (with sides)
It's buttermilk-fried quail, not chicken, that's on the menu at this Crown Heights restaurant. Cornmeal-based spoon bread and collard greens are the perfect accompaniments.
The Butterfly
Cost: $23
What You Get: Buttermilk-fried chicken (with sides)
Michael White is serving a Bell & Evans half-chicken, which is buttermilk-fried, with coleslaw, biscuits, and honey butter. It's not cheap, but it's damn good.
Maysville
Cost: $26
What You Get: Crispy fried chicken leg and roulade (with sides)
Platt awarded this Southern restaurant in Flatiron two stars, praising the "elegantly arranged" crispy fried chicken leg. Twenty-six dollars is steep, but the chicken does come with ruby crescent potatoes and marinated mushrooms.